How to Fix No Sound Problem with an HDMI TV and a Computer
The best way to connect a computer, laptop, or game console to a TV is with an HDMI cable, but sometimes there can be no sound on the TV if you use this particular type of connection. If you want to find out what to do and how to fix this problem, this is the right article to read.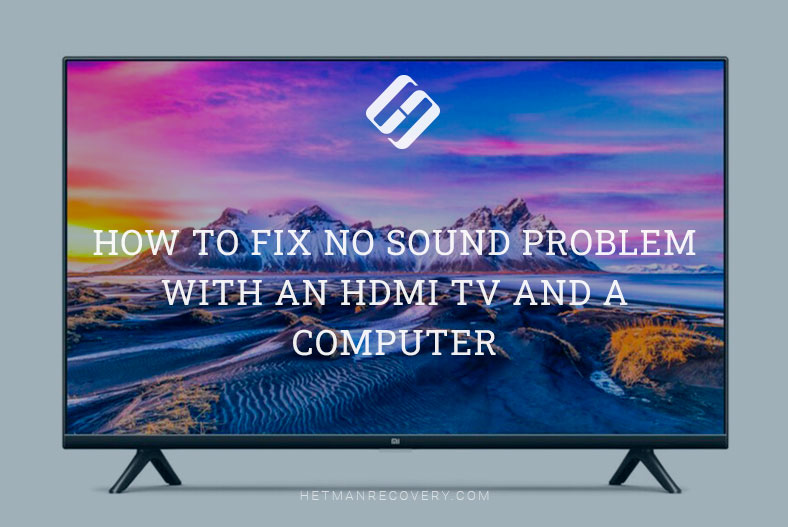 As we all know, the HDMI technology allows transferring digital video and audio signal simultaneously from a computer to a television set. However, many users complain about having no sound when they connect their TV to the computer and try to play something like videos or movies. If you also face this problem, this article is for you, because I'm going to show you several ways of fixing it on a Windows operating system.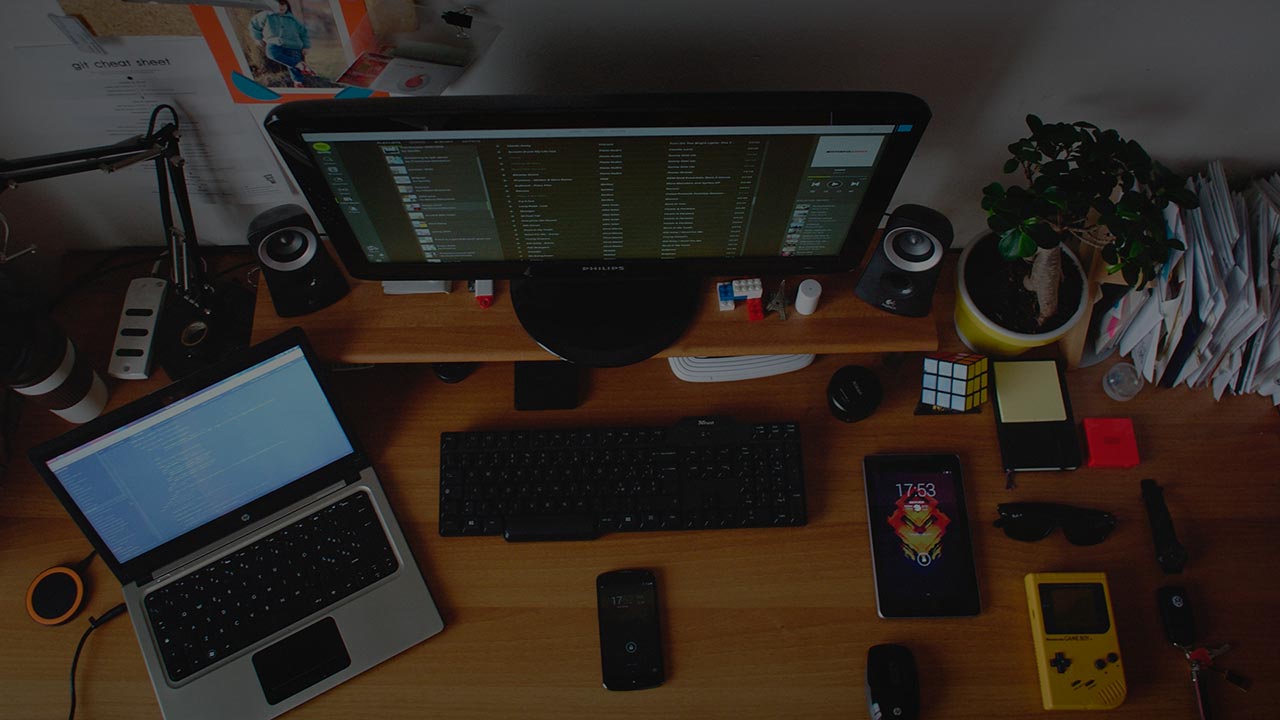 Why there is no sound
First of all, let's find out why exactly there is no sound. Actually, there are lots of things that may potentially cause this problem: To begin with, check if your cable is all right: use it to connect another TV or display with built-in speakers to your computer and see what happens. If you hear the sound, you should check your computer settings; if there is no sound, replace the HDMI cable.
Check the sound settings on your TV – the sound might be disabled.
Talking of computers, here are some common things causing sound issues:
A wrong sound driver or an incompatible playback device are selected in the settings.
Or, speakers are selected instead of the HDMI port in default sound settings.
The first step to take after you connect the TV is to restart your computer, as this simple fix is usually the best way to eliminate minor issues and software errors.
Method 1. Set the TV as your default playback device
When several sound output devices or sound cards are connected to one computer, there might be a conflict between them. It is quite possible that an HDMI audio output is not enabled automatically because the speakers (external or built-in) are determined as the default output device.
To change this setting, open Settings – System – Sound, and select the proper output device.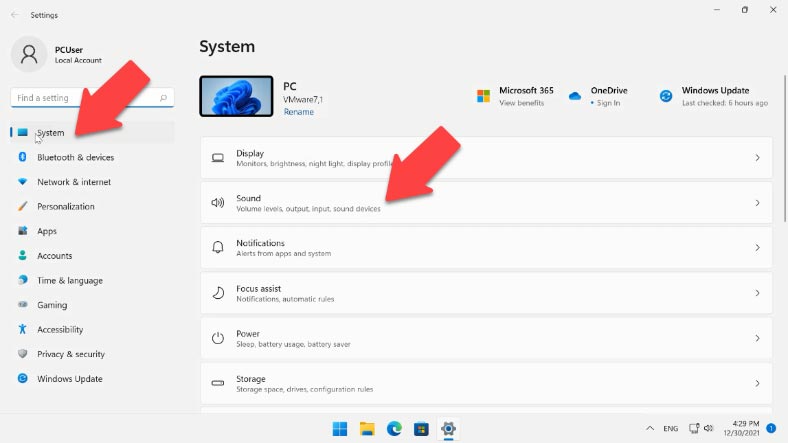 In this tab, select the corresponding output device.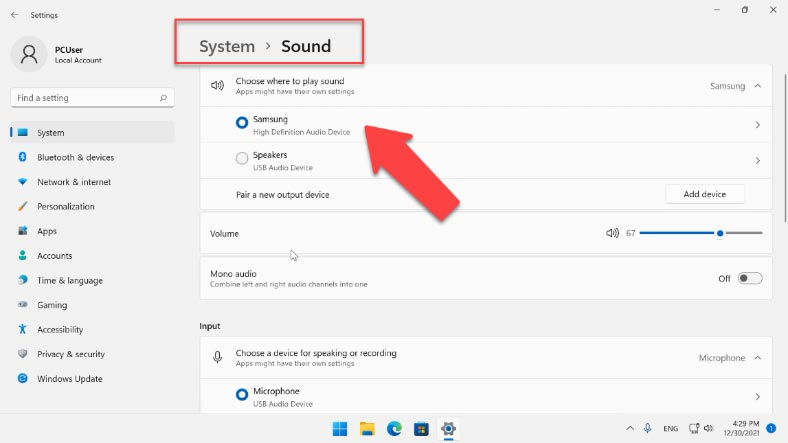 In this section, open "Sound control panel" (More sound settings) – and jump to the tab "Playback", and your TV should be displayed as one of the choices. Right-click on the TV and choose to set it as default device.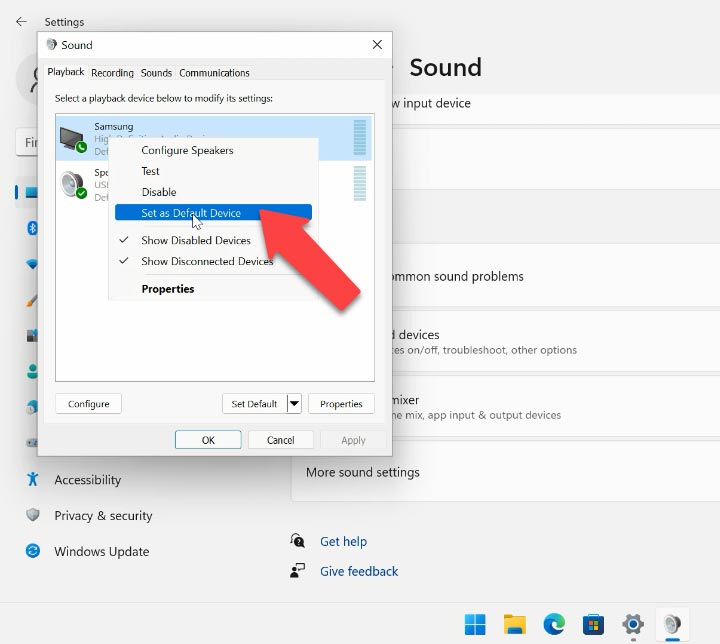 If the TV is not listed here, right-click on an empty area and check if the settings "Show Disabled Devices" and "Show Disconnected Devices" are enabled.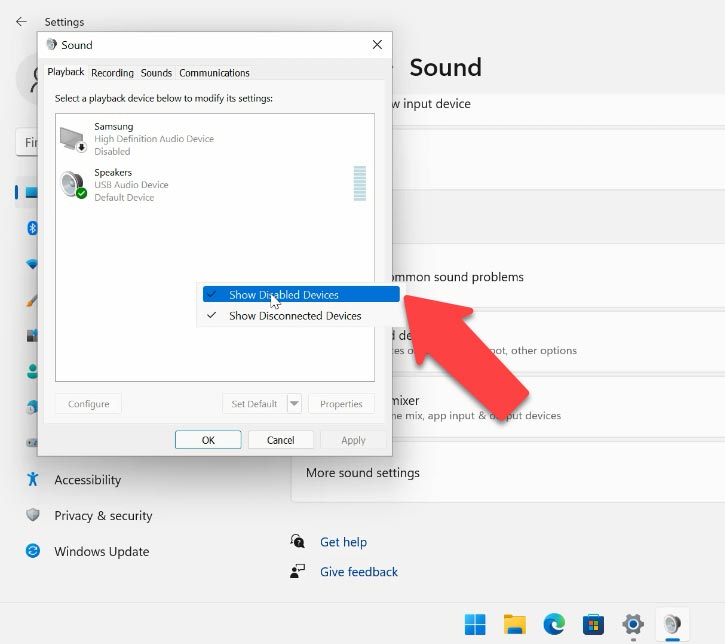 Now right-click on an audio device and check if it is enabled. If it's not, click here to enable it. After that, click to set it as default choice, "Apply" and OK to save the changes and close the window. After that, check if you can hear the sound. In the same way, you can switch the sound back to the speakers.
Method 2: Update your current drivers
One more thing to cause your sound to disappear when you connect your TV by HDMI is installation of incompatible drivers. So the first step should be to update them. You can do it manually by downloading and installing suitable drivers from the manufacturer's website – and remember to check that the drivers are compatible with the version of your Windows operating system.
Also, you can update drivers from Device Manager. Right-click on the Start menu and select Device Manager. In the window that opens, select "Sound, video and game controllers".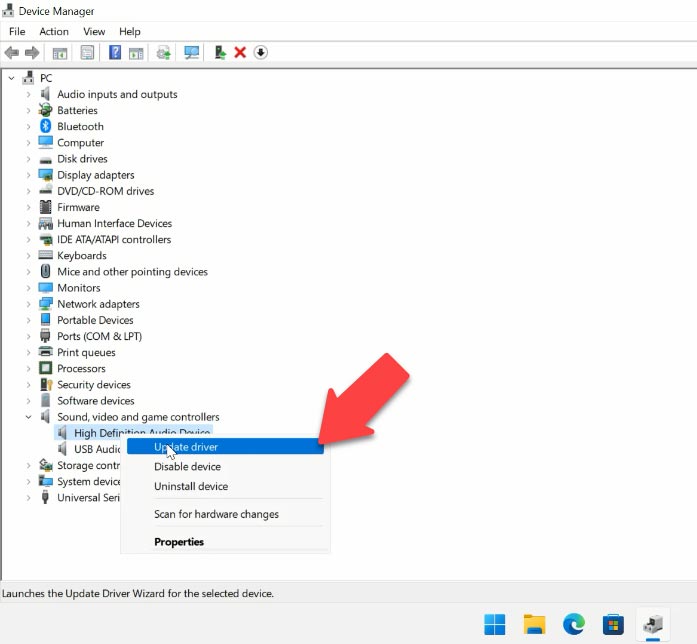 Right-click on the device and choose "Update Driver" – "Search automatically". Alternatively, right-click on the device and select "Uninstall device" – "Uninstall".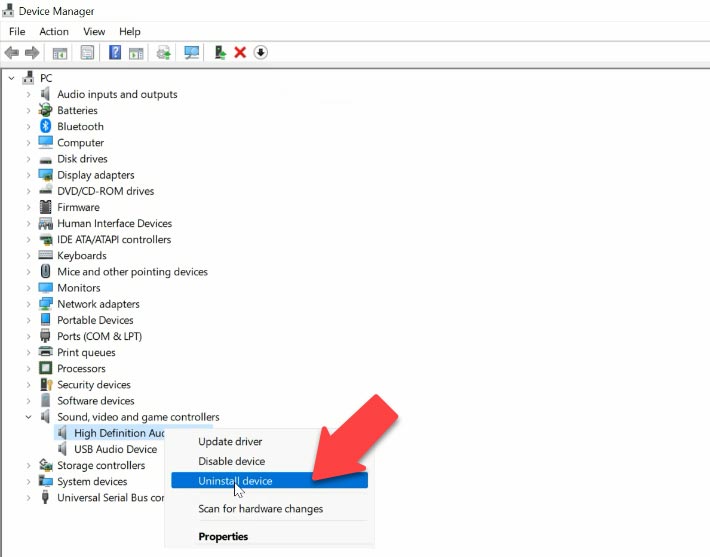 Then look at the menu above and click "Action" – "Scan for hardware changes". After that, the adapter should be reinstalled, and the sound on your TV connected by HDMI should work properly.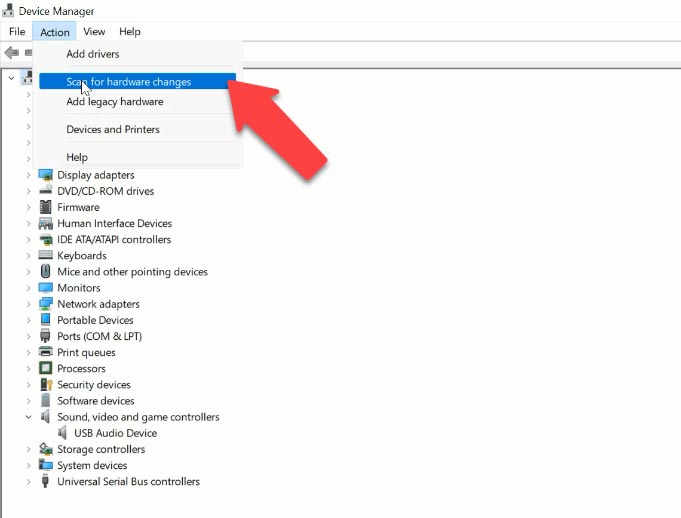 There are more settings to check: expand "Audio inputs and outputs" and if there is a grey arrow next to a device, right-click on it and choose "Enable".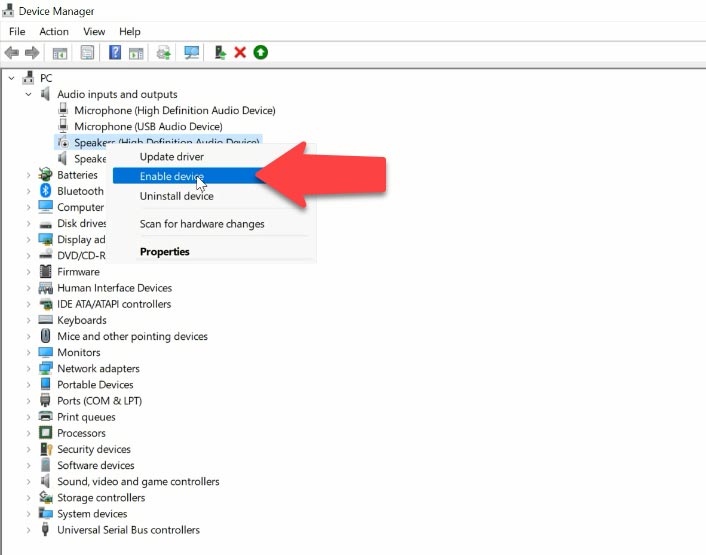 Another method is to uninstall the device and update the drivers.
After that, jump to "System devices", expand it and find "High Definition Audio Controller" to see if it is enabled. We strongly recommend against uninstalling it – if you do that and restart the computer, it may not be installed automatically, and the sound might be gone for good.
Another thing to check is to have a look in the "Sound, video and game controllers" and find out of there are items like AMD or NVIDIA High Definition Audio – which depends on the actual graphics adapter installed in your system. Enable it, try updating the driver, or uninstalling it and scanning the configuration for hardware changes.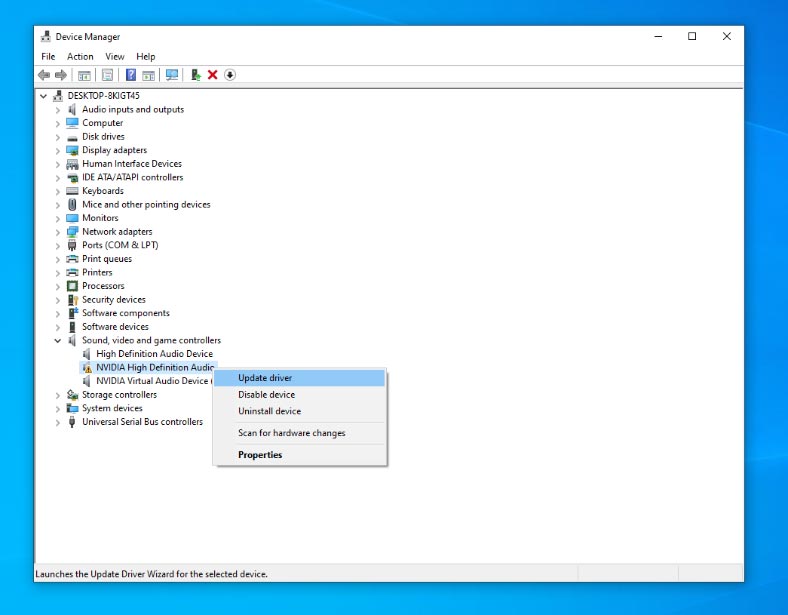 Method 3: Roll back graphics drivers
If your HDMI port worked properly but you began encountering issues after an update, rolling back your graphics drivers could help you. When you roll back a driver, the currently installed driver is removed and replaced with its previous version. This process should eliminate any driver errors and it may fix the problem of having no sound on your TV.
Open Device Manager and find "Display adapters". Right-click on your graphics card and open its properties. After that, open the Driver tab and click to "Roll Back Driver", specify the reason.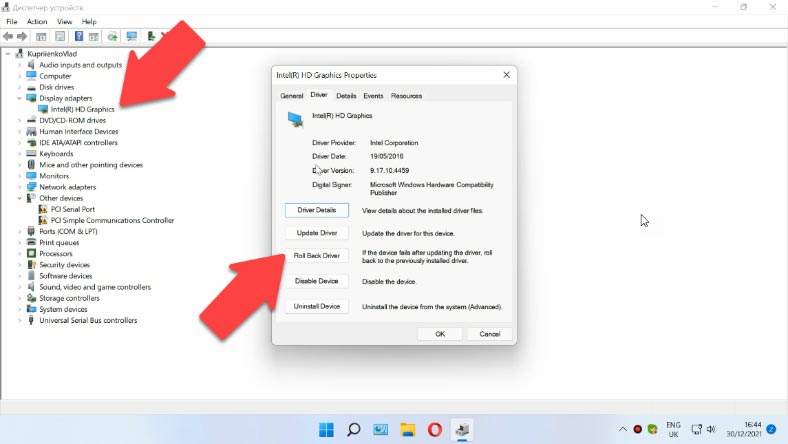 Then click "Yes" to restart the computer. After that, it will boot with the previous version of the graphics drivers. If the "Roll Back Driver" option is greyed out, it means that your operating system does not have any older drivers to fall back on. If that's the case, try other methods instead.
Method 4: Run Windows Troubleshooter
Another method to fix the problem is to use the integrated troubleshooter tool. Open Settings – System – Sound – More sound settings, and click on the option "Troubleshoot common sound problems" for output devices.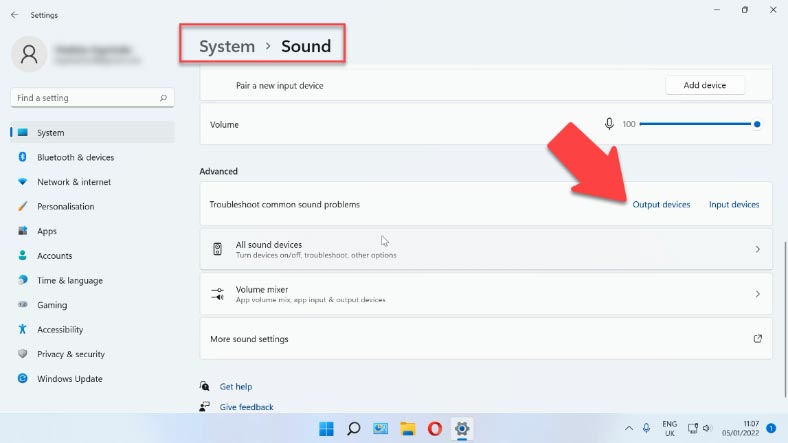 Select the device from the list and click "Next". You will see some directions on the screen. Follow them to run the troubleshooter and apply recommended fixes. Restart the computer if necessary.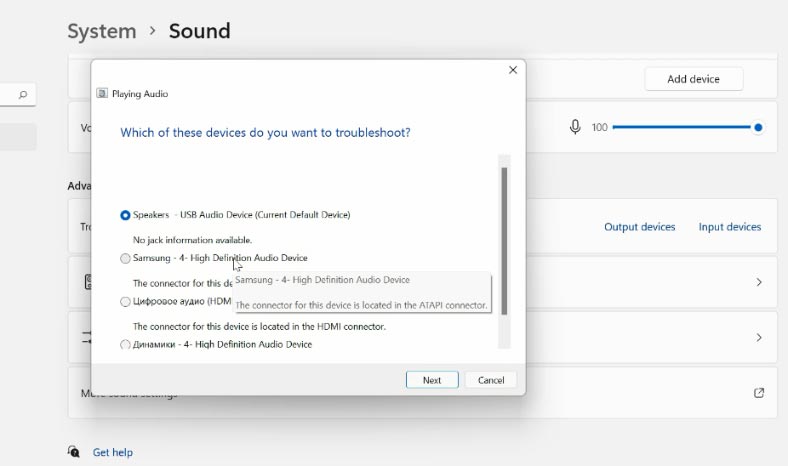 Check the sound settings to see if this device is disabled: open its properties and enable sound here. After that, open "Advanced" to see the "Properties" window, switch to the "General" tab, and find "Device usage", then change this option to "Use this device" (enable).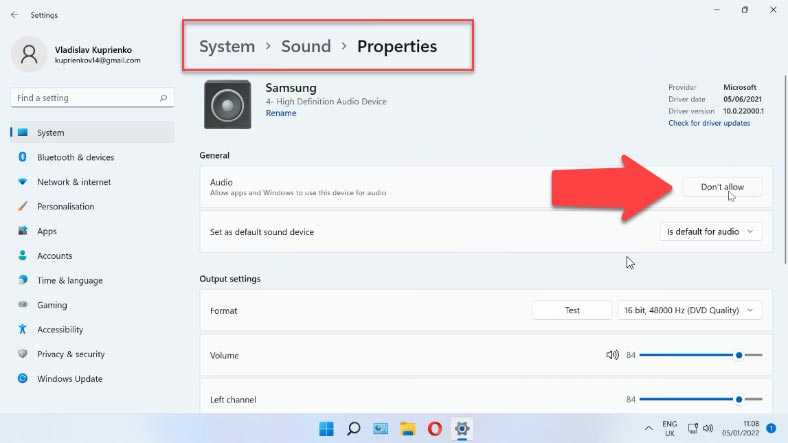 Then jump to the tab "Levels" to see if the device is enabled here. The slider should not be anywhere below 50%, and the speaker icon should not be red.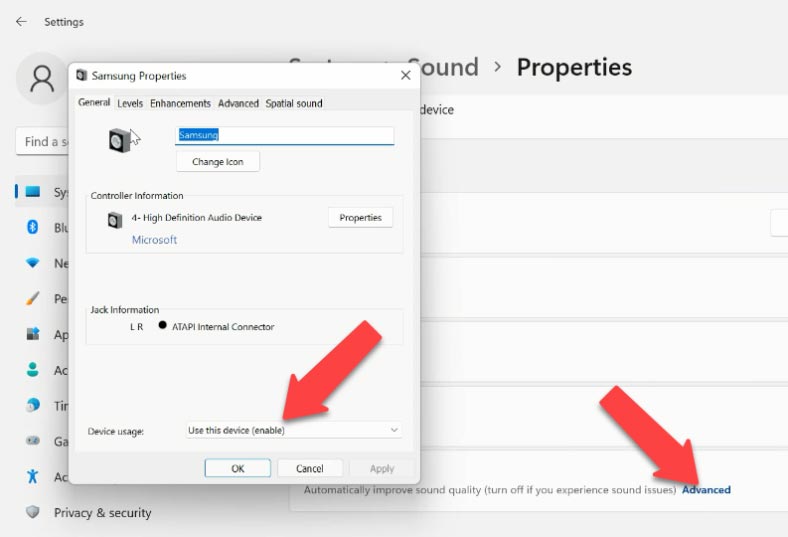 Method 5: Restart your Android TV
If you want to connect a Smart TV, try restarting it after all the cables are in their proper ports. Depending on a specific model and operating system, the restart process may differ, but the usual way is to press and hold the on/off button for a while.
Alternatively, you can find the restart option in the settings.
Method 6: Select the proper HDMI port and cable
Some TVs have more than one HDMI port, so you should always double-check if you stick the cable into the proper port.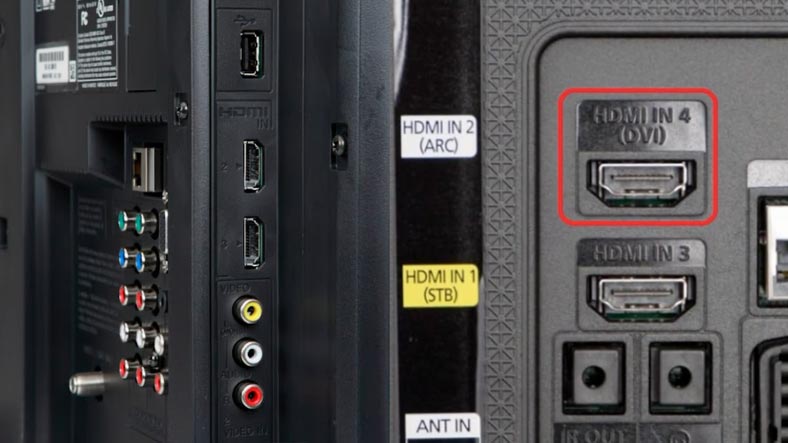 Usually, there is some extra information next to an HDMI port in addition to its number (you can see such abbreviations as DVI, STB, ARC, or MHL). Most of the time, such ports differ by the functionality they offer. If your device has an HDMI (DVI) port, it means this port is intended to connect the TV to computers and laptops, and your TV is going to work as a display – that is, without any sound.
For example, if your TV has an HDMI (DVI) port version 1.3, and you connected your computer to this port with the cable, you're not going to have any sound at all. On the other hand, the newer HDMI version 1.4 introduces proper support for sound signal. So if you have a relatively old TV, the older standard could be the root of your problem. Try inserting the cable into another port.
Method 7: Turn Bluetooth off
Some users claim they have fixed the problem by turning off Bluetooth on their laptops. The television sound reappeared as soon as they did that.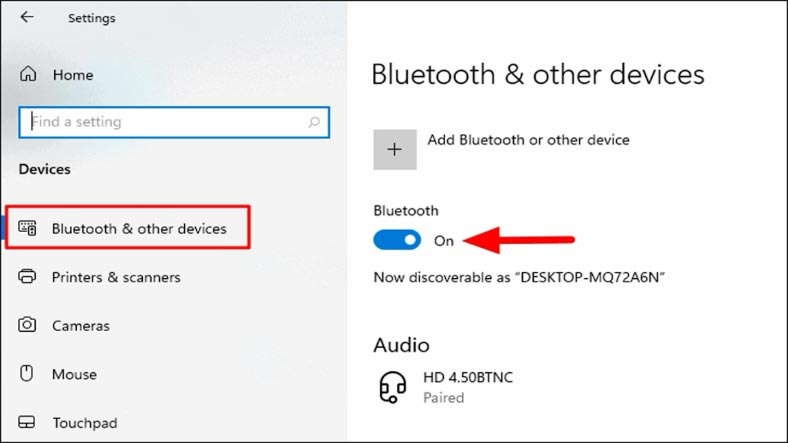 So you can also try turning off Bluetooth in the system settings, or disabling the Bluetooth adapter in Device Manager.
Method 8: Change boot options in BIOS
In one of Internet forums, users discovered that they could fix the sound problem with a Lenovo laptop by changing boot options in BIOS.
With "Legacy Support" and "Legacy First" options enabled, there was no sound signal on HDMI. Everything worked fine when they switched to UEFI boot mode.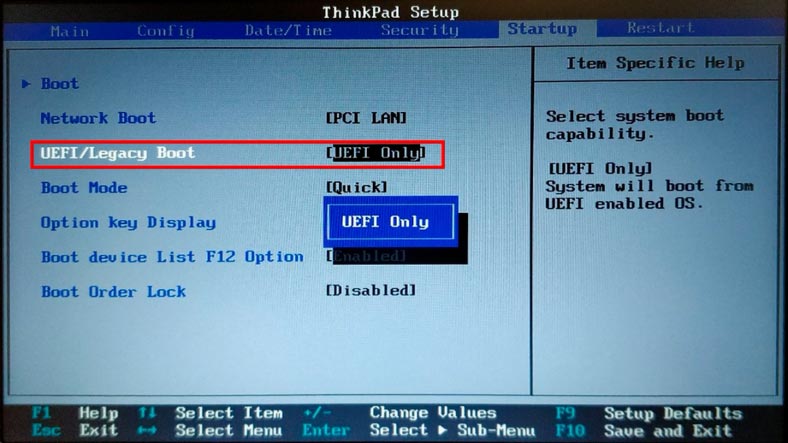 So find the Boot section in your BIOS and change this option.
Conclusion
In this article, we have collected the most widespread issues that may cause loss of sound on your TV connected by HDMI. However, the variety of TV, computer and laptop models available today is truly immense, so you may encounter problems different from the ones we have described here.