Easy data recovery online in English at 2020
Looking for a tool to quickly recover deleted files? Need to undelete erased documents or recover a bunch of deleted folders? Deleted a bunch of files with Shift + Delete or cleared up the Recycle Bin? Hetman Uneraser will help you get everything back in a matter of minutes!
Hetman Uneraser™ 5.0
Hetman Uneraser quickly recovers deleted files and folders from just about any kind of storage media. Hard drives, memory cards, external storage, USB drives – you name it! The tool will reliably recover accidentally deleted files even if you used the "permanent delete" function with Shift + Delete, and restore data cleared from the Recycle Bin.
We made Hetman Uneraser as comfortable to use as at all possible. The interface is designed in the familiar "My Computer" fashion, allowing you to browse through deleted data just as you would browse files and folders in Windows Explorer. Recovering deleted files and folders is just as easy: simply pick a file to undelete and click the "Recover" button. It's just that easy.
Reasons for data loss
Hetman Uneraser safely recovers files and folders deleted from all popular types of storage media. Supporting both FAT and NTFS file systems, the tool supports desktop and laptop hard drives, solid-state media, external storage devices as well as certain models of digital point-and-shoots and audio/video players.
Undelete Accidentally Deleted Files
Unerases files and folders you accidentally delete from your computer. When deleting a file, Windows does not wipe the files content. Instead, its record in the file system is labeled as "deleted". Hetman Uneraser can identify such records and successfully undelete the deleted files regardless of the file system, FAT or NTFS.
Recover Files from Formatted Disks
Recovers information from disks and partitions after a quick format (and, in certain cases, even after a full format). When you format a disk using Quick Format, Windows does not actually zero information on the disk. Instead, it simply overwrites the file system with an empty copy. Hetman Uneraser can read the disk in low level in order to identify, locate and recover files stored on formatted disks.
Recover Recycle Bin Data
Undeletes files removed from the Recycle Bin or "permanently deleted" with the Shift + Delete combination. Even "permanently deleted" files can be successfully recovered with content-aware search. In this mode, Hetman Uneraser will read the entire disk surface, looking for deleted files by their characteristic signatures. Identified files can be previewed and recovered.
Recover after Virus Attacks
Restores information after data loss caused by malware or virus attacks, system failures and power outages. Viruses, Trojans and other types of malware often destroy or lock up information. Hetman Uneraser can successfully restore files locked by malware by performing a low-level disk scan. In this mode, the tool bypasses the damaged file system, and deals with the actual content of the disk in binary mode.
Features
Undoubtedly featuring the best price-performance ratio out of the whole range of products, Hetman Uneraser is our top seller. Hetman Software tool borrows its algorithms from our top-of-the-line product, only omitting some features only a specialist will need.
Hetman Uneraser can successfully recover files of all formats with no exceptions. However, for certain data it can go one extra step, offering an even better chance of recovering essential information such as Office documents, PDF files, pictures and videos including RAW files and Photoshop designs, email messages, archives and backups, and many other types of data you would rather not lose. For these formats, Hetman Uneraser can do a context-aware analysis of the entire disk surface, looking for deleted files by their unique signatures. Such files can be recovered even if there is no record about them left in the file system.
Binary settings;
Webmoney Keys;
Text documents: DOC, DOCX, RTF, PDF, etc.
Spreadsheets: XLS, XLSX, etc.
Presentations: PPT, PPTX, etc.
Source codes: PAS, C, H, PHP, HTML, etc.
Vector and bitmap images: JPEG, PSD, etc.
Compressed archives: ZIP, RAR, etc.
Virtual disk images ISO, VHD, NRG, MDF, etc.
Video and audio files: AVI, DAT, MKV, MPG, VOB, MP3, etc.
High speed analysis of the storage medium of any size, the absence of restrictions on the number and size of recoverable files compares the product from competitors. The user can select both the entire disk and a separate logical partition for analysis. It is possible to create and analyze a disk image, followed by data recovery from it.
Hard disks (HDD) with ATA, SATA, eSATA, FireWire, SCSI, SAS
Hetman Uneraser recovers files and folders from hard disks of all makes and models. FAT and NTFS file systems are supported on all desktop, laptop and external hard drives.
Memory Cards from 1 to 2048 GB
Recover information from all types of memory cards including SD/SDHC/SDHC, micro SD, Compact Flash, Memory Stick and so on. It can also recover files from USB-connected smartphones, audio players, GPS navigation systems and some point-and-shoot cameras.
USB Flash Drives 1.0, 2.0, 3.0
Hetman Uneraser all types of USB drives regardless of the model or manufacturer. We support pen drives of every type from legacy USB 1.1 to the latest USB 3.0 variety.
Virtual machine
hard disks
Saves data on the analysis you have performed
Having a 16TB hard disk or a 256 GB memory card is no wonder these days, but recovering data from high-capacity storage devices is a very long process.
What should you do if you spent an entire working day scanning the disk that you want to recover lots of data from, but there is no time left to complete your work and finally recover the files?
With Hetman UNERASER, you can Save Analysis Information for that large disk, load it again and finalize file recovery tomorrow.
The «Load Analysis Information» feature will display the analysis results in the form which is required to recover the files you need.
To prevent the data already analyzed by the utility from being overwritten, we strongly recommend against saving any new data to the storage device that you are trying to recover files from.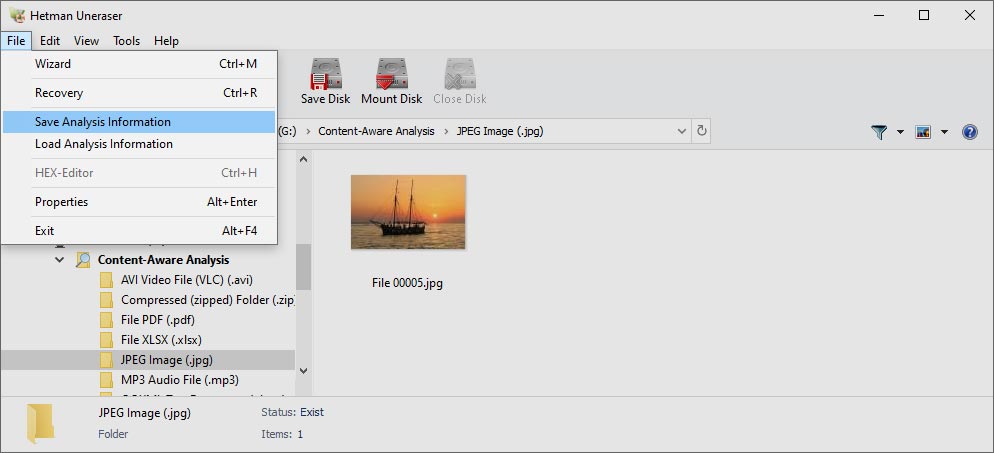 We made Hetman Uneraser safe and easy to use. The fully guided, step-by-step wizard will help you through the entire recovery process. In fact, you can start using the tool by simply selecting the disk with deleted files on it and clicking the "Next" button. The tool will then perform the analysis blazing fast, presenting you with a view of the missing data - exactly the way you would see it in Windows Explorer if only those files were not deleted.
The preview is an essential feature of all Hetman recovery tools. Pre-recovery preview allows peeking inside deleted files before you decide whether it's worth recovering. The preview supports hundreds of file formats including all popular document and image formats, a bunch of video formats, compressed archives, backups, emails, text and HTML data. You can even preview information about executable files or use the built-in HEX editor for low-level access. Finally, for every recoverable file you can see its exact physical location on the disk.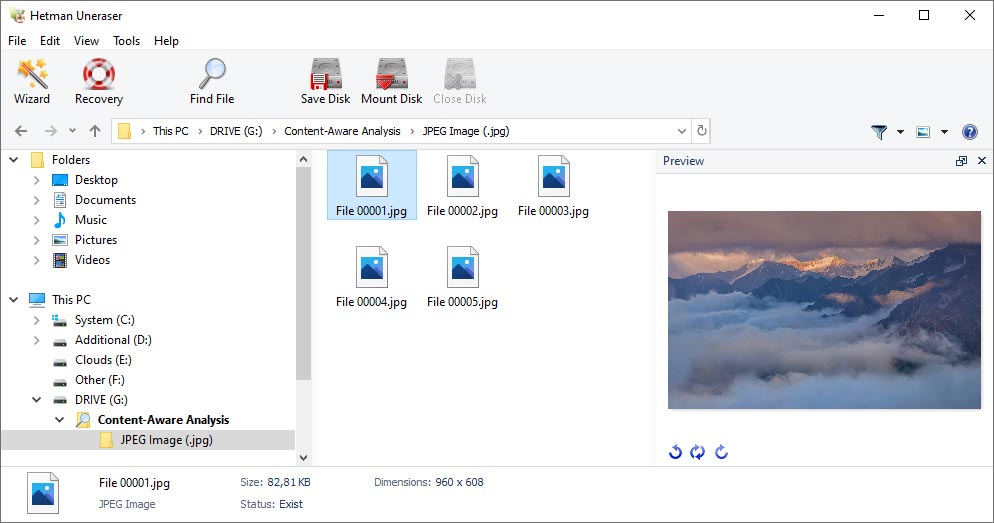 Uses a combined algorithm
Hetman Uneraser may look simple, but it features a highly sophisticated data recovery engine under the hood. In fact, it shares the recovery engine with the much more expensive, professional tool Hetman Partition Recovery. There are two approaches to the recovery: Quick and Comprehensive. In Quick mode, Hetman Uneraser will scan the data in the FAT or NTFS file system, returning the list of recently deleted files in a few brief moments. This mode is blazing fast, really, but it can miss certain data, especially if a file was deleted a long time ago. In addition, the Quick mode won't be much use if you formatted the disk (or flash drive, or memory card) as the file system will be empty after formatting.
To help you recover information in complex scenarios, Hetman Uneraser employs the highly sophisticated Comprehensive analysis mode. In this mode, the tool reads the entire disk surface and uses a number of heuristic, content-aware analysis techniques to detect known file formats by their characteristic signatures, calculate their exact physical location and finally recover from the disk. This mode may take quite some time depending on the size of your disk and the amount of information stored on it, but it is able to recover documents, pictures, databases, archives, emails and many other types of data a long time after they've been deleted.
Safety was a major goal when Hetman Uneraser was designed. The tool uses strict read-only access to storage media being analyzed. This approach ensures it won't damage anything it's up to recover. Make sure you don't write anything onto the disk being recovered yourself. For example, make sure that you download, save and install Hetman Uneraser onto a disk or partition different from that you're about to recover. The ultimate safety can be achieved by using virtual disk images. This technique allows capturing a bit-precise image of the volume you're about to recover in a single sweep, effectively minimizing the number of disk access operations and reducing the chance of accidental failure of a damaged device. The disk image can then be used to recover the files.
In order to ensure the safety of your data, you'll want to use a different disk or drive letter to save files being recovered. Sounds simple, but only if you have enough disk space available. If you don't, Hetman Uneraser offers a convenient wizard allowing you to choose whether you'll be saving the files onto a hard drive, burning a bunch of CD's or uploading them to a remote server.
Supported storage options include the ability to choose any local or remote disk, burn a CD/DVD with a built-in disc burner, or upload the files to a remote location over the FTP protocol. You'll have the option of saving everything into a single folder or re-creating the original folder structure.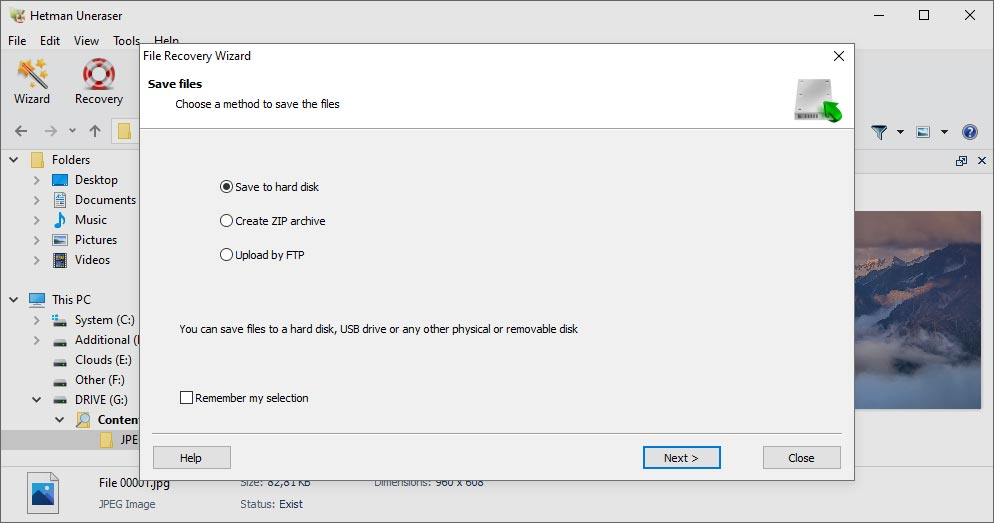 System Requirements and Compatibility
Hetman Uneraser works with all versions and revisions of FAT and NTFS, including VFAT, FAT 12 / 16 / 32 as well as NTFS 3, 4, 5. It can correctly recover information from compressed and encrypted volumes as well as all crypto containers (as long as you know the original password). Hetman Uneraser is compatible with all 32-bit and 64-bit versions of Windows including Windows XP, 2003 and 2008 Server, Vista, Windows 7, Windows 8 and Windows 10. The tool requires you to have Administrative privileges on the system you're about to recover.
I emptied the Windows Recycle Bin, so can I restore the files that used to be there?

Yes, you can. Use our program to analyze the drive and go to the Recycled Bin folder. You will see the files deleted from the Recycle Bin.

What level of computer skills do I need to use the program?

The program is as easy to use as possible. It works similarly to Windows Explorer, and displays both deleted and existing files.

Recovering data is as simple as copying files from one folder to another.

Can I recover files deleted from a hard drive, memory card or USB flash drive in an online mode?

You need administrator rights to access the storage device and search for deleted files. With a browser, this is impossible.

You can download the program for free, quickly analyze the disk and recover the lost files.

If I pay for the program now, how long will it take before I receive my registration data?

It depends on the payment method you use. If you order online with your credit card or PayPal, you will receive the registration key immediately after payment.

What are the requirements for successful data recovery?

For successful recovery, you must stop using the storage device until the necessary files are fully restored.

If it is an external drive, memory card or flash drive, then connect it to the PC and analyze them using our program.

If the data is deleted as a result of formatting the system disk, resetting the operating system or reinstalling Windows, then stop further installation of the operating system and programs. Connect the drive to another computer and perform recovery operations.

Recovered files must be saved to a different drive.

How long does it take to recover my data?

Data recovery can take a long time if you work with a disk larger than 1 terabyte. Faulty drives can also be scanned for a long time. However, in most cases, recovery takes less than 30 minutes.
Reviews and Awards
Leading computer publications and laboratories recommend using our software package to work with hard drives and external drives. Read the opinion of independent experts.
User reviews
Read user reviews of Hetman Software programs or share your experiences. Your review will be published after being moderated. We value your opinion! Total reviews: 5. Average ratings: 4.2.

I am trying to see if I am able to use this tool for private use, but as I am soon rounding 76 years old I wonder if I am able to... I have been trying it and it did seem to report a drive that don't exist in this PC? But it did seem to give a lot of information.
3.04.2020

I downloaded a few similar tools and tried them on several computers. Hetman Uneraser is amazing – it completely restored the files deleted for testing purposes…
3.05.2014

Hetman Uneraser made file recovery easier than copying files from one folder to another in Windows Explorer…
3.02.2013

Hetman Uneraser is the only data recovery program that managed to help me. It recovered a file that had been deleted over a week before that.
26.10.2012

After my laptop with a database of contract templates went dead, I lost the work of nearly two years… Hetman Uneraser is absolutely fantastic! I managed to restore all of my documents.
27.10.2011
Recommended tools
We recommend that you familiarize yourselves with the opportunities offered in other Hetman Software utilities. You can significantly save on the purchase or buy a program with the features that best suit your needs.