Program for fixing broken JPEG, TIFF, PSD, ZIP files
Looking for a tool to repair JPEG or TIFF images? Want a tool that can fix common errors in the file header while rebuilding the internal structures?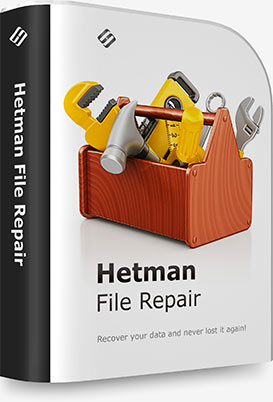 Hetman File Repair™ 1.1
File Repair™ can fix files that are corrupted or incomplete, repairing files that come out damaged after a data recovery session.
The tool can repair file headers and rebuild internal structures of many types of files. By fixing these errors, File Repair™ enables you to access those files, view and edit the images.
Comprehensive File Repair
File Repair™ does not simply patch the file's header and call it a day. Instead, the tool performs a comprehensive bit-level analysis of the entire content of the file, detecting and correcting all types of errors in the file system structures and content blocks.
Repairs Files after a Data Recovery Attempt
Fixes file errors after a data recovery operation if a file does not display or open correctly. File Repair™ can extract all usable information still available in the file, rebuilding it literally from a scratch.
Bad Blocks on a Disk
If a file was stored in an area on the disk containing a bad block, it may come out damaged after the recovery. File Repair™ can successfully repair such files.
Virus Attacks
File Repair™ can repair files damaged or partially overwritten at the time of a virus attack.
Features
File Repair™ is unique in its class, offering comprehensive analysis and complete rebuilding of information still available in a damaged file. Hetman Software tool is used by many professionals and home users around the globe.
Repairing JPEG
Repairs corrupted *.JPEG, *.JPG, *.JPE, and *.JFIF files in lossless mode. The repair is performed at block level without re-encoding the file, thus the original JPEG quality is preserved. Both main and thumbnail images are rebuilt. EXIF information is preserved.
Repairing TIFF
Repairs damaged and corrupted files in the TIFF format including *.TIFF *.TIF, *.FAX, *.G3, and *.G4. File Repair™ supports Windows and Mac TIFF images, and can successfully repair uncompressed files and TIFF images compressed with LZW, JPEG, PackBit, CCITT 1D 2, Group 3 Fax 3 and Group 4 Fax algorithms.
Repairing PNG, BMP
Repairs raster images in *.PNG, *.BMP, *.DIB, and *.RLE formats. LZ77-compressed PNG files are supported. The tool can extract BMP images from resource files. File Repair™ repairs PNG images preserving the original visual quality and without re-compressing the files.
File Repair™ has no specific requirements, happily running in all versions of Windows including XP, Vista, Windows 7 and 8 in their 32-bit and 64-bit editions. The tool does not require administrative privileges and uses read-only access to files being repaired, providing the safest recovery environment possible.
Pre-Recovery Preview and HEX Editor
Using File Repair™ is little different from using Windows Explorer. To fix a file, simply select it in the main window and click the "Repair" button. You can also preview any file before repairing it. If the file can be fixed, you'll see the correct preview. The preview is available in both full and evaluation versions of File Repair™. In addition to the visual preview, File Repair™ offers a low-level HEX editor allowing you to review the content of corrupted files in binary mode. This feature is in high demand in data recovery labs.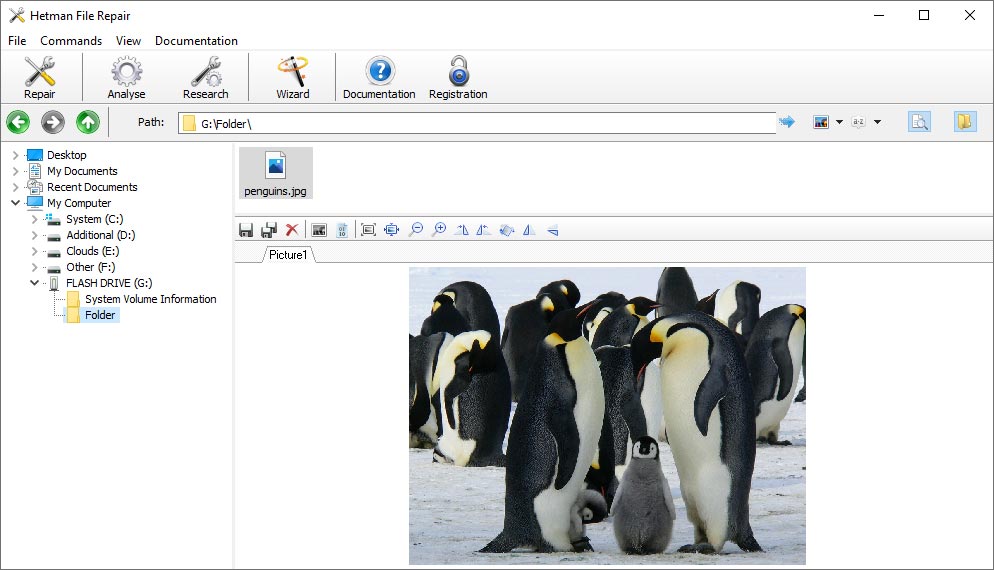 ⛔ Why don't some files open for viewing or editing after data recovery?

After deletion, the contents of the file could be completely or partially overwritten with new data. This creates errors in the internal structure of the file and then programs cannot edit or display such a file properly.

🤳 Why are my photos displayed in small size after data recovery?

Typically, Jpeg files contain several images that duplicate the main picture in a lower resolution. If it is impossible to restore the photo in its original size, our programs do their best to recover at least a part of the image.

🧰 Can your program fix any error in any file?

No, but you can try the program for free. If you can view your file in the program's preview window, then it can be fixed and recovered.

⌛ If I pay for the program now, how long will it take before I receive my registration data?

It depends on the payment method you use. If you order online with your credit card or PayPal, you will receive the registration key immediately after payment.

What are the requirements for successful data recovery?

For successful recovery, you must stop using the storage device until the necessary files are fully restored.

If it is an external drive, memory card or flash drive, then connect it to the PC and analyze them using our program.

If the data is deleted as a result of formatting the system disk, resetting the operating system or reinstalling Windows, then stop further installation of the operating system and programs. Connect the drive to another computer and perform recovery operations.

Recovered files must be saved to a different drive.
User reviews
Read user reviews of Hetman Software programs or share your experiences. Your review will be published after being moderated. We value your opinion! Total reviews: 29. Average ratings: 4.24.

Didn't work with my set of corrupted photos.
3.04.2020

I m a sports teacher in India. I need the tool to repair my documents which get corrupt due to use on different computers
3.04.2020



is a Good aplication, very Good work
3.04.2020

ME GUSTA LA FOTOGRAFIA Y SE ME DAÑARON ALGUNOS ARCHIVOS. NECESITO REPARARLOS.
3.04.2020
Recommended tools
We recommend that you familiarize yourselves with the opportunities offered in other Hetman Software utilities. You can significantly save on the purchase or buy a program with the features that best suit your needs.