Software for Viewing the History of Visited Sites in Browsers
Would you like to view browsing history? Are you looking for software to analyze browsing history for Google Chrome, Mozilla Firefox, Microsoft Edge, Internet Explorer or Opera? Do you need to restore deleted browsing history or view someone's correspondence on social media like Facebook, Twitter, Vkontakte, or Instagram?
Hetman Internet Spy™ 2.1
This program analyzes the contents of both existing and deleted browser system files and collects detailed information on a user's online activity. The utility allows you to analyze browsing history, social media messages, search history, emails, videos watched on YouTube, etc.
The user-friendly interface is good not only for parents who would like to monitor their children's online activity, but also for detectives working on digital evidence. The application will give you certain information even if the browsing history was deleted, the data was removed, or the disk was formatted.
Quick start
Watch our presentation video about the program to analyze the time spent online. Select the user account and the navigator, and you will get a comprehensive report on the user's activity online.
Ways you can use it
If you've decided to clear your search history, browsing history, or the history of any other past online activities, you shouldn't assume it will be gone forever. Browsing history can be read easily, and even restored, if necessary.
View visited pages
You can view the browsing history of any person who works with the target computer. The application supports all popular browsers such as Chrome, Yandex, Mozilla Firefox, Opera, Microsoft Edge, Internet Explorer, and more.
Recover deleted browsing history
Browsing history will be available even after the user has applied the "Clear browsing data" function or used the Incognito mode to visit a website. This tool will find and restore browsing history after the files have been deleted, the disk has been formatted, or the user account has been deleted from the AppData folder.
Analyze communications in social media
This utility provides access to messaging history on any social media site like Facebook, Twitter, Instagram, YouTube, etc. All user accounts logged into, the time spent communicating, and many other things will be clearly visible.
View passwords, addresses, downloads and bookmarks
Internet Spy™ opens passwords saved in the browser, addresses entered when filling in online forms, download history, and bookmarks created by the user. The sign-in data together with the browsing history will provide you with a way to access any personal information on the people you are interested in.
Program features
According to ratings of forensic analysis software, this product is the best value for the money.
Show a list of opened web pages
The application collects the history of opened URLs and displays the opening date, total number of visits, and the time spent viewing a certain webpage. For convenient analysis, all websites are broken into categories, and you can filter or sort them by any category.

Analyzes a user's online activity on social media
Communications on social media also leave a track in the operating system. There is a special section to show URLs, the accounts used, the people with whom the user interacted, and the total time spent on communication. Using the saved logins and passwords, you can get direct access to the private information of a person's account - messaging history, photos and videos.
Analyzes search queries and use of machine translation
The history of all search queries is given as a separate section. It contains all the information about searches made with popular search engines such as Google or Bing, in online stores like Amazon or Ebay, online maps by Google, social media like Facebook and YouTube, dating websites such as BeNaughty, Match, Tinder or OkCupid, and millions of other web sites and services.

All emails - viewed or sent - are available for review in a separate section. In addition to the date, it shows you the name of the resource where the email was viewed, the user account, and the subject. By using the received passwords, you can read someone else's correspondence.
Shows created bookmarks and downloads
All bookmarks created by the user will be shown after scanning the browser. You will have access to bookmarks created both from a desktop computer or a smartphone. The saved web page URLs contain the date of creation and are arranged as a directory tree. The history of all downloaded objects is given as a separate section. For every download, the complete address and the time of starting and finishing the download are shown, as well as the path to the file on the disk.

Analyzes browser cache contents
When visiting any webpage, Chrome, Yandex, Opera and Mozilla Firefox copy numerous images and other objects onto the hard disk - into the browser cache. Internet Spy™ restores the files and the date of first access from the browser cache and shows it for review.
Shows saved passwords and entered addresses
For convenience, modern browsers suggest remembering passwords to user accounts in Facebook, Instagram, Twitter, email services, etc. This utility extracts saved passwords and addresses entered in contact forms from a person's user account. Using the login keys, you can view someone's emails and social media messages.
Entering a person's accounts in Google and Facebook gives you access to complete browsing history and search queries, all movements (via Geolocation), all the person's contacts, and lots of other private information.

Recover browsing history after disk formatting
Deleting browser system files from the hard disk with Shift + Del or formatting the partition with subsequent reinstallation of a Windows operating system gives no protection against the Internet Spy. Internet Spy™ scans the disk directly and recovers the deleted browsing history.
Restores browsing history after it's cleaned, or after Incognito or Private Mode have been used
You will be able to recover browsing history after it is cleaned, reset to default settings, and even after the browser is uninstalled and reinstalled. Using an Incognito tab in Chrome and Yandex, or a Private tab in Opera and Mozilla Firefox does not hide the browsing history, and you'll be able to view it.
Exporting reports to Excel, HTML or PDF
You can save all the received data to Excel, HTML or PDF for further use or to import to other systems. The Report Wizard will help you select and export any useful information.
Browsers and operating systems
You can download and try Internet Spy™ for free. This product supports 32-bit and 64-bit versions of Windows 10, 8, 7, Vista, XP, and can recover browsing history for: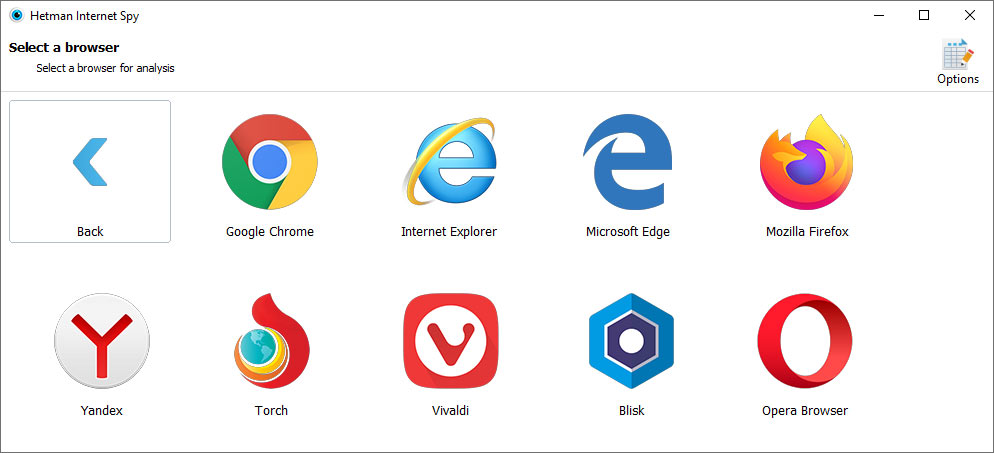 Amigo
Blisk
Cent Browser
Cốc Cốc
Comodo Dragon
Epic Privacy Browser
FreeU
GhostBrowser
Google Chrome
Internet Explorer
Maelstrom
Mirosoft Edge
Firefox
Opera Browser
Orbitum
Safari
SeaMonkey
Slimjet
SRWare Iron
Torch
UC Browser
Vivaldi
Yandex
Rambler-Browser
🔑 Can I access passwords stored in the browser?

Passwords stored in the browser are protected by the operating system password of the current user.

To access passwords, select the user account to sign in, and run the program.

❌ Is it possible to conduct an analysis after deleting a browser or a Windows user account?

The program both analyzes current browser files and restores deleted information.

Deleting the browser, the user account, and even reinstalling the operating system will not remove the traces of the user's online activity.

👩‍💻 Is it possible to use this program for analyzing how employees spend their working hours?

The utility arranges the information on visited websites, search queries and time spent on social networks into a list and provides convenient access to such data.

With comprehensive analysis of the browser system information , the program generates a detailed report on the online activities of the user.

⌛ If I pay for the program now, how long will it take before I receive my registration data?

It depends on the payment method you use. If you order online with your credit card or PayPal, you will receive the registration key immediately after payment.

💯 What are the requirements for successful data recovery?

For successful recovery, you must stop using the storage device until the necessary files are fully restored.

If it is an external drive, memory card or flash drive, then connect it to the PC and analyze them using our program.

If the data is deleted as a result of formatting the system disk, resetting the operating system or reinstalling Windows, then stop further installation of the operating system and programs. Connect the drive to another computer and perform recovery operations.

Recovered files must be saved to a different drive.

⏱️ How long does it take to recover my data?

Data recovery can take a long time if you work with a disk larger than 1 terabyte. Faulty drives can also be scanned for a long time. However, in most cases, recovery takes less than 30 minutes.
Recommended tools
We recommend that you familiarize yourselves with the opportunities offered in other Hetman Software utilities. You can significantly save on the purchase or buy a program with the features that best suit your needs.