How to Connect a Desktop Hard Drive to a Laptop or Another Computer
This article will tell you how to take out a hard disk from a computer properly and connect it to a laptop or another PC, and how to recover data from such disk.
Quite a typical task: transfer a large number of files from a desktop hard drive to a laptop drive, or connect it to another computer in order to recover data from there.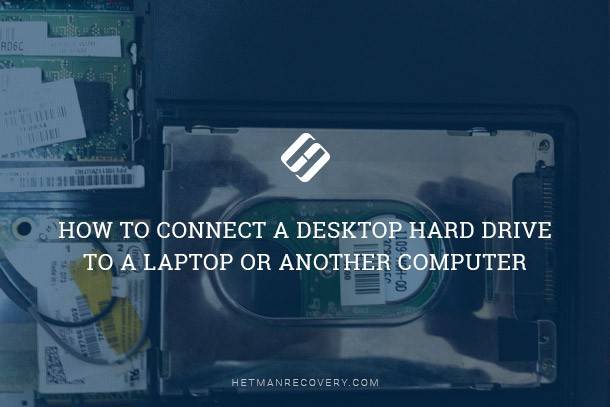 In either case you will need to connect the HDD to a laptop or another computer. This is what this article is about. We are going to study one of the simplest and all-purpose variants to use.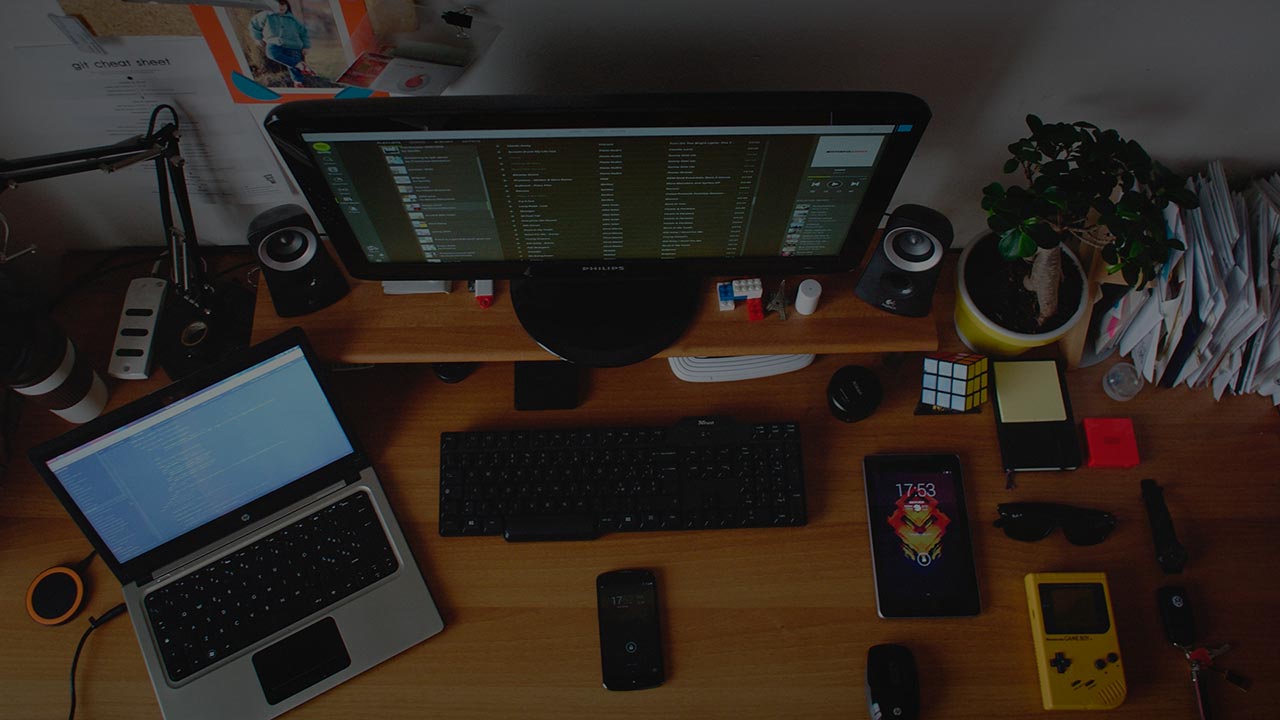 How to take the HDD out of the computer (IDE and SATA)
It seems logical that before connecting a disk to another device it has to be taken out of the system unit. The matter is that depending on the interface through which your disk is connected (IDE or SATA) different boxes will be needed to make connection possible.
That is why instead of guessing what kind of interface your disk has it is best when you first take it out of the system unit and have a look at the interface.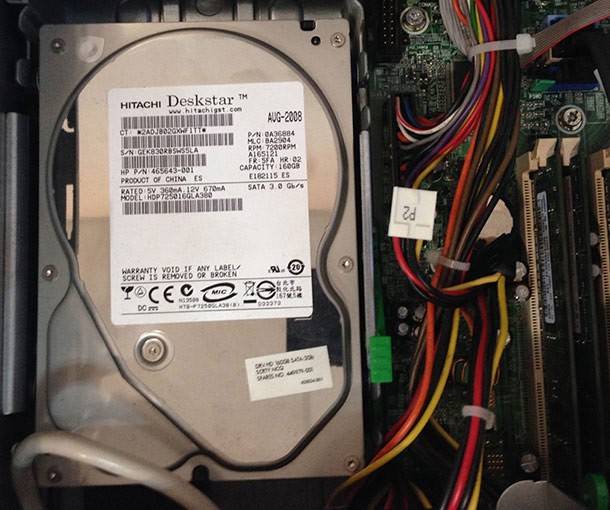 As a rule, there is not much trouble in taking an HDD out:
First, you turn off the computer, and unplug its power cable from the socket;
Open the side panel of your system unit;
Take out of the HDD all connectors;
Unscrew fastening screws and take out the disk (usually it slips along two sliding bars).
The procedure itself is quick and easy. Then have a careful look at the disk interface. Nowadays most hard disks are connected via SATA (a modern interface with the high-speed data transfer). If your disk is old, it can have an IDE interface.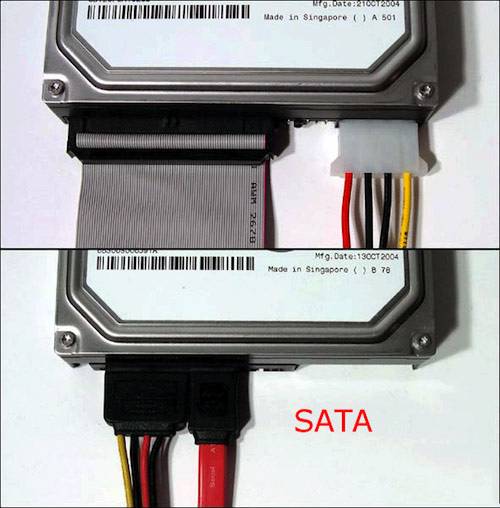 Another important detail
Computers usually have "big" 3.5-inch disks, while laptops have smaller ones of 2.5 inches (1 inch is 2.54 cm). The digits 2.5 and 3.5 are used to denote form factors and actually show the width of an HDD body when measured in inches.
The height of all modern 3.5" HDDs is 25 mm; it is known as "half-height" in comparison to older models. Manufacturers use this height to fit inside from one to five platters.
In 2.5" HDDs things are different as their original height of 12.5 mm was replaced by the 9.5 mm one which can contain up to three platters (nowadays there are also thinner disks than that). The height of 9.5 has actually became a standard for most laptops but some companies still produce 12.5 mm hard disks based on three platters.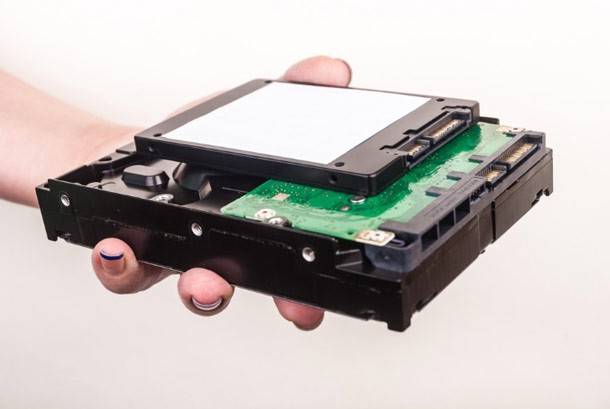 Connecting the disk to a laptop
Let us suppose we have sorted the things that concern the interface. For actual connection we will need a special BOX. They can be of various types:
3.5 IDE -> USB 2.0 – this box is designed for a 3.5-inch disk (which is what an average PC uses) with IDE interface to help connect it to a USB 2.0 port (actual transfer speed under 20-35 MB/s);
3.5 IDE -> USB 3.0 – the same but the transfer speed is higher;
3.5 SATA -> USB 2.0 (similar, the only difference is the interface);
3.5 SATA -> USB 3.0 and so on.
This box is actually a rectangular container a bit larger than the disk itself. Usually this box opens at the rear side and an HDD is put inside.
In fact, after you have done all that you need to connect a power supply (adapter) to this box and use a USB cable to connect the box to another PC or a laptop.
If the disk and the box are all right, in "This PC" you will see one more disk which you can use as an ordinary HDD (format, copy, delete etc.)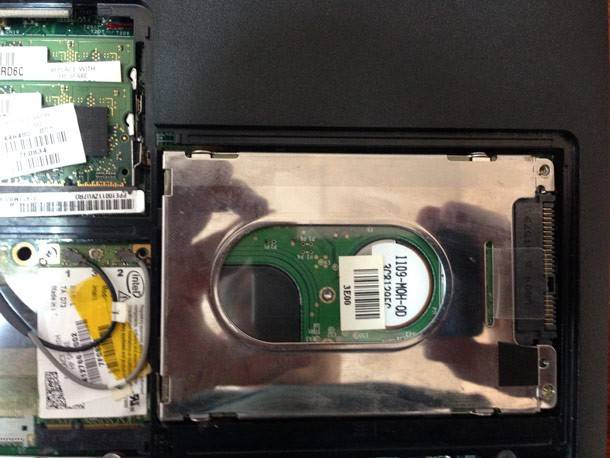 If your computer fails to recognize the disk
In this case, you may need two steps.
Check if you have drivers for your box. Usually Windows installs them itself, but if your box is non-standard, there may be problems.

To begin with, launch Device Manager and see if there are drivers for your device and make sure there are no yellow exclamatory marks.

Go to Disk Management in Windows (in order to go there in Windows 10 right-click on START button) and check if you can see the connected HDD there. If it is there, the most probable way of getting it right will be changing the drive letter and formatting it.

There is a dedicated article on this topic in our blog.
Connecting the HDD to another computer
In a modern system unit, a CD/DVD drive and HDD should be connected via SATA interface. That is, instead of a CD/DVD drive you can connect an HDD from another computer.
In fact, the only thing left to do is to disconnect cables from the disk drive and connect them to the other HDD. Then you just turn on the computer and copy all necessary information or scan it with the help of data recovery software
The new hard disk will be represented in "This PC" i.e. you can work with it as an ordinary local disk.
If you want to just have this HDD permanently connected to your PC, the only thing you have to do is to fix it properly.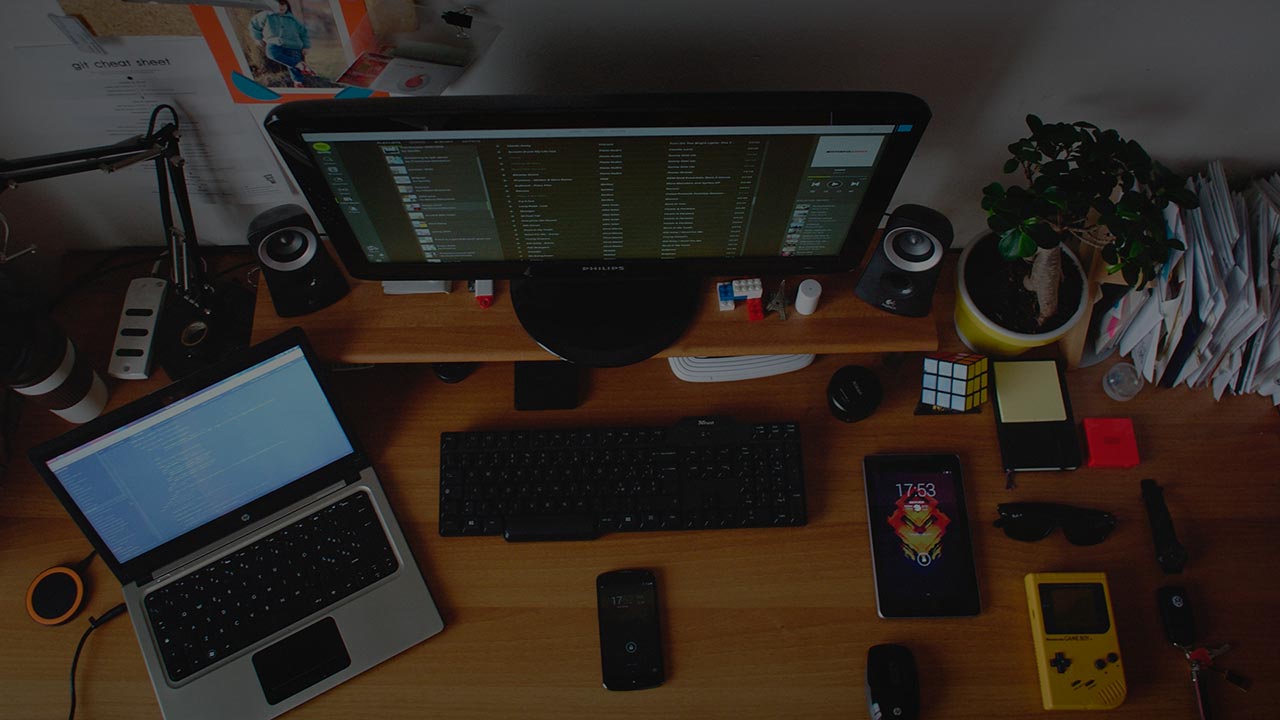 Basically, that's all. If you want to transfer many files from a PC to a laptop (and you're not planning to use a desktop HDD with the laptop all the time), then you may like the other way: connect the PC and the laptop to a local network and just copy the files you need. For that purpose what you need is just one cable… (provided that there are network interface cards in both the laptop and the desktop computer).