Facebook User Activity: Activities and Geodata, Search and Messaging History
Read about the user activity data saved by Facebook, how to view or delete it. Social media are the most popular online resources for many users, and their popularity can only be matched by search engine websites. However, as well as search engines, social media websites also save certain data on user activity.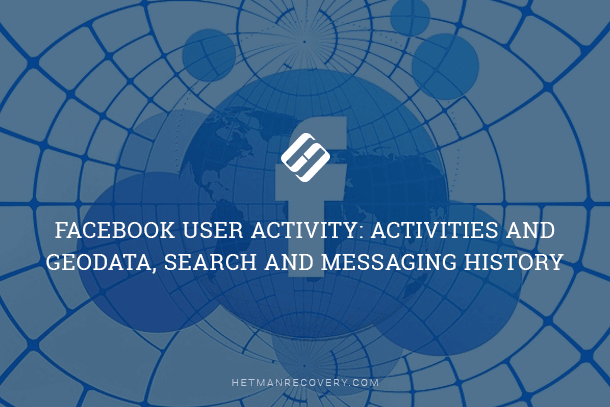 What data about user activity does Facebook save? Where and how can we see or delete it?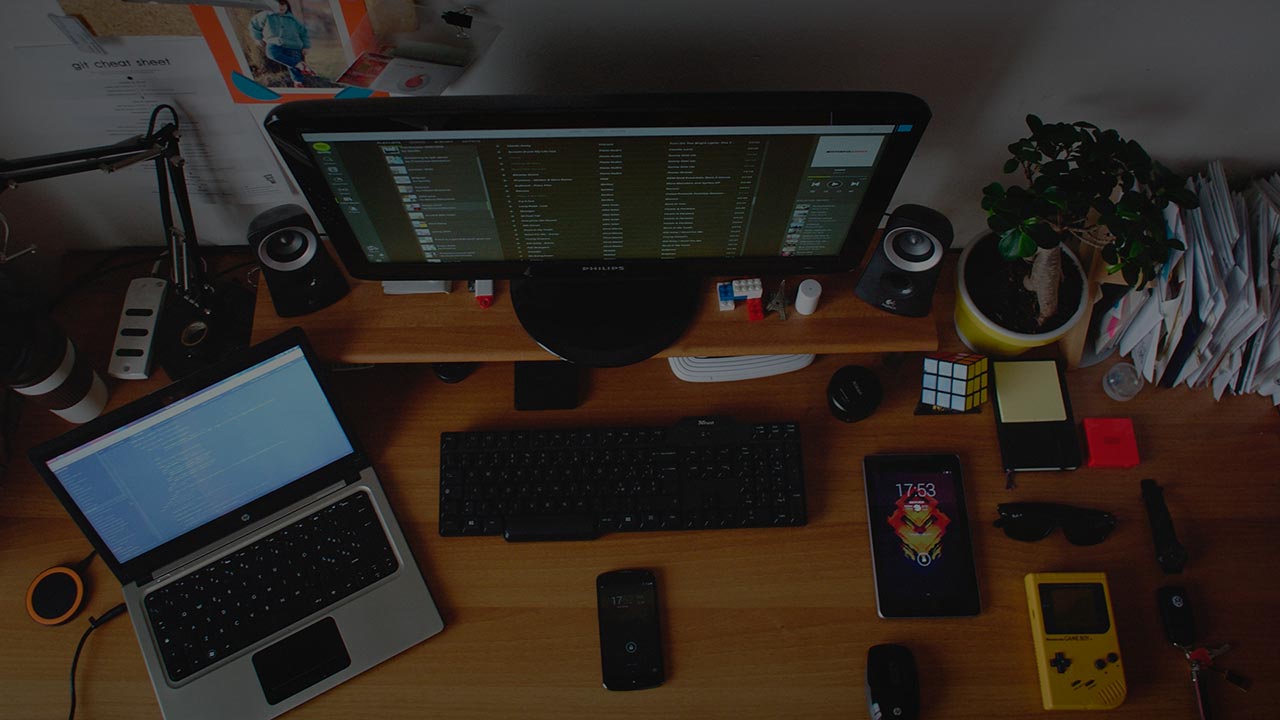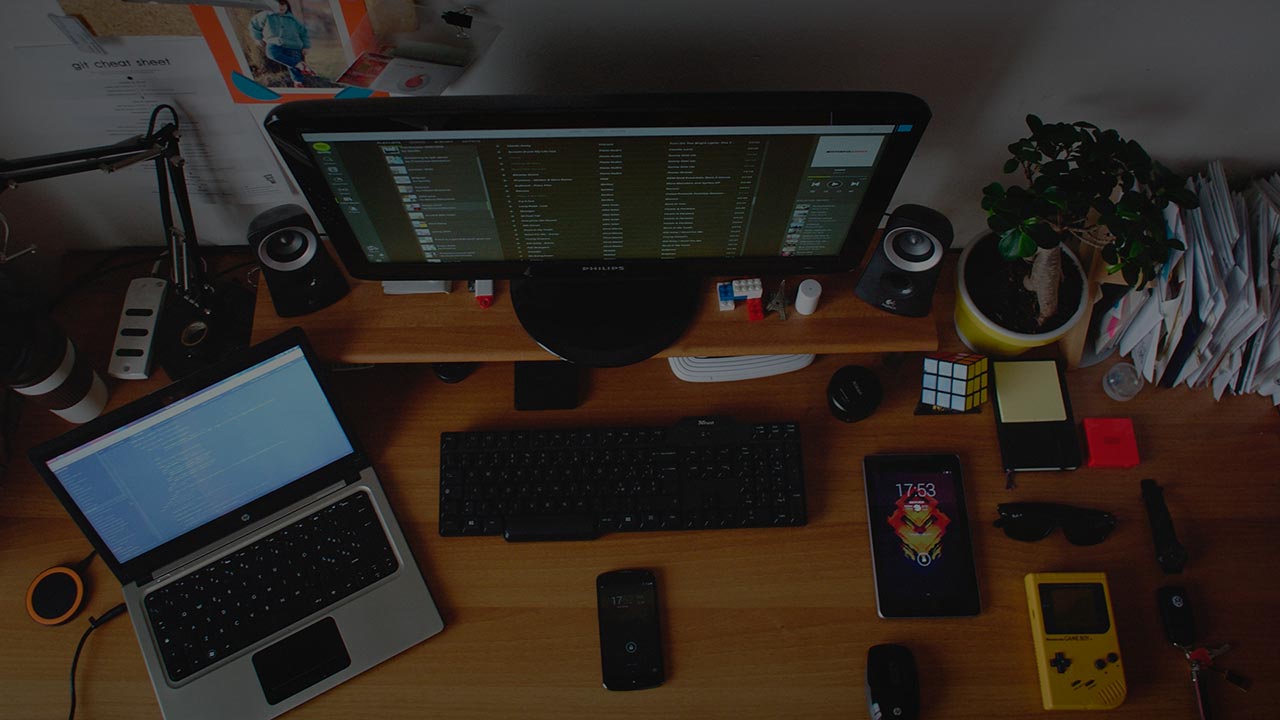 Acivity Log
All data about activities in your Facebook account is saved to Activity Log. To view it, go to the menu (an icon shaped as a downward-pointing arrow)and select Activity Log.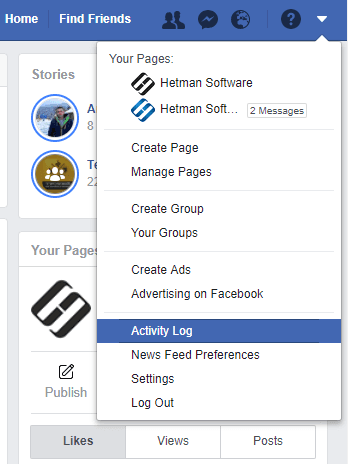 All activities of this account are shown in chronological order.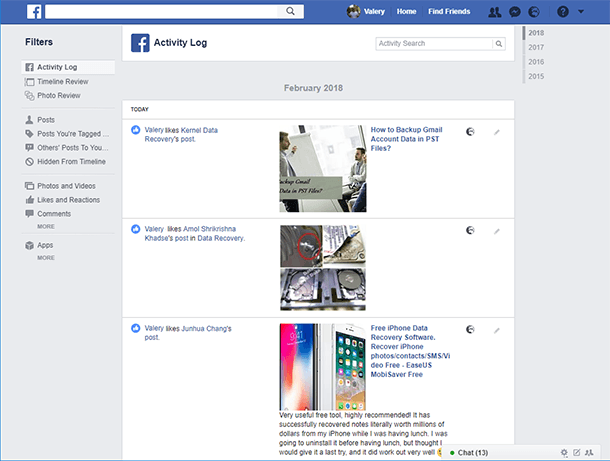 Using the Activity Log menu on the left, you can select and view activities sorted by one of the many categories available. They are your posts, your friends' posts, posts you are tagged in, likes, videos you've watched, the people you follow, your activity and comments in groups.

I'd like to note a special filter in the Activity Log – Search History. It saves all search queries made from this account.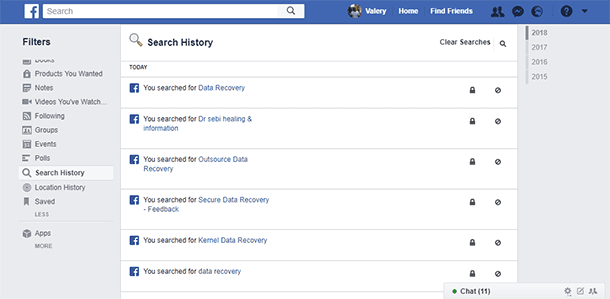 Location History
Another interesting function is Location History. If you use the Facebook app on a mobile device, and its Location History is enabled, your Activity Log will include a filter with such name. Go there, and you will see the information on your geolocation data arranged chronologically, day by day.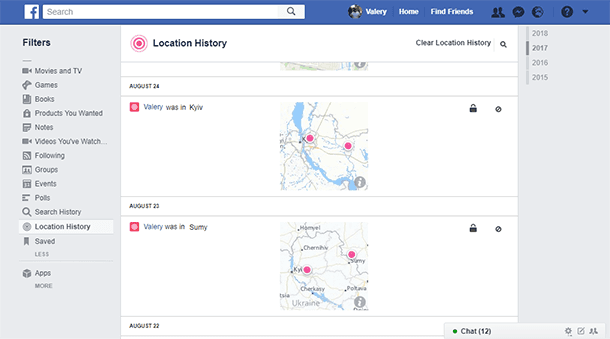 How to Clear Activity Log, Search History and Location History
There is no way to clear Facebook Activity Log in one click. However, you can remove activities from the log one by one. To do it, click on the Edit icon (shaped as a pencil) and select "Unlike" if you are dealing with a "Like" mark, "Unfriend" – if you are removing someone from the friend list, or "Delete" if you want to remove your reaction to a post. As a result, such activity will be removed from the log.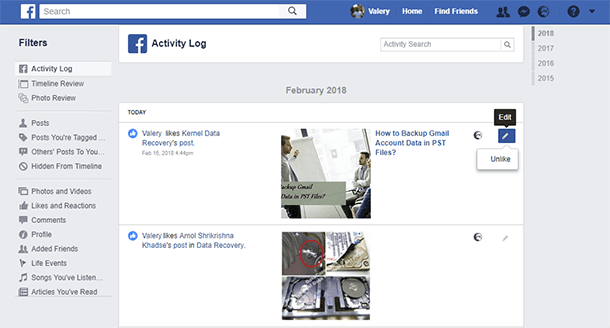 Facebook search history can be removed one by one, just as shown on the example of Activity Log, or cleared all at once by clicking on "Clear Searches."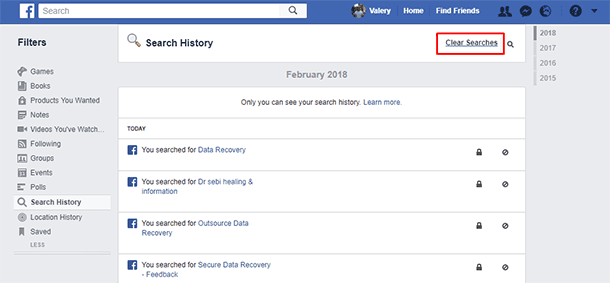 Location History data can also be removed one by one, or all at once – in just the same way as search history.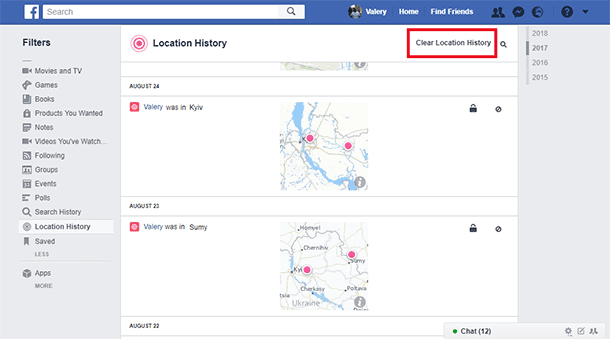 Activity Log in Facebook Mobile App
If you use Facebook from a smartphone or tablet PC through its mobile application, Activity Log of your account is also backed up here. All its filters and functions are similar to those in the web version of this social media. All data in the web version and mobile version are synchronized with each other.
To view and manage Facebook Activity Log, go to its mobile app and tap on the menu (the button with three horizontal lines) to get to Activity Log.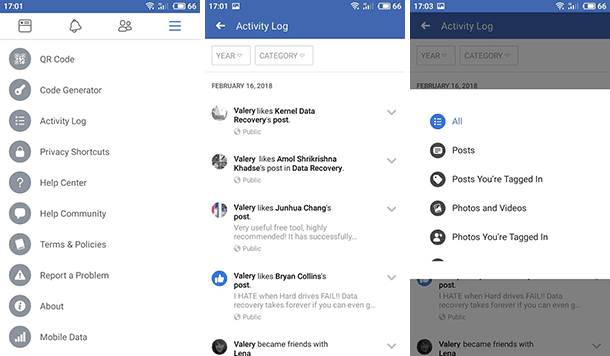 To sort activities, tap on the Filter button in the Activity Log and select the one you need.
Facebook Messenger History
Many people use Facebook Messenger to exchange messages. It has both a mobile and web versions. The data between the versions is fully synchronized.
To view recent chat history in Facebook, tap or click on the Messenger icon in the tray. Follow the link "See All in Messenger" below, you will see all chats that have ever been created.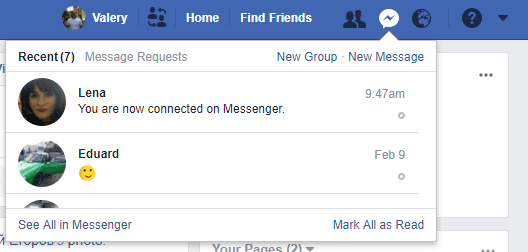 To remove a message from the chat, clik on the menu next to it (shaped as three dots) and select Delete, but remember that this message will only be deleted from your chat. It will still remain in the chat of the other person (the one whom you sent the message, or the one who sent this message to you).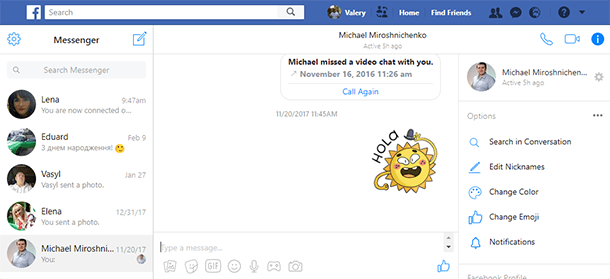 To delete the entire chat, go to the chat menu (the icon shaped as a cogwheel) and select Delete.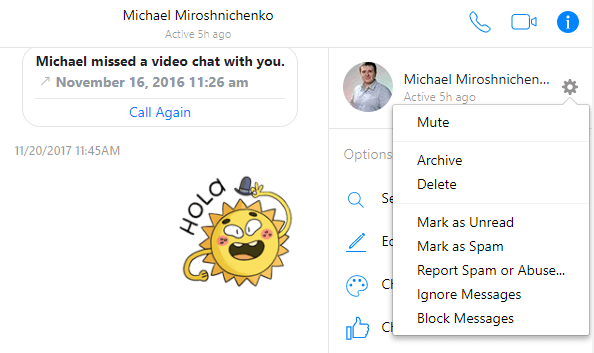 Messages and chats deleted from the Facebook web interafce will be automatically deleted from the Facebook Messenger mobile app as well, and vice versa.
To delete a message or chat (conversation) from the Facebook Messenger mobile app, tap and hold it; in the menu that opens, select Delete.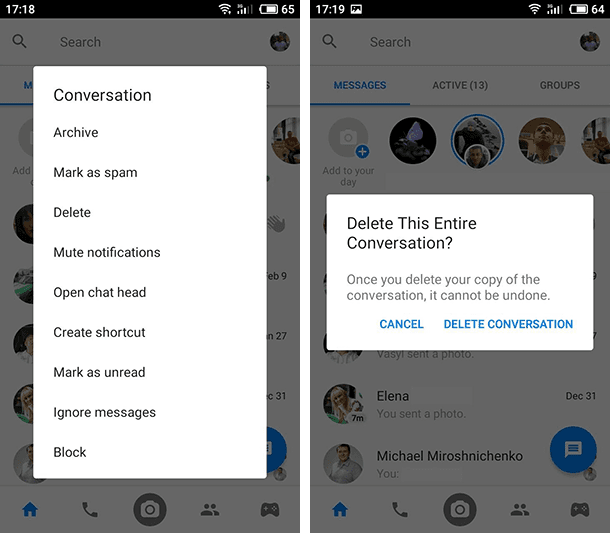 Deactivating or Deleting a Facebook Account
If, for some reason, you need to delete all your Facebook account history, or make it unavailable, you can disable or delete the account. What is the difference and how can we do it?
When you disable a Facebook account, you can enable it again at any time. Disabling (deactivating) your account blocks your profile and removes your name and photos from most materials you shared on Facebook. Some information, though, will still be visible to other people, for example, your name in the friend list and messages you have sent.
To deactivate a Facebook account, go to Settings / General Account Settings / Manage account / Deactivate your account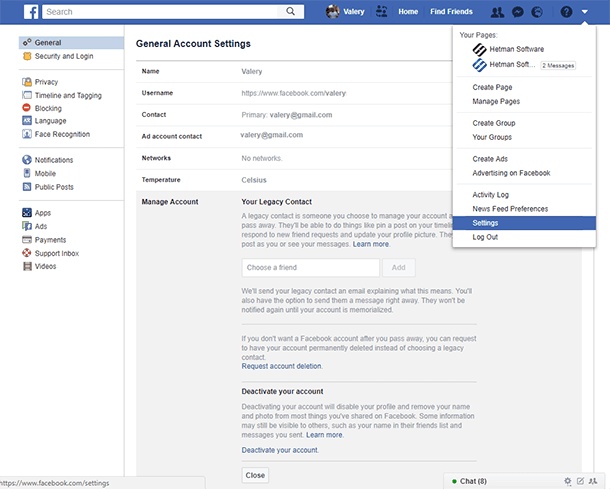 In the mobile app, you can find this menu in Account settings / Settings / Manage account.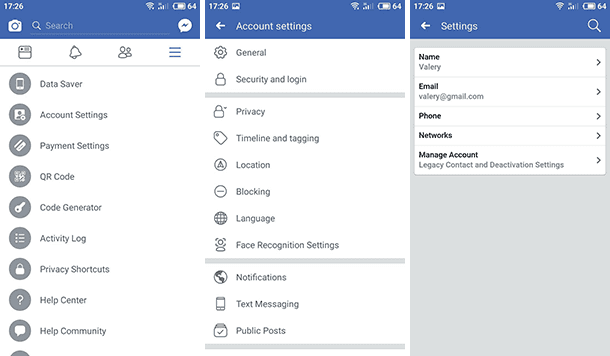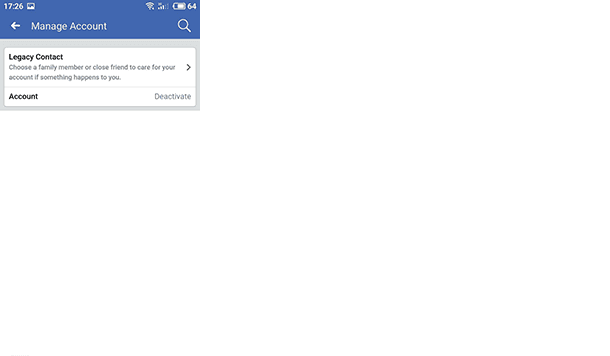 On the contrary, deleting an account removes it from Facebook forever. When you delete your Facebook account, all your marks, comments and likes in news feeds of other people will disappear.
Before deleting your account, you can download a copy of your Facebook data. To do it, go to Settings / General Account Settings / Download a copy of your Facebook data.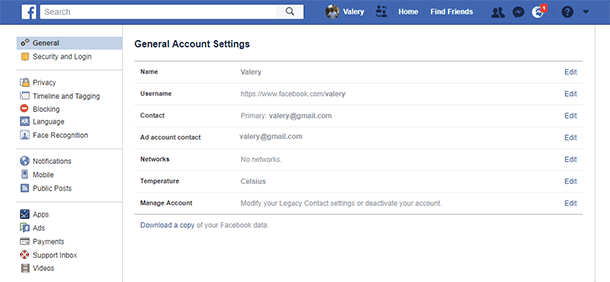 However, deleting an account from Facebook is not that easy either. This function is hidden deep in the settings of this social media. That is why here is the direct link to the page where a Facebook account can be deleted: https://www.facebook.com/help/delete_account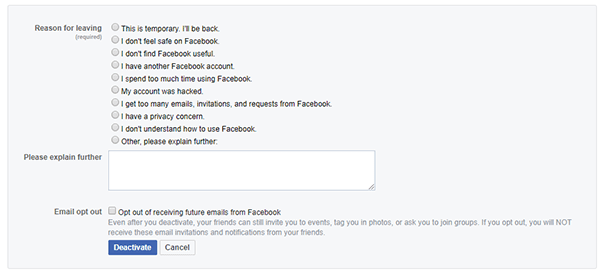 You have to understand that after you delete your account, people won't be able to see in on Facebook. The procedure itself, from the start and until all materials you have ever posted are deleted (photos, status updates and other data kept in backup systems), can take up to 90 days. Some activities you do on Facebook are not stored in your account. For example, your friend's account will still keep messages from you even after you delete your account. This information is still there even if the account was deleted.