How to Recover a Forgotten Password to Your «Facebook» Account
Read this article to find out how to restore access to a Facebook account, improve its security, and sign out of your accounts on other devices after the password was changed. Today, we are publishing the fourth article in the series of short tutorials on dealing with password recovery / access restore situations for most popular websites and social networks.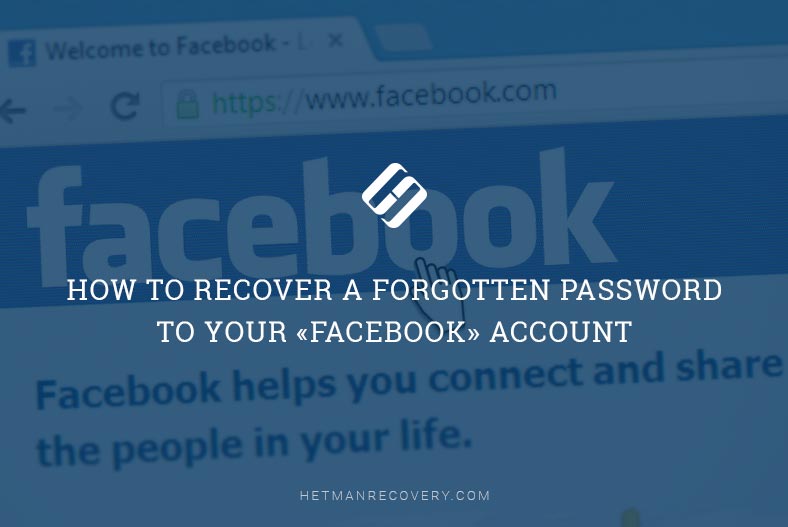 Previously, we have already presented several articles describing possible recovery scenarios. You can read more about the algorithms for restoring access to an account in these articles:
How to recover a forgotten password to your Microsoft account;
How to recover a forgotten password to your Yahoo! account;
How to recover a forgotten password to your LinkedIn account;
How to recover a forgotten password to your Instagram account.
The procedure for recovering a password to your account in Facebook is not going to take long. In the situation when you forgot a password to your Facebook account, there is no way to recover the same password. However, you can reset the old password and replace it with the new one, so that to restore your access to Facebook.
If you forgot your Facebook password or someone changed it without your permission, the Facebook support service offers you a simple way out. In this case, we're talking about restoring your account – when you forgot the password completely. Yet if you know your password but you'd like to change it, the algorithm to change the password will differ a little from the algorithm to restore access to an account in Facebook (when the password is lost).
Recover a password to your Facebook account
Open the Facebook main page and sign in, using the email address or phone number you specified when registering this account. After a failed attempt to sign in, Facebook will suggest that you forgot your password, and you can click on the button Forgot password, which can be found under the Log In options below. Click this button to continue.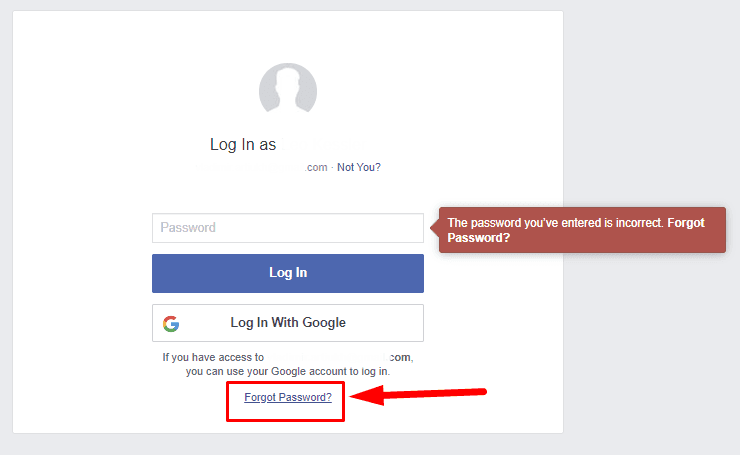 Note: If your forgot both your password and email address or phone number (or you can't access them), you need to go back to the Facebook main page. In the top right corner, find and click on the link Forgot account?, and follow the directions. You will be taken to the password reset page.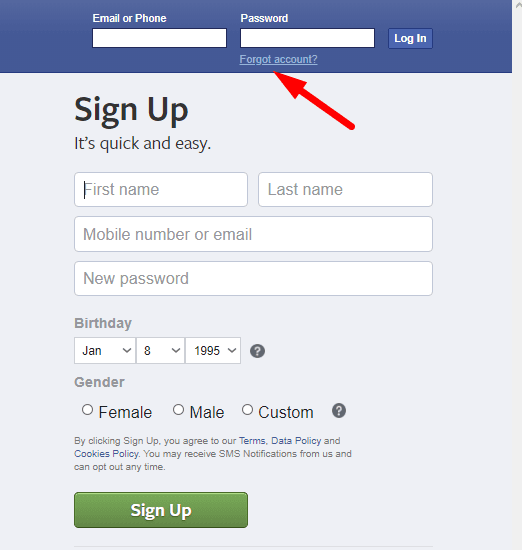 Depending on what information you provided when configuring your Facebook account (and what security settings are), you may see different variants of actions to reset the password. Usually you are suggested to choose between getting a password reset code to your confirmed email address and receiving an SMS to your mobile phone number. Select the method you like and click Continue.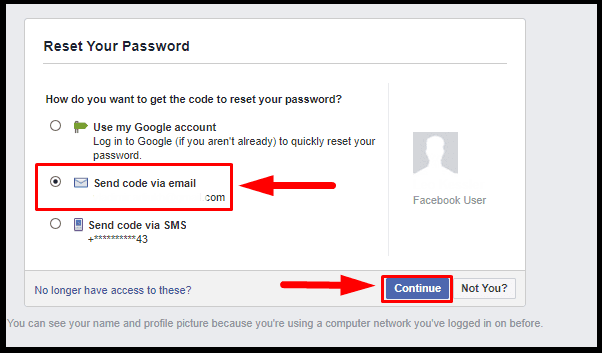 Facebook will send you a code by email
In our example, we chose to receive the code by email. Check your email which you used to configure your account, and find the message sent by Facebook support team. Copy the code from the message and paste it in the page where you are asked for a security code, then click Continue to open the password change page.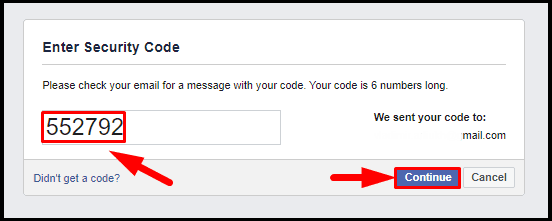 Otherwise, click on the Change password link in the message to skip typing the code.
Either way, you will end up on the page where you are suggested to type the new password. We recommend using a complicated and strong password containing letters and digits, lowercase and uppercase, to make sure your account is protected reliably. The security system will assess the strength of your password and it may suggest changing the password if Facebook believes the password is not complicated enough. After the new password is typed into the field, click Continue.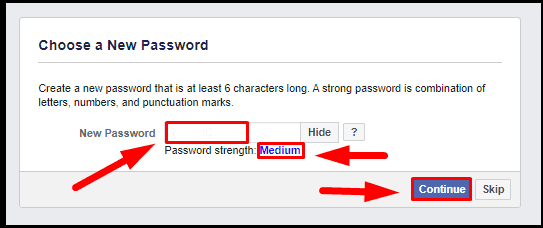 Sign out of accounts on other devices after changing the password
After the new password for your account has been created, Facebook will let you choose between logging out of current sessions on other devices, and staying logged in.
If you just forgot your password and you are absolutely sure your account is safe, and you are not going to reconnect your account on other devices, choose Stay logged in.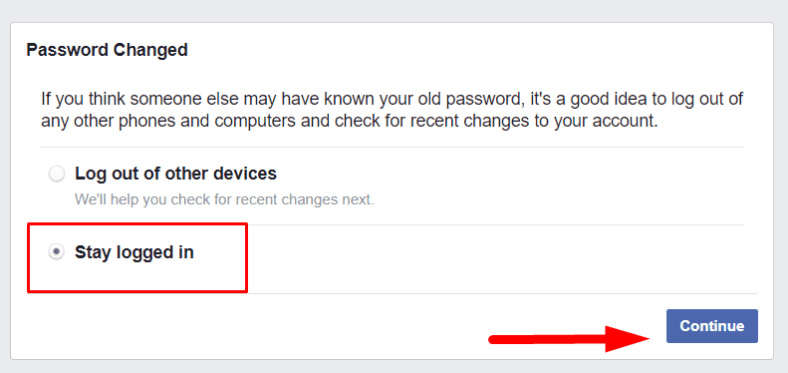 If you suspect your account might have been compromised or you are afraid someone may know your old password and try to get access to your account, go for Log out of other devices. All current sessions on your desktop computer, smartphone, laptop, tablet PC and other connected devices will be forced to finish, and you will have to log in with the new password from all those devices.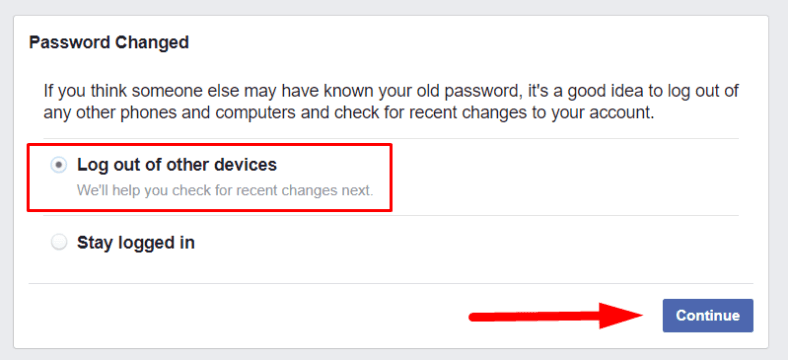 No matter what option you choose, click Continue.
Now, there are a few more steps to protect your account. If you suspect that someone might have access to your account, Facebook can check if there were any changes to your basic info (such as name, profile etc), installed apps and network activity – which you didn't do. Click Get Started to begin checking for any unauthorized changes.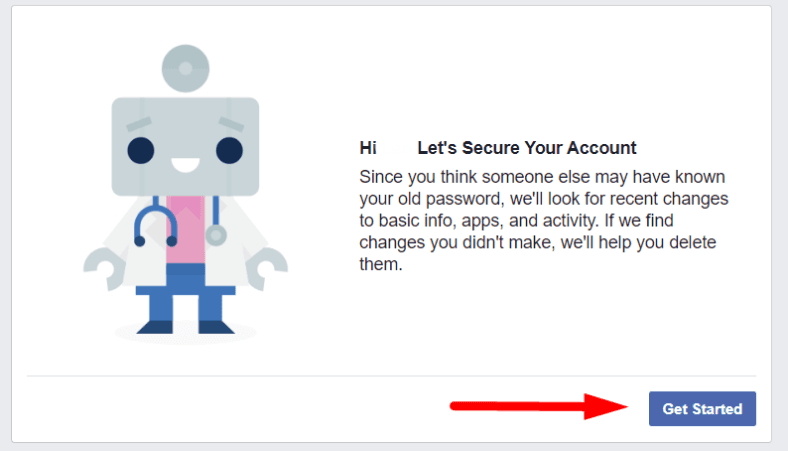 When it's over, click Go to News Feed, and it will redirect you to your Facebook account page.
Settings for better security
The security service for Facebook lets users choose several extra options to protect their accounts – in addition to using their passwords only. You can configure two-step verification, specify authorized trusted devices which are allowed to sign in to your account, give trusted contacts and so on. Using these extra settings may really help you protect your Facebook account even better.
Taking into account the growing number of accounts hacked, and the increasing interest of cybercriminals in social networks, you shouldn't neglect any methods to improve security of your account – especially in such a popular network as Facebook.
As you could understand from today's article, restoring access to your Facebook account when the password was lost is quite easy, even for users who have never done it before. One and the only condition is to strictly follow the recommendations you receive from the Facebook security team.