Top Tools to Read APFS Disks in Windows
In this article we'll discuss such file system as APPLE File System – APFS, explore its advantages and downsides, and show various tools for Windows to read and recover data from APFS.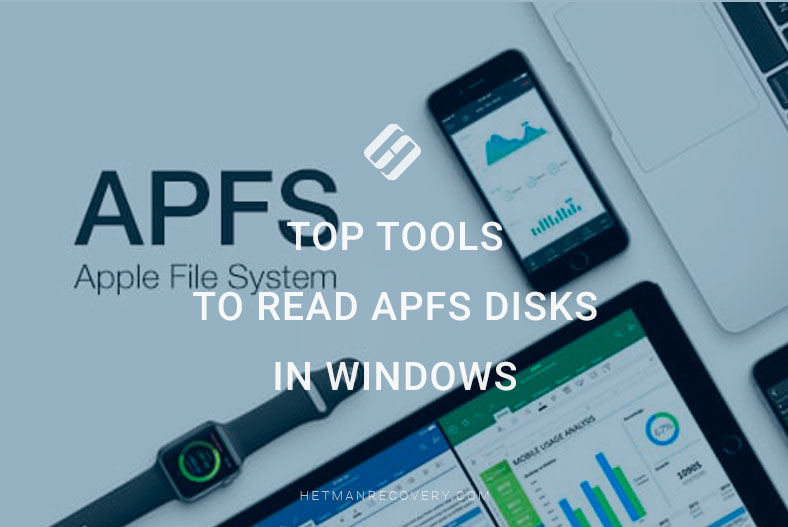 APFS, also known as Apple File System, is a standard file system used in macOS. It ensures high performance and reliability of data storage on Apple devices, and typically, it can't be read by Windows-based computers.
But what should you do if you need to access data stored on an APFS disk but you are using a Windows PC?
No matter what you want to do – copy data from an APFS disk to Windows, recover lost files or just view the contents of such disk – there is a solution for that, and we're here to help you learn more. Special tool have been developed to view files in this file system and interact with them in all kinds of ways.
We will concentrate on accessing data on the disk, and this process will involve installing a special driver that lets Windows handle APFS just like macOS does it.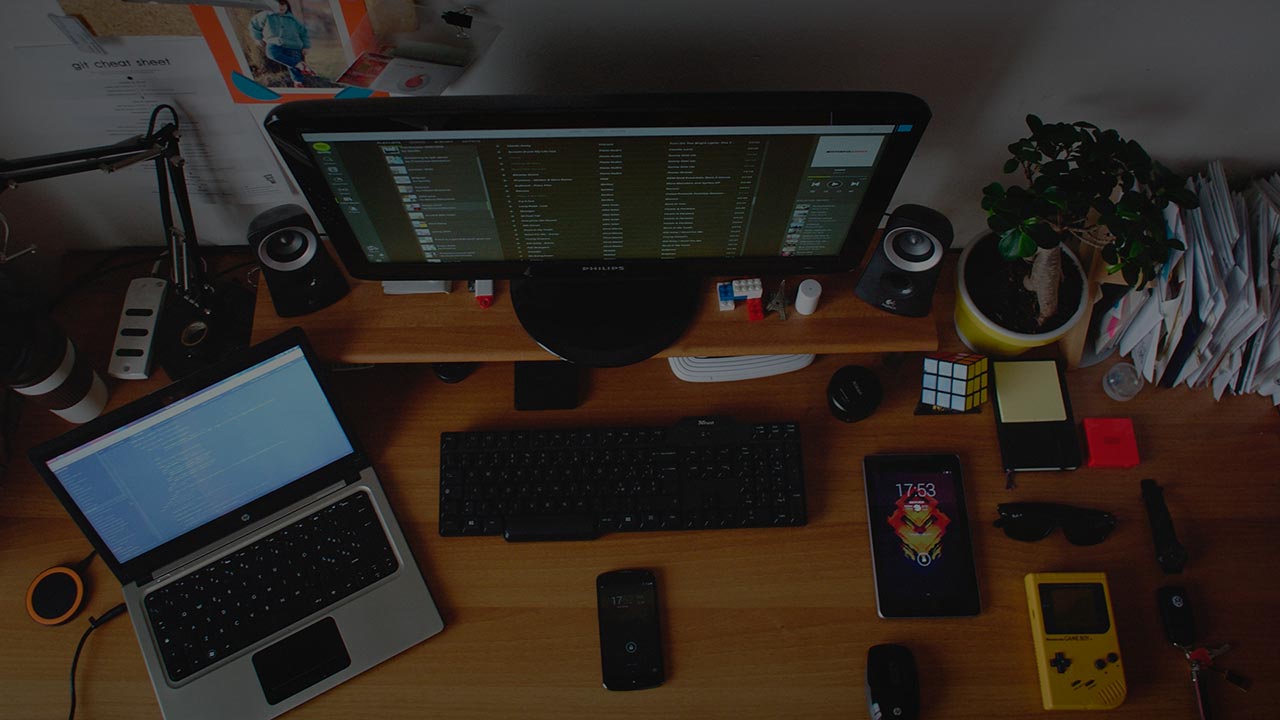 Pros and cons of APFS file system
Before we start the actual tutorial, let's explore some pros and cons of APFS in detail.
Its main advantages are the following:
High performance: APFS ensures high data read and write speed, which makes it an excellent choice for Apple devices.
Data reliability and integrity: APFS file system includes certain features to verify data integrity and restore its structure after errors.
Efficient use of disk space: APFS allows to use disk space more efficiently thanks to copying data on write and a data compression feature.
However, it also has certain drawbacks:
Limited compatibility: APFS is not always compatible with operating systems other than macOS, which may cause difficulties when you exchange data.
Limited support in Windows: Without third-party tools, Windows is unable to support APFS, and it can be difficult to access disks formatted in such file system.
The native file systems for Windows are NTFS and FAT, while APFS is not supported.
Software tools to read APFS disks
So, if you need to work with disks formatted into Apple file system, you will have to use third-party software tools. In this tutorial, we will explore how to choose the best apps for reading APFS disks in Windows, and which tools to use if you need to recover lost data from such disks.
Hetman Partition Recovery
The first app on the list is Hetman Partition Recovery.
It's a data recovery tool designed to restore deleted, damaged or lost files, and partitions on hard disks and other media devices.
The tool recovers data from any devices, regardless of the cause of data loss.
Hetman Partition Recovery supports almost all file systems, including APFS. Although this app is primarily meant for data recovery, it can also read disks formatted into APFS. This gives its users extra flexibility and the opportunity to access data on Mac-based disks even if they can't access computers running macOS.
The main features of Hetman Partition Recovery include scanning and recovering lost, damaged or deleted files on various types of storage devices, as well as support to a wide range of file systems. This way, it gives you maximal chances to recover important data including the data stored on disks formatted into APFS.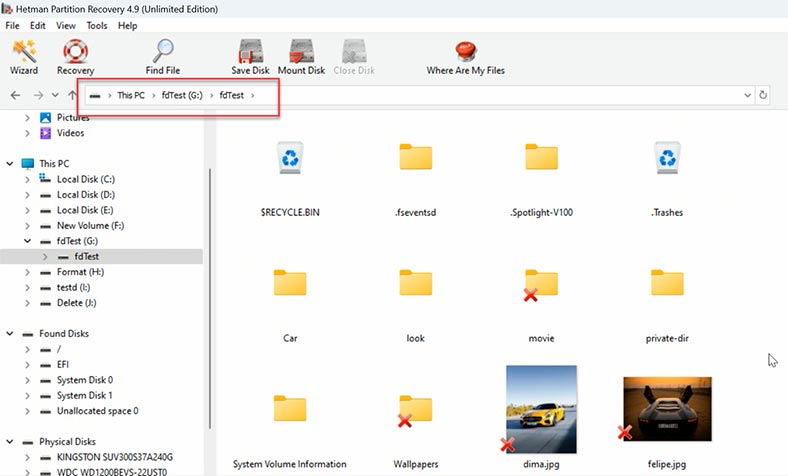 The free version lets you read APFS disks in a Windows environment and view their contents, but with certain limitations. To unlock all of its potential, you need to activate the full version.
To start work, connect your APFS disk to another computer with a Windows operating system, then download and install Hetman Partition Recovery.
The steps for further work:
Use the recovery tool to open the APFS disk, and scan it. The app suggests a Fast scan which will analyze the disk contents immediately and display it on the screen. The disk structure, file and folder names are retained, and the contents of every file is available for preview.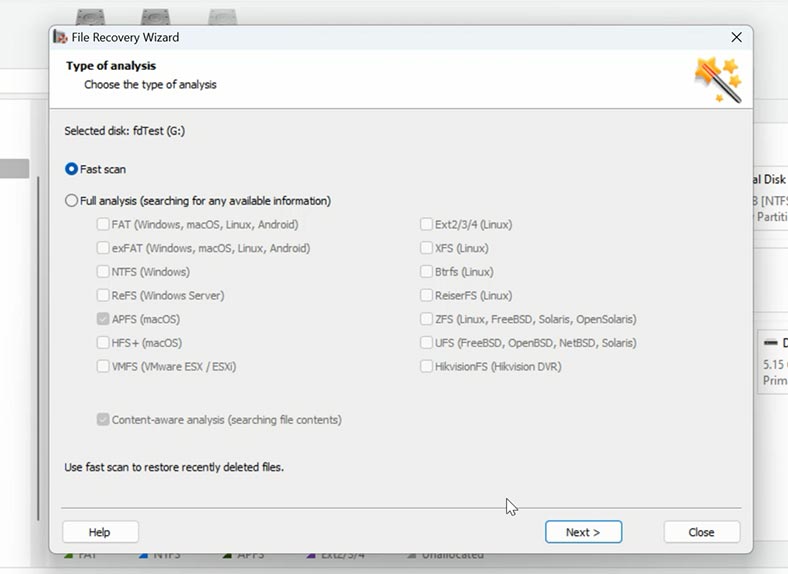 Select the files you want to copy to another disk and click Recovery. Give the path where to save the files, choose the target disk and folder where to save them, and then confirm the recovery operation. When the process is over, you will find the recovered files in the directory you have selected.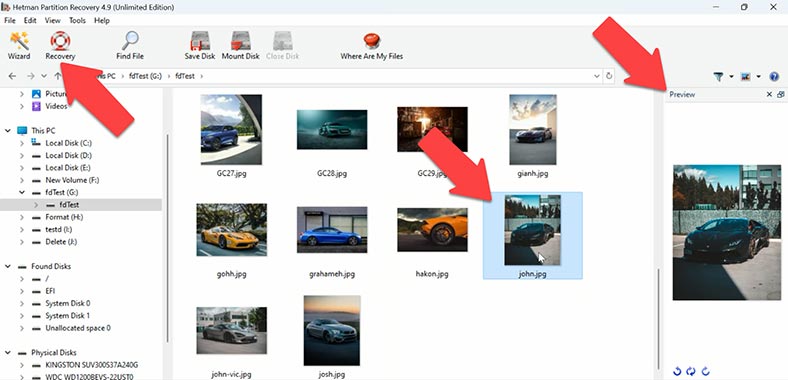 It is important that this tool doesn't change the disk contents, which guarantees the safety of your data.
Hetman Partition Recovery also provides access to previously deleted files, which makes it a powerful tools for both reading APFS disks and recovering data from macOS-supported file systems.
Besides, you can use Hetman Partition Recovery to create disk images and save them to a hard disk in Windows. This is very convenient for data backup and restore operations.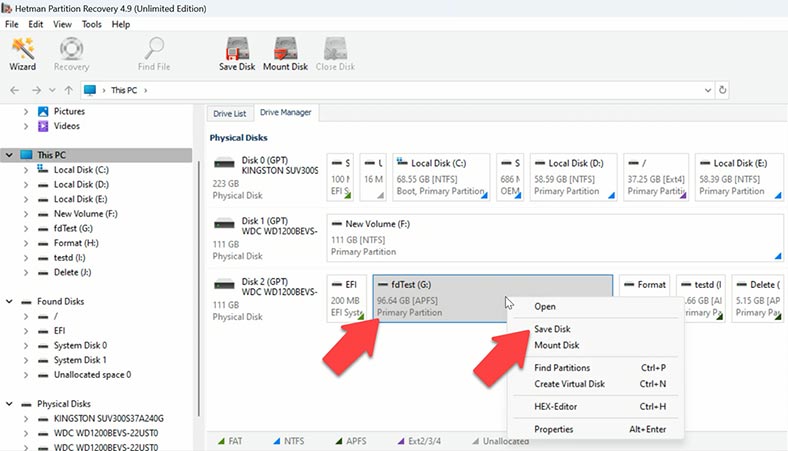 This tool supports APFS disk images and provides a convenient and robust interface for the best user experience.
Hetman Partition Recovery can be useful not only for solving various data issues on macOS devices, but also for overall data recovery operations involving all kinds of data carriers and file systems. Its ability to handle APFS widens the possible range of cases where this utility can be applied and makes it a valuable tool for users facing data loss on Mac-compatible hardware.
TransMac
The second utility to explore is TransMac.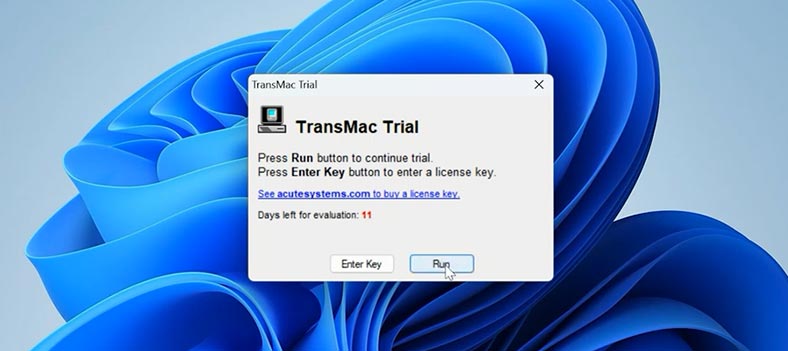 TransMac is an easy-to-use tool allowing you to read APFS disks on Windows computers. It can be a good choice if all you need is to view the contents of an APFS disk and copy its files. This tool supports such file systems as HFS, HFS+, and APFS.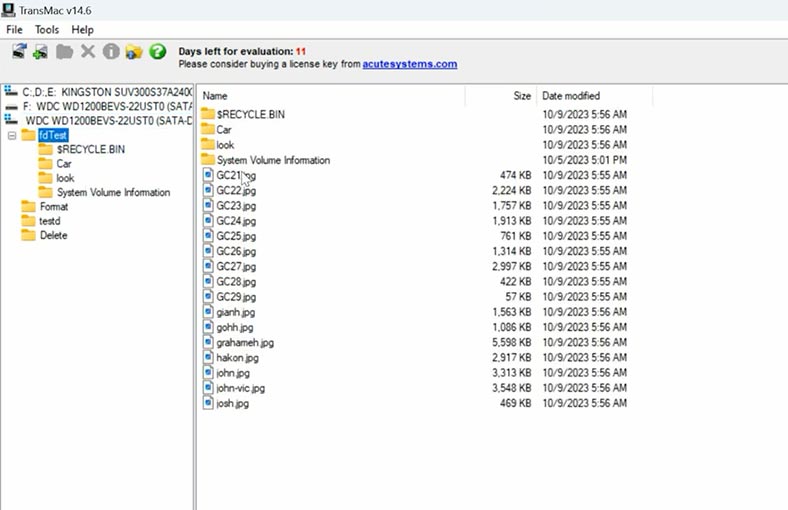 You can use it to create new drives and partitions, and format them into the file systems supported by macOS operating system family. This feature can be useful when preparing USB pen drives for installation of macOS on Mac-compatible computers.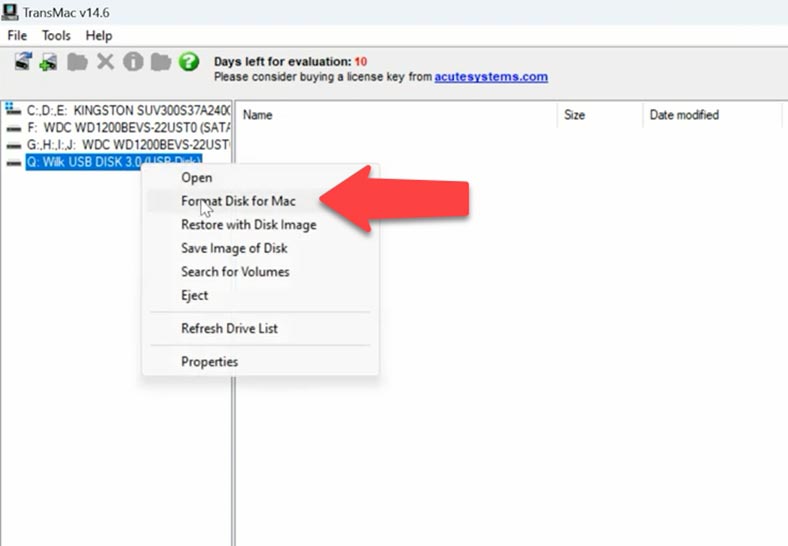 The tool includes convenient features to copy and transfer files and folders on disks with macOS-compatible file systems.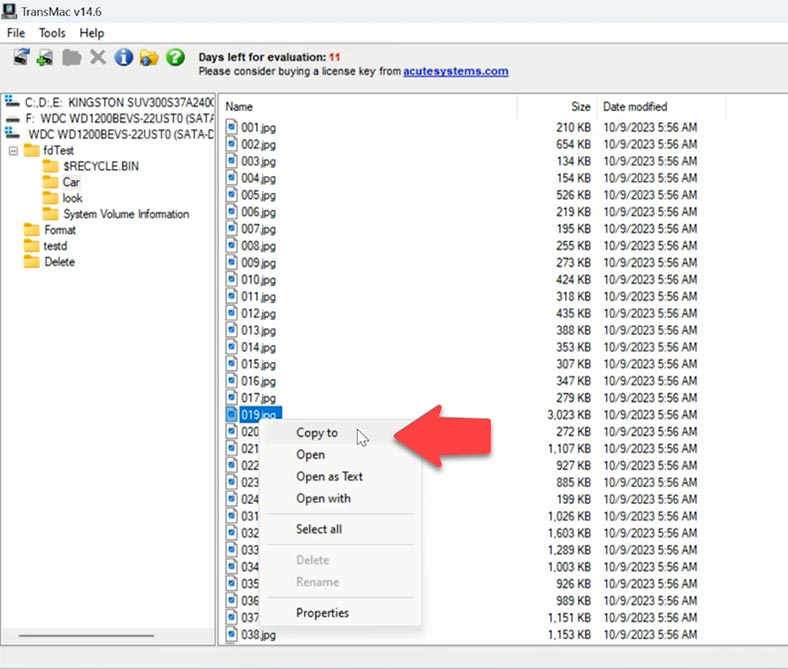 With TransMac, you can create disk images and save them to a hard disk in Windows, which is convenient for data backup and restore operations involving macOS disks.
This utility supports work with macOS disk images and it allows users to handle data without having to deal with physical disks.
The interface is convenient and user-friendly, with simple commands and multiple features accessible through the context menu.
Please take note that some features may be limited in the free version, so you might have to purchase a license to unlock all opportunities that TransMac has to offer.
Paragon APFS for Windows
Now let's have a look at Paragon APFS for Windows.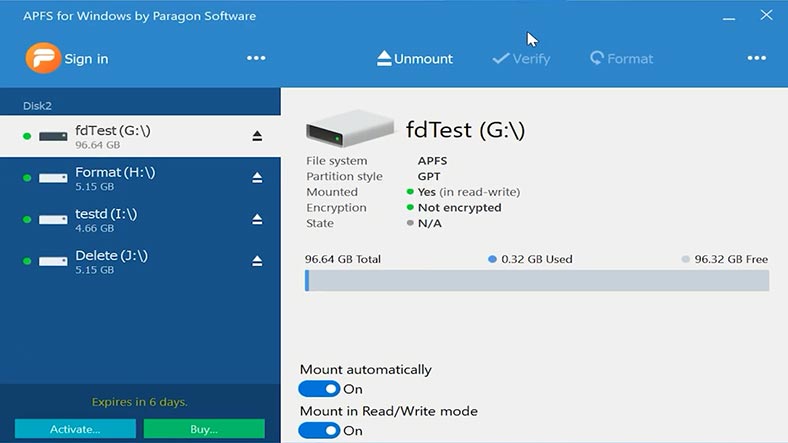 Paragon APFS for Windows: Paragon APFS for Windows is a popular app that offers Windows support for disks formatted into APFS. Actually, it works as a driver that provides access to data on APFS disks and lets you read and write files. Its interface is very similar to Windows Disk Management.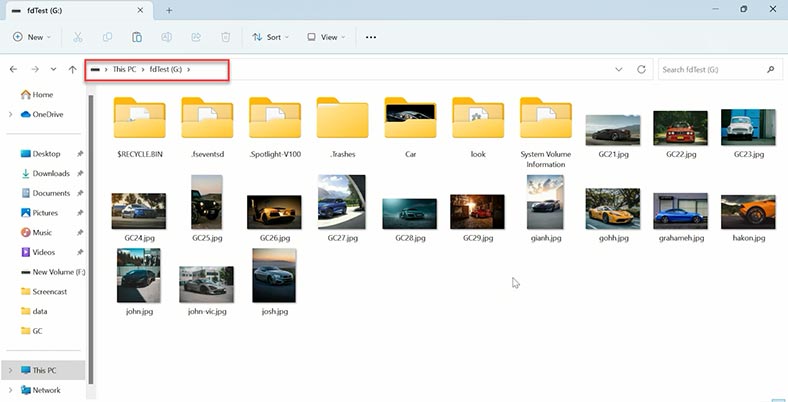 This utility gives you the opportunity to read and write data between NTFS, FAT32 and APFS, and supports reading for compressed, cloned and encrypted APFS files.
To start working, you need to connect an APFS disk to a computer, and then download and install the utility. After installation, you'll be able to view the contents of your APFS disk in the File Explorer. This is a commercial tool, but it has a trial period of 10 days.
Paragon APFS for Windows is a convenient and reliable solution for handling APFS disks on Windows platforms, providing access to data and exchange of flies between different file systems.
MacDrive
The fourth software tool is MacDrive.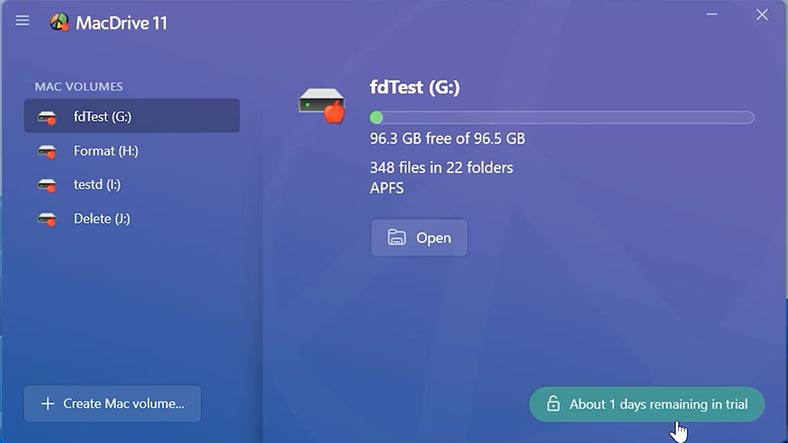 MacDrive is one more powerful app developed to read and write data on APFS disks in a Windows environment. Just like previously mentioned tools, it works as a driver that provides access to data on APFS disks.
If you used a Paragon app earlier, you should uninstall it first because MacDrive will show you the following error screen if you don't do that.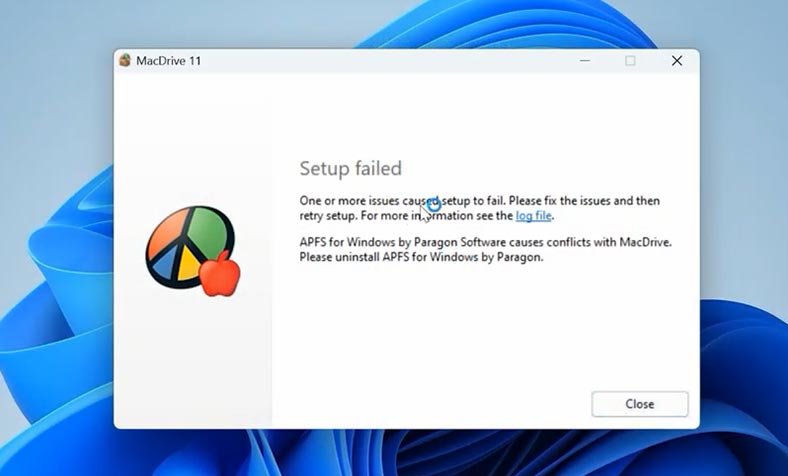 This app also supports other macOS disk formats such as HFS and HFS+. MacDrive offers you a wide range of functions and integrates seamlessly with any Windows operating system.
Other important features of MacDrive:
High speed in reading and writing data.
Ability to format APFS disks.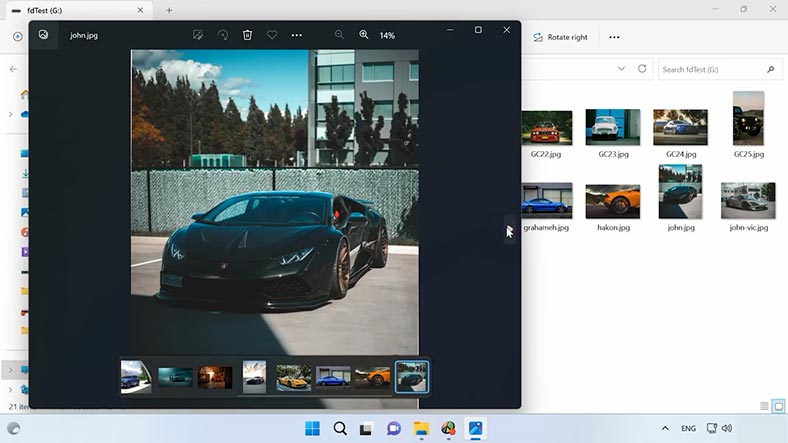 Like many other apps of the kind, MacDrive offers a free version which is valid for 5 days.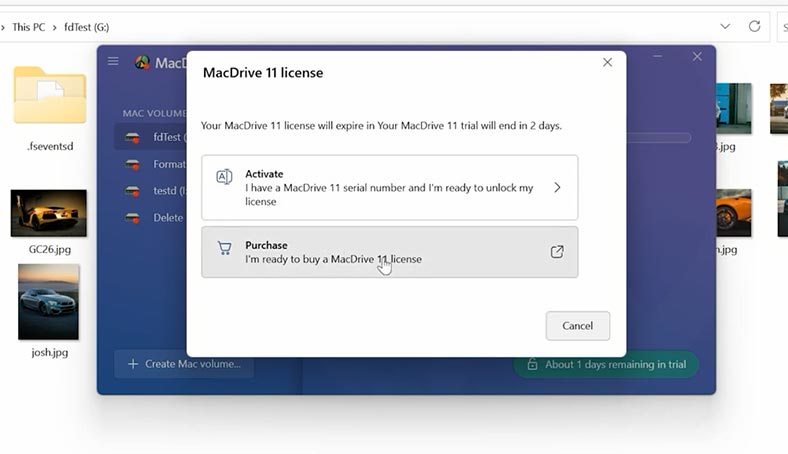 To start working with this tool, connect an APFS disk to your computer, then download and install MacDrive. After installation, you'll be able to manage data on APFS disks with the Windows File Explorer and in MacDrive's Disk Manager. This utility is a convenient and reliable solution to handle APFS disks on a Windows platform.
Conclusion
Summing up, we have four software tools, and each of them enables you to read APFS disks in a Windows operating system. Each of them has its advantages and peculiarities, so the final choice of a specific app depends on your needs and preferences.
Whichever one you choose, always remember that dealing with disks and files formatted in a different file system may have dangerous consequences. Before using third-party tools or drivers to read APFS disks in Windows, make sure you have backed up your stuff. Any wrong steps or system errors caused by a third-party driver can result in loss of important data.
If you need a truly reliable tool for reading APFS disks, we recommend using Hetman Partition Recovery. It can not only read your APFS disk but also recover any lost files from there.
However, the choice of proper software to use always depends on what you need and how comfortable it feels to use this or another third-party tool. Some of them provide free trial versions, so you can check them out to decide if a certain app does exactly what you need.