How to Recover Data After Windows 10 Update to Version 1809 Dated 2 October 2018
On 2 October 2018, Microsoft announced a new October build, Windows 10 October 2018 Update (version 1809). This update has become automatically available for millions of users who were looking forward to it. Read how to recover data after upgrading Windows 10 to version 1809. What problems you may encounter and how to fix them.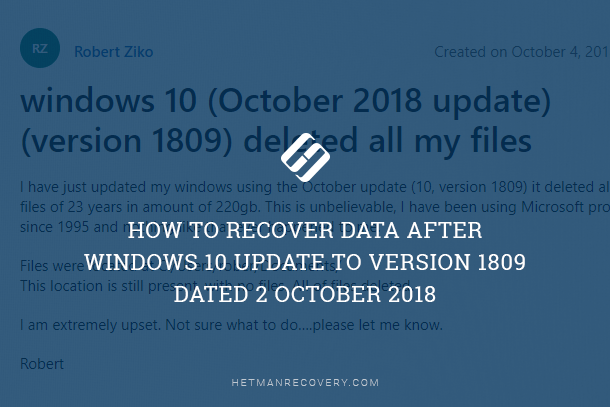 Everything would be fine, but… social media, theme blogs as well as the official website of the Microsoft community were overwhelmed by questions and complaints from users who lost their data due to their operating systems update to the latest version.
Here are some of them: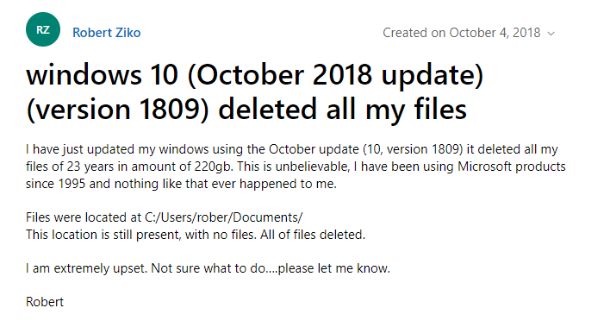 The link to the post:
https://answers.microsoft.com/en-us/windows/forum/windows_10-files/windows-10-october-2018-update-version-1809/1a924008-ddba-48db-a96f-7b4bfef9039a
@MicrosoftHelps

Just lost my personal data with your windows 10 1909 update. Spend 4 hours with your support from India still nothing. Your 1809 iodate woped the whole restore points and update history.

— Ivan Gjorgiev (@ivan_gjorgiev) October 3, 2018
Heads up to anyone updating windows. Apparently, if you have documents saved in your user directory, i.e. users/JohnDoe, and not one drive, the update will delete EVERYTHING in that location. So if your "Documents" or "Pictures" don't have a one drive symbol, MIGRATE IMMEDIATELY!

— Kevin Quintero (@coolKevinator) October 4, 2018
Summing up all posts and messages, users complained that they had lost their personal files from such folders as Documents, Pictures, Music etc, and sometimes even installed apps and programs. That is, their data was gone after Windows had updated to October's build 1809.
Because of the problems with removal of files from user accounts after update, Microsoft decided to recall the final build Windows 10 October 2018 Update (1809). Since 6 October, the build is no longer distributed via Windows Update service. If you downloaded an ISO image on your own — don't install it and wait for a new build.
For those who haven't managed to download an image of the new Windows 10 build yet, the update function is blocked. They are not going to receive any updates via Windows Update, and the official website lists Windows 10 April 2018 Update as the latest version available.
The link to the page:
https://www.microsoft.com/en-us/software-download/windows10
In the page of the new build, you can only find the user information warning the people from hurrying to install the October update until the issue with data loss is cleared up and the bugs are fixed. There is also the contact information to use if your data was lost after the update.

The link to the page:
https://support.microsoft.com/en-us/help/4464619/windows-10-update-history
We are expecting a fixed version of Windows 10 October 2018 Update. Still, if you are among the unfortunate whose files were deleted by the operating system's build 1809, you can restore them using the methods researched by Hetman Software long before that.