How to View Online Activity in Google, Yandex, Bing, Youtube
Read about viewing or clearing online activity history in search engines, and about managing search, watch and like history on YouTube. To find a website, a webpage, a video or any other information on the Internet, you need two things: an Internet browser and a search engine. Both can store browsing history, watch history (it applies to YouTube), search history and search queries, and some tools can also save comments and posts in various online communities.
Such function in browsers and search engines is convenient when you need to find a resource you have viewed some time ago. However, there can be situations when you'd like to delete such information.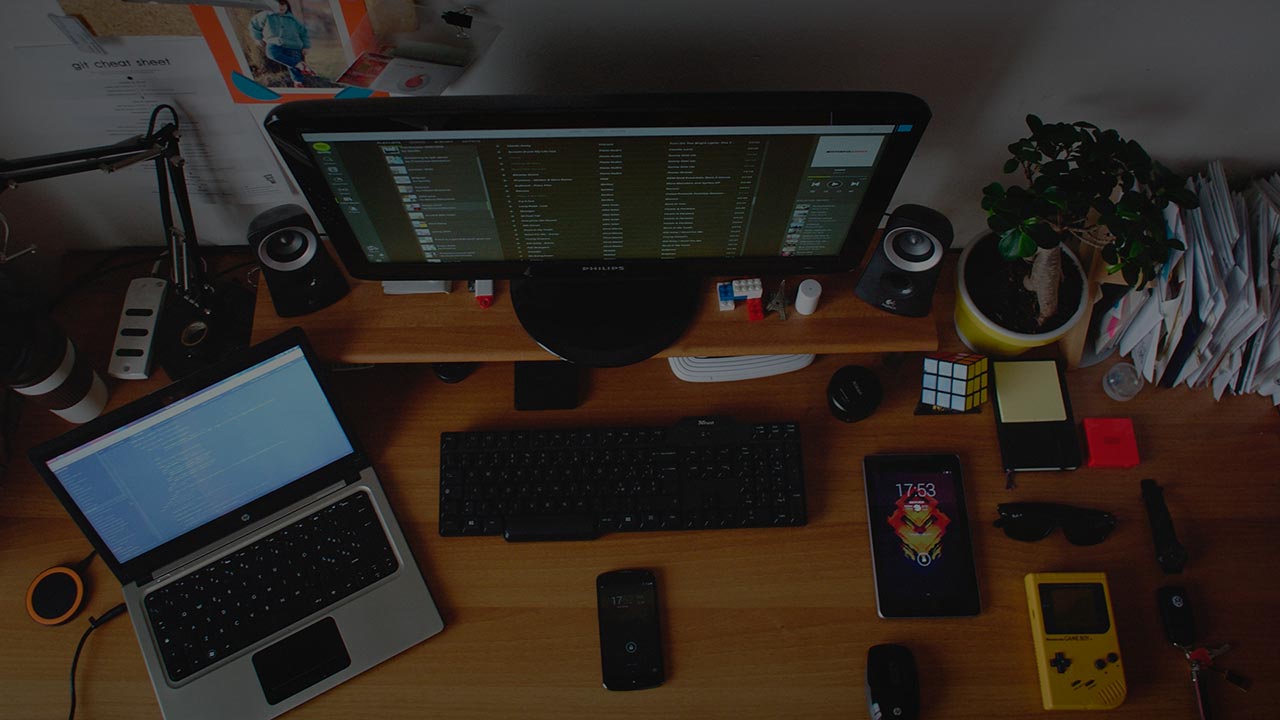 There is already an article in our blog on how to view or delete history in popular browsers. In today's article, we will have a look at viewing or clearing user's online activity in a search engine.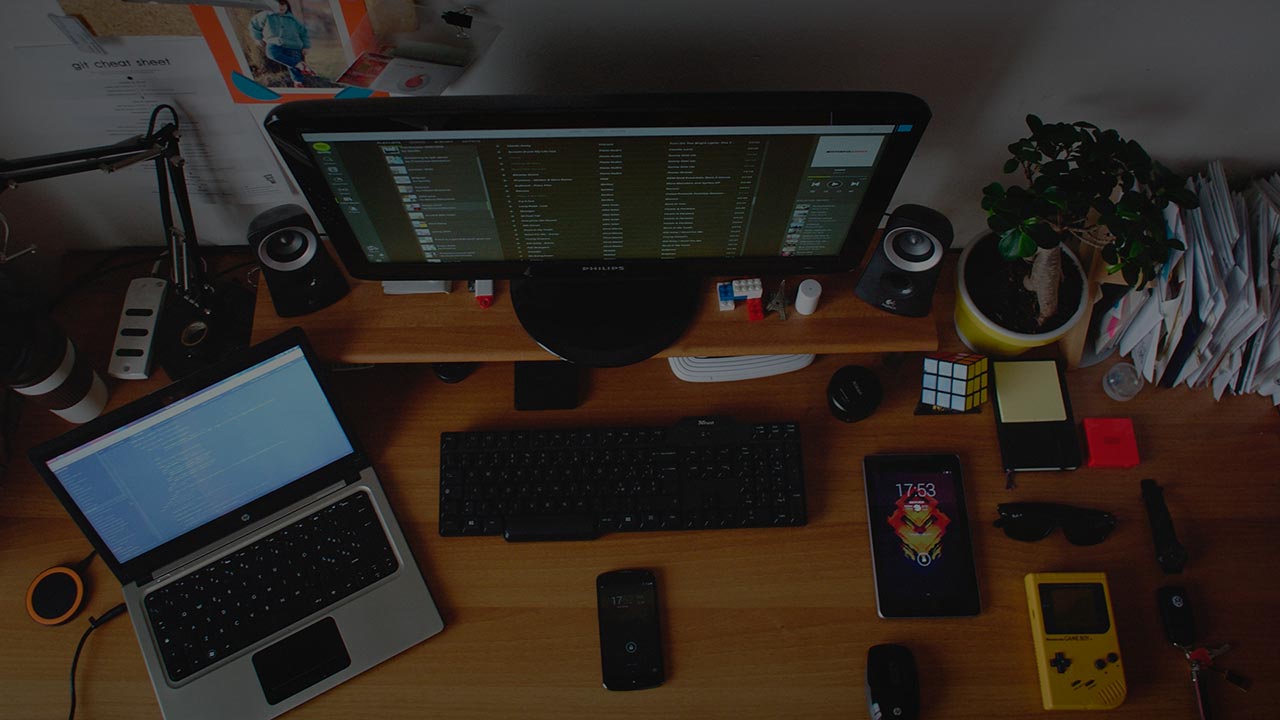 Google
Every time you use Chrome on your computer or smartphone to search for something, or use another browser while your Google account is active, Google tracks your actions to personalize search results. The same happens when you use other apps by Google, such as Google Maps or Google Now.
To view your Google online activity, go to your Google account. To do it, click on "Google apps" and select "My Account."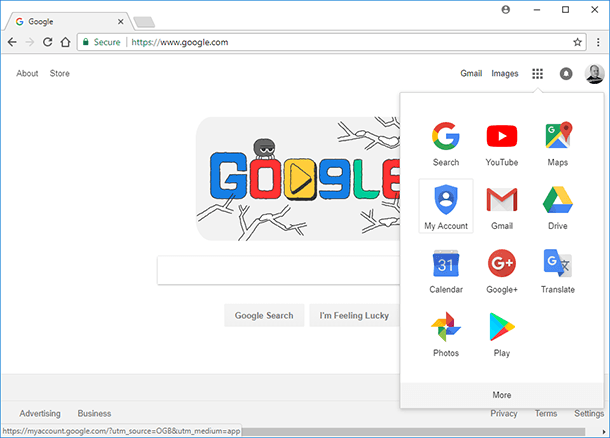 When you are in your Google account, find "My activity" panel in the section Privacy Checkup and click "Go my activity."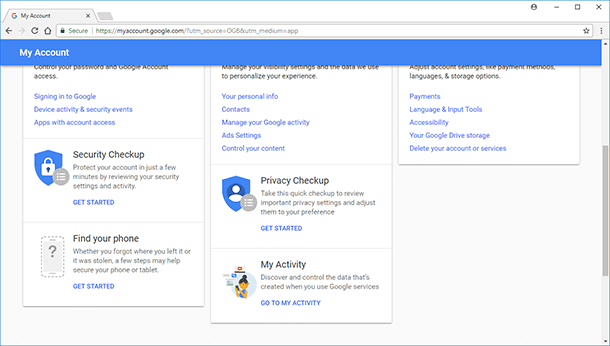 It will open the tool "My activity" which shows you the complete history of app activity and web search, information from other devices connected to this Google account, voice control history and YouTube history.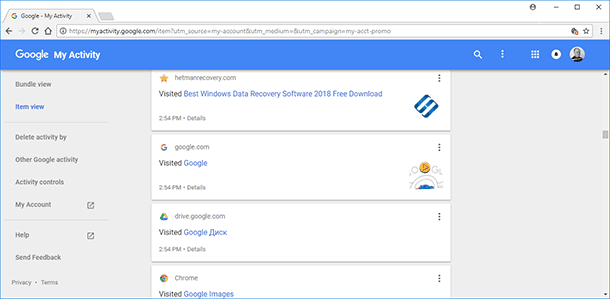 Select "Activity controls" on the left, and you will get into the menu where you can view and manage data and activity controls settings. It includes app history and web search history, location history, information from devices, voice control history, YouTube search history, and YouTube watch history.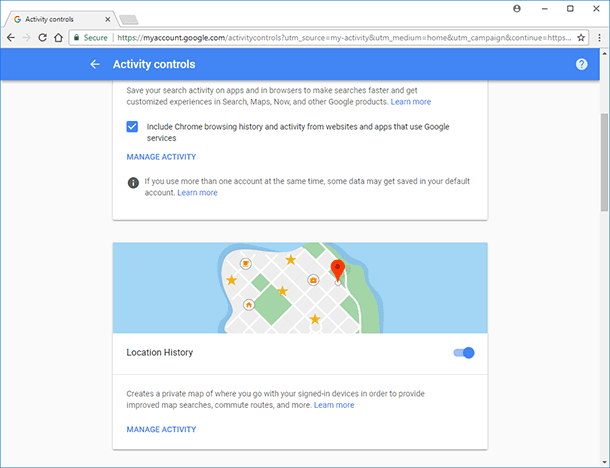 To stop Google from following your activity online, go to your Google account, and in the section "Personal info and privacy" select "Manage your Google activity".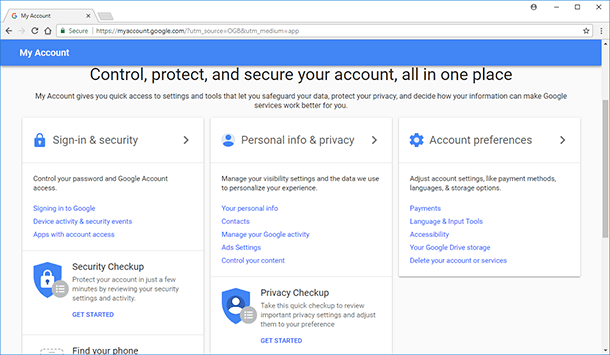 Then go to Activity Controls.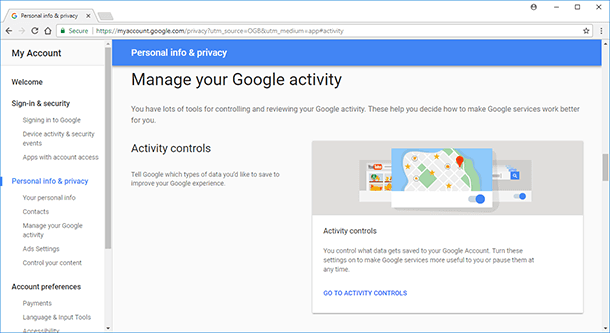 To disable saving app history and web search history or other monitored activity, switch them off by dragging the sliders next to each element.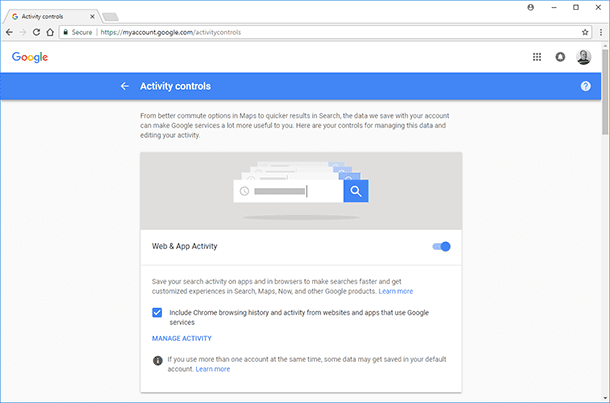 If that's not enough for you and you want to clean the entire history of your online activity, go to "My activity" and find "Delete activity by" in the menu on the left.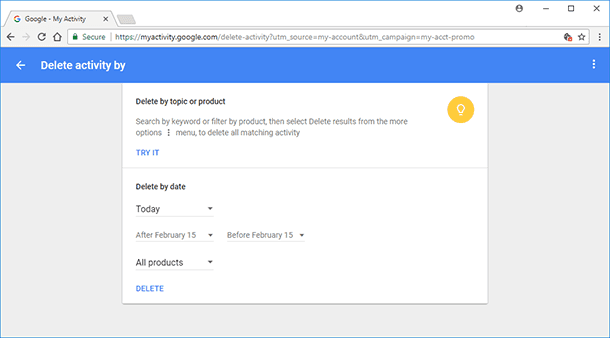 Set the time period, the history for which you want to remove from Google and click Delete.
Yandex
Previously, Yandex accounts also had a similar tool that saved all browsing history of a user who has logged in. It was known as My Findings. After Yandex portal was updated, it seems to have been removed. So Yandex doesn't have it anymore.
However, Yandex remembers user's frequent searches and the websites which are visited often. It shows them as suggested search variants in the browser address bar or in the search engine window.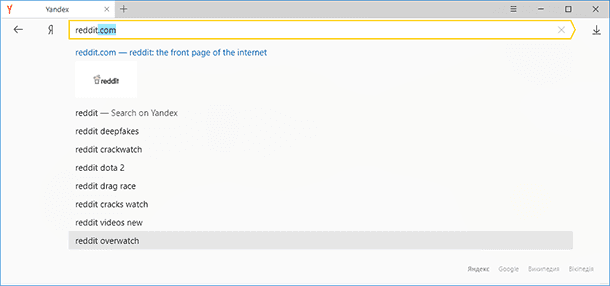 This function is on by default. To disable it, go to Yandex settings, and tick off corresponding checkboxes in the Search submenu.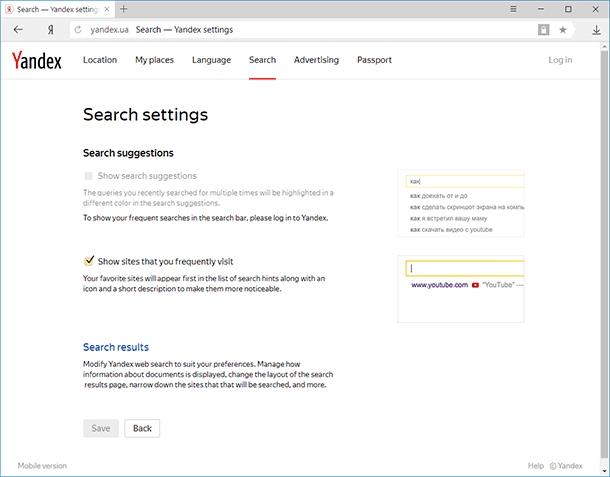 To delete the frequent searches that have been saved already, click on "Clear search history" in this menu. After that, don't forget to click "Save" for the Yandex search settings to take effect.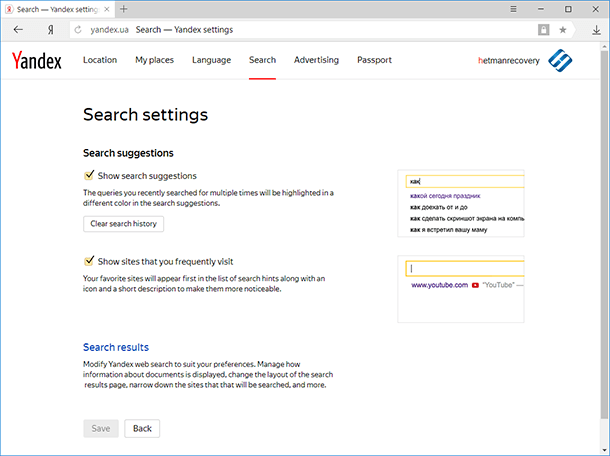 Bing
Usually people choose a search engine between Google and Yandex. However, we shouldn't forget about Bing – the search engine by Microsoft which is the world's second search tool in terms of traffic.
As well as other search systems, Bing saves user's online activity, and it is saved to a cloud storage of the Microsoft user account.
You can find this information in your Bing account, where you can log in with your Microsoft account. To do it, go to the account menu and select "Search history."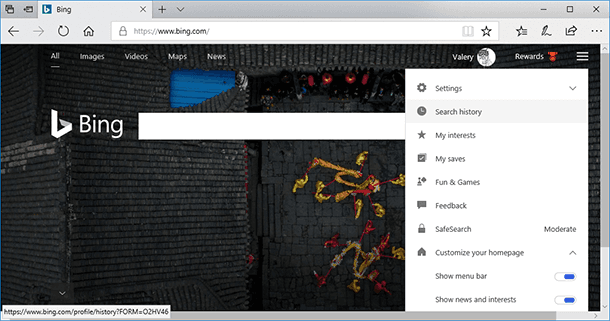 Bing search history is presented chronologically. It can also be sorted by type and date, and find a search query by keywords.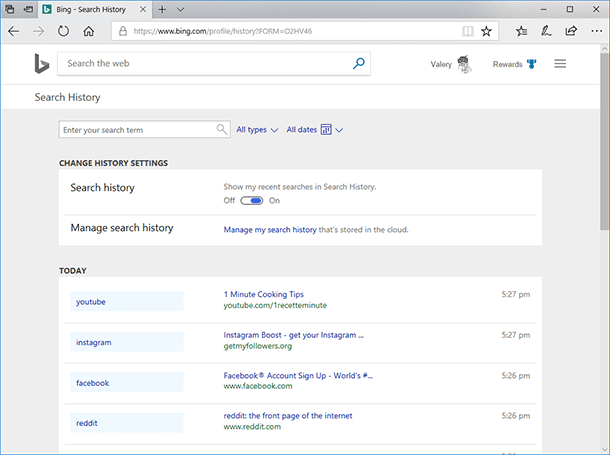 From this menu, you can turn search history on or off. By clicking on the link "Manage search history" you can manage the data saved to the cloud storage of your Microsoft account.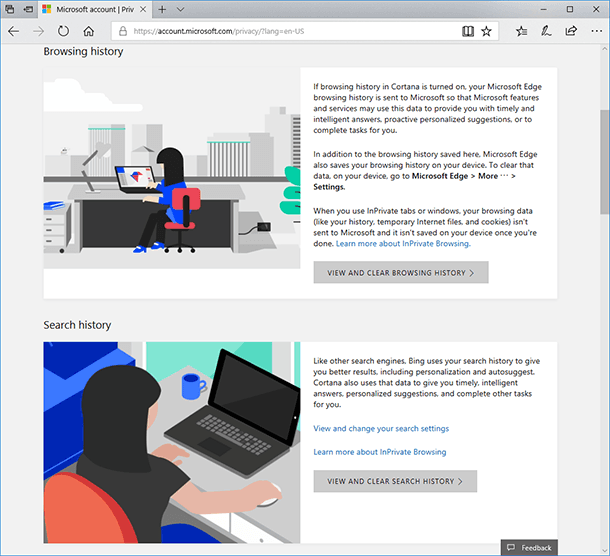 To clear the search history, click on the corresponding button, "View and clear browsing history."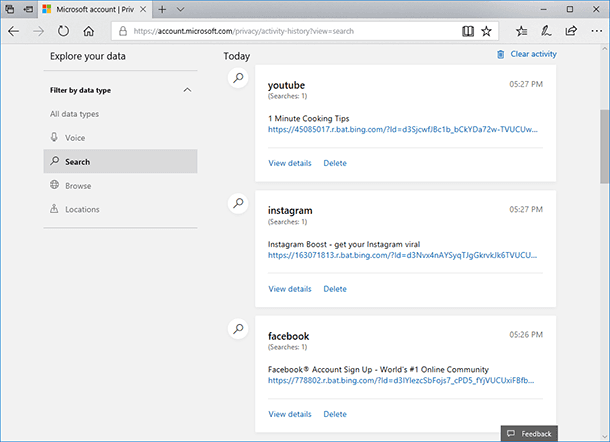 In the next page, click on "Clear activity" and confirm it by clicking on "Clear." As a result, the entire Bing search history will be deleted.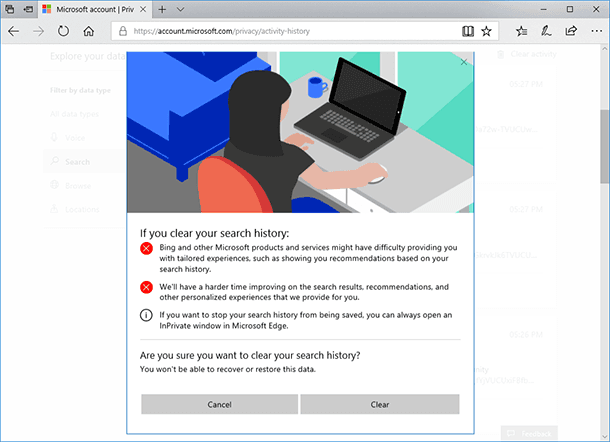 YouTube
Describing a Google account, we have mentioned that it keeps all Google apps history, including YouTube. To view user's search history or YouTube watch history, go to "My activity" tool in your Google account (see the article on Google to learn how to do it), and go to "Activity controls" on the left.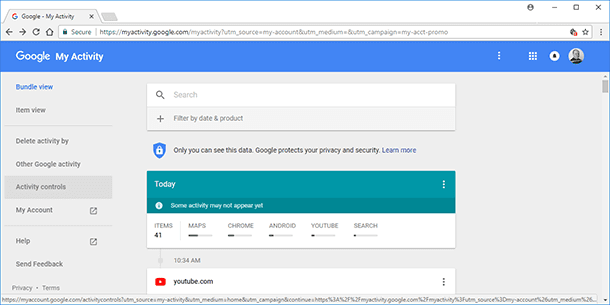 In the menu "Activity controls" find the blocks "YouTube Search History" and "YouTube Watch History".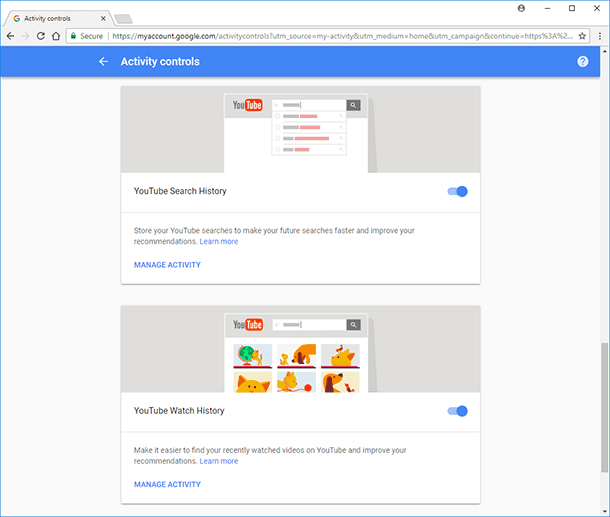 By the way, to stop monitoring search and watch history, drag the sliders in the opposite direction.
Click on the "Manage activity" link in these blocks to view the activities.
To remove YouTube history, go to the menu and choose "Delete activity by." Set the time period for removing activities, and click on "Delete."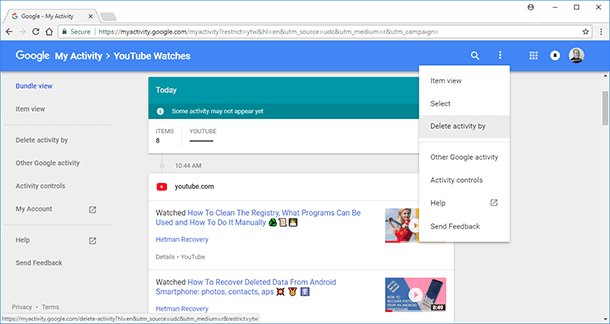 You can also view or clear search and watch history through YouTube interface. To do it, go to History in the YouTube menu.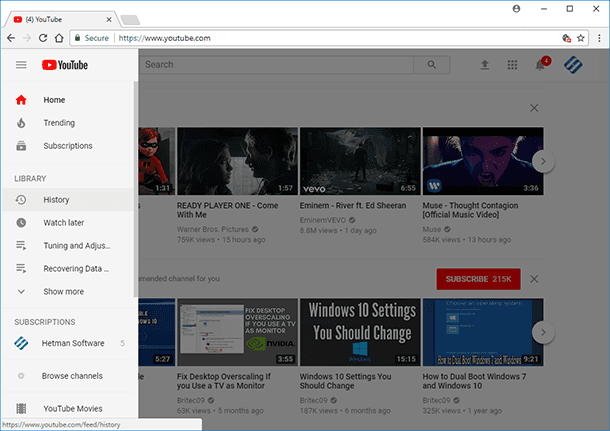 In the menu on the right, select the type of data you want to view: watch history, search history, comments or community posts.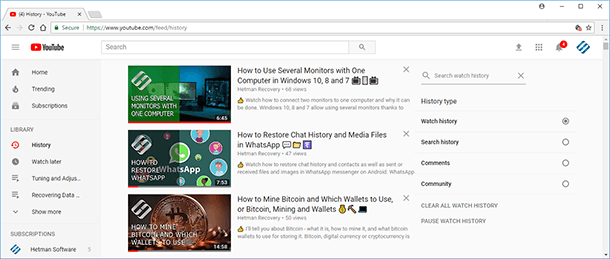 To clear history for the selected type of data, click "Clear all … history" under the menu where you choose the type of data. To disable saving the chosen type of history, click on "Pause … history."