Hetman Internet Spy: The Software for Viewing and Restoring Browsing History
On March 26, 2018, Hetman Software released Hetman Internet Spy. The program analyzes the contents of both existing and deleted browser system files and collects detailed information on a user's online activity.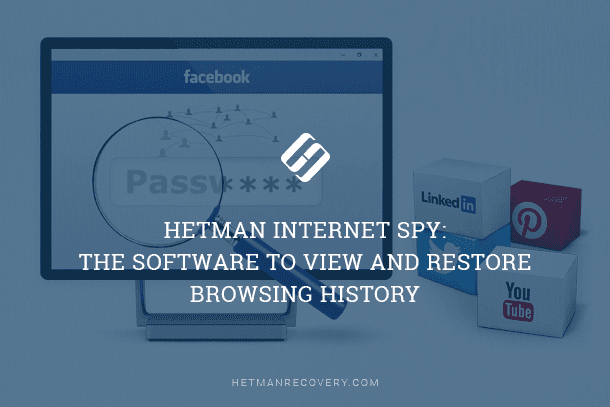 If you've decided to clear your search history, browsing history, or the history of any other past online activities, you shouldn't assume it will be gone forever. Browsing history can be read easily, and even restored, if necessary.
Many users know how to clear their browsing history, but do they know how to restore it? In fact, there are many ways to restore search history, browsing history and other online activities – even if they have been removed. For this purpose, you can use built-in Windows tools, or a few third-party apps. Still, all of them are either too complicated for an ordinary user, give too little data, or provide a stack of data that's too generalized and non-systematic.
Hetman Software presents a new tool based on a unique concept. For example, let's say a person wants to conceal something by covering their online "tracks." In this case, Hetman Internet Spy will help you recover those tracks from the operating system, no matter how deeply they're buried. The utility allows you to analyze browsing history and view social media messages, search history, emails, videos watched on YouTube, etc.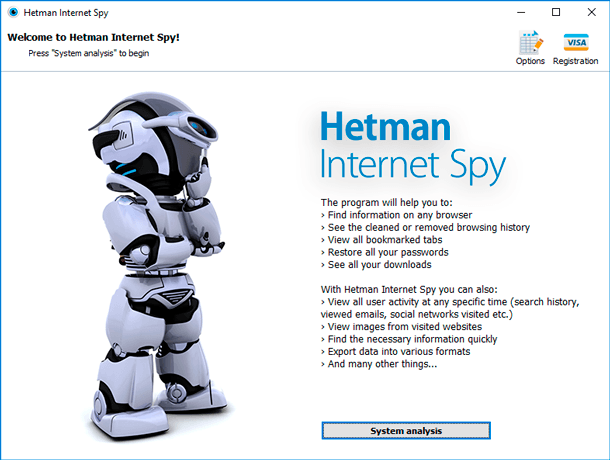 The user-friendly interface is equally good for parents who would like to monitor their children's online activity, and for detectives working on digital evidence. The application will give you certain information even if the browsing history has been deleted, the data has been removed, or the disk has been formatted.
How does it work? The developers have given the program the widest possible range of functions, so you can use it to:
View visited pages.

You can view the browsing history of any person who works with the target computer. The application supports all popular browsers such as Chrome, Yandex, Mozilla Firefox, Opera, Microsoft Edge, Internet Explorer, and more.

Recover deleted browsing history.

Browsing history will be available even after the user has applied the "Clear browsing data" function or used the Incognito mode to visit a website. This tool will find and restore browsing history after the files have been deleted, the disk has been formatted, or the user account has been deleted from the AppData folder.

Analyze communications on social media.

This utility provides access to messaging history on any social media like VKontakte, Facebook, Odnoklassniki, YouTube, etc. The user accounts which were logged into, the time spent communicating, and many other things will be clearly visible.

View passwords, addresses, downloads and bookmarks.

Hetman Internet Spy opens passwords saved in the browser, addresses entered when filling in online forms, download history, and bookmarks created by the user. The sign-in data together with the browsing history will provide you with a way to access any personal information on the people you are interested in.
Now you can see quite clearly the advantages you get with Hetman Internet Spy! It's not just a piece of software but a powerful tool, an entire platform to view and restore browsing history as well as all other online activities.
Download and try it for free. The trial version lets you analyze the system and see if it's possible to restore or access the required data. Check it out for yourself. This time, nothing will stay hidden from you.