Recover damaged JPEG files in 2023
Do you need to repair corrupted JPEG files? Are you looking for how to recover damaged files? What if files do not open after data recovery or open with an error saying "file damaged"? Are JPEG files available only in a small size ("preview")?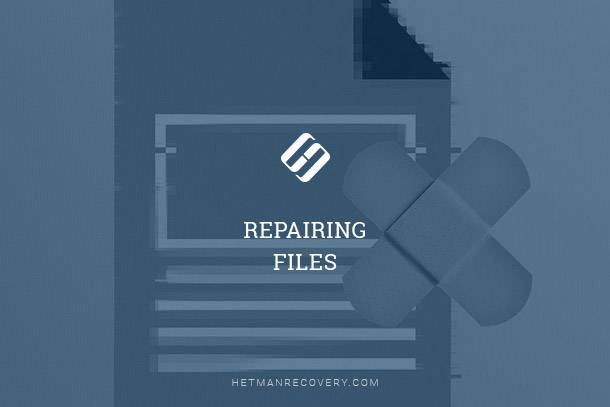 Use Hetman Software programs to recover deleted files correctly, or fix file errors with Hetman File Repair.
Signs of a corrupted JPEG file
JPEG is the most popular and common format for images and photos. Just like other files, it can be damaged as a result of errors, crashes, virus attacks, network errors, software and system failures.
Damaged JPEG files may not open at all, or may open but you can see that they are damaged. Often, when you click on a damaged JPEG file, it opens in a distorted form or with a message saying that the image cannot be opened because it is damaged.
This is a serious problem, since in any case you can't use such files. Yet don't get upset too early: the files can be restored with special programs that fix damaged images.
Methods for recovering damaged files
Before using the software tools, though, you can also try to restore the file on your own:
Right-click on the file and change the file extension from .jpeg to.jpg or vice versa.
Try to open the damaged photo using another application for viewing images: there might be a software error that prevents you from viewing photos.
Open your JPEG file using one of the image editing tools. Sometimes, this way you can open the image and save it in a different, readable format.
We also recommend trying to open the image with a web browser.
If you tried all the options presented but you still can't open a JPEG image or manage to open it but with obvious distortions, you can do it using a special program for fixing JPEG files.
Download the program
For this, just download, install and run Hetman File Repair. Using this tool, you can easily and safely fix most image and photo errors.
Using the trial version of the program, you can check the effectiveness of the program in your specific case with your images on your computer. You are given the opportunity to preview all recoverable images. And only if you are satisfied with the result of the free version of the program, you can register it for future use.