PCI Express SATA M.2 for Samsung EVO, Intel, Plextor, Corsair SSDs
Read this article about advantages and drawbacks of the M.2 form factor, what drives support M.2, and what slots such drives use, what is required to install an M.2 card, and more.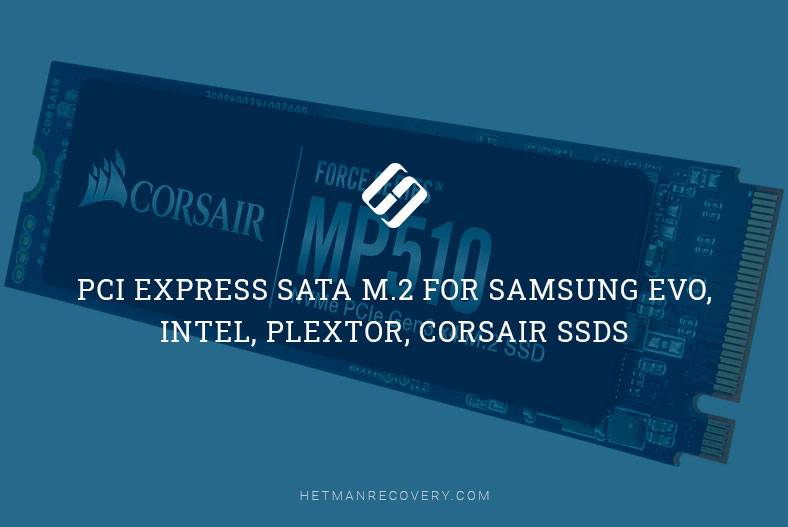 M.2 is a new open format for performance computers, but it is not as easy as it may seem at first sight. Such solid-state drive manufacturers as Samsung, Intel, Plextor, Corsair use this format to save both space an energy. These two aspects are of special importance for producing ultrabooks and tablets. However, buying an M.2 drive to upgrade your computer does require a bit of planning beforehand.
How good is M.2?
M.2 is far beyond being just another evolutionary form factor. In theory, it may replace the whole Serial ATA format – one day. M.2 can work with SATA 3.0 (the cable used to connect all drives in modern desktop PC), PCI Express 3.0 (the default interface for graphics cards and other devices), and even USB 3.0.
Potentially, any SSD or HDD, GPU or a low-power USB gadget can be installed on a card plugged with an M.2 slot. In reality, though, things are a bit more complicated. For example, a single M.2 slot only has four PCI Express lanes, which is merely 25% of the total number of lanes required for graphics cards, but the flexibility of this tiny slot is impressive.
When using the PCI bus instead of the SATA bus, M.2 devices can transfer data almost 6 times faster than SATA devices. The actual speed depends on the capabilities of the specific motherboard and the M.2 card. An M.2 SSD can be considerably faster than a similar SATA drive as long as your motherboard supports PCI Generation 3.
What drives support M.2?
At the moment, M.2 is used as an interface for super-fast SSDs, both on laptops and workstations. If you go to a computer store and ask for an M.2 drive, most likely they will show you an SSD with an M.2 connector. Of course, this is only true if you can find a retail computer store – with all the more shops going online these days.
Some laptop models also use an M.2 port for wireless connection, by fitting tiny energy-efficient cards that combine Wi-Fi and Bluetooth radios. This approach is less popular among desktop PCs, where it is easier to use USB or PCIe 1x mounted cards is preferred (however, there's no reason to prevent you from doing that, provided you have a compatible motherboard).
Whatever the reasons, computer hardware manufacturers do not hurry to use M.2 slots for devices other than that. Although no one has presented an M.2 graphics card yet, Intel is already selling its super-fast cache storage, Optane, in this M.2 format.
Does my computer support M.2?
If your computer was made or assembled within the last few years, it has an M.2 slot almost certainly. Unfortunately, the flexibility of this format does not mean that it is as simple to use as in the case with USB devices. Typically, M.2 cards are rather long. Before rushing to buy an M.2 SSD, check the card specifications carefully to make sure that the motherboard of your desktop / laptop PC has sufficient space to fit the drive into. In addition, M.2 devices have several variations of special keys for proper positioning. Let's explore these two peculiarities.
How long is an M.2 card?
For desktops, length is rarely a problem. Even a tiny Mini-ITX motherboard can easily host the longest M.2 card, which is 110 millimeters long, while the shortest ones are about 30mm. By default, motherboards have a hole for a small screw intended to hold the card in place when it is mounted. Next to each hole (yes, there can be a few of them), there is a digit indicating the length of the supported M.2 card.
All M.2 drives use the fixed width of 22 mm (it is determined by the industry-standard connector), so the only difference in size is about the card's length. T Here are the dimension options currently available on the market:
M.2 2230: 30 mm;
M.2 2242: 42 mm;
M.2 2260: 60 mm;
M.2 2280: 80 mm;
M.2 2210: 110 mm;
As I said before, some motherboards support all of these lengths.
What slots are used with M.2 drives?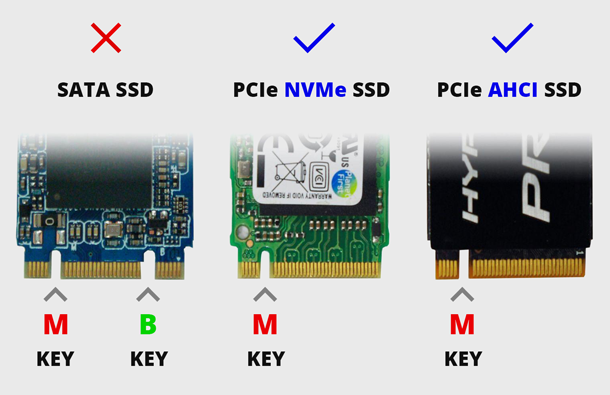 While the M.2 standard uses the same 22 mm wide slot for all cards, it can be different depending on the device type. Since M.2 is designed to be used with so many kinds of devices, it has some differences in how each of them is supposed to connect:
B Key: it uses a gap in the right side of the card (to the left of the host controller), with six pins to the right of the gap. This configuration supports PCIe x2 bus connections.
M Key: it uses a gap in the left side of the card (to the right of the host controller), with five pins to the left of the gap. This configuration supports PCIe x4 bus connections for double data throughput.
B+M Key: uses both of the said gaps, with five pins on the left side of the card and six on the right. Such cards are limited to PCIe x2 speed.
What is required to install an M.2 card?
Most M.2 cards are SSDs and are automatically recognized by your operating system based on AHCI drivers. For Windows 10, most Wi-Fi and Bluetooth cards are automatically recognized as well, with standard drivers installed automatically. However, you may need to enable the M.2 slot by changing some settings in your computer's BIOS or UEFI. You'll also need a screwdriver to fix the device to the motherboard with a retention screw.
Can be an M.2 card be added to a PC if there is no special slot?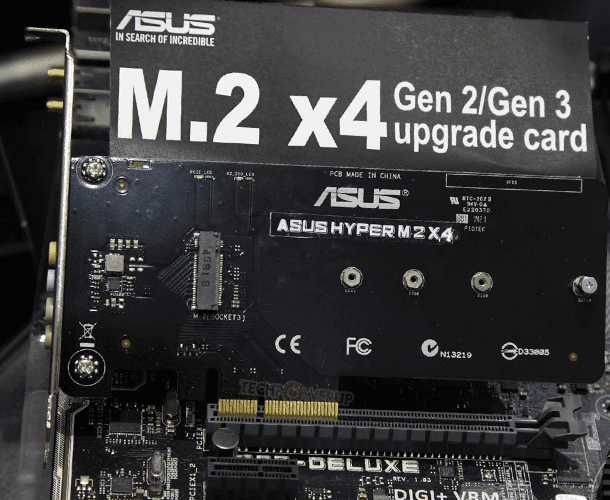 For laptops, the answer is negative, as the design of modern devices is very compact and it doesn't have any extra space for devices that the manufacturer has not planned to be there. But if you use a desktop PC, you're lucky. You can buy an adapter using the PCIe x4 slot on your motherboard.
Keep in mind: if your motherboard can't boot from PCIe, then you won't be able to use an M.2 drive as your boot drive, so you won't benefit from the higher speed that M.2 SSDs offer for their price. If you want to feel all advantages of an M.2 drive, it is better to use a motherboard that supports it.