Fast Photo Recovery Software for Windows PC
Looking for a tool to recover deleted photos? Corrupted memory card made last shooting session inaccessible? Formatted a memory card full of pictures and want to get them back, or simply deleted a photo album from your hard drive? Look no further! Photo Recovery™ will restore pictures no matter what!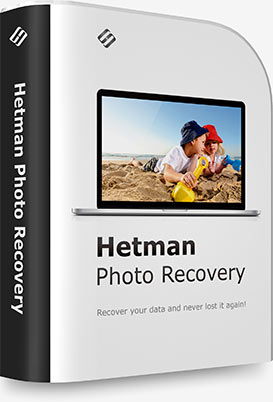 Hetman Photo Recovery™ 5.9
Photo Recovery™ recovers digital pictures from all types of storage media. Undelete photos from hard disks, recover from USB drives, or restore from formatted, corrupted or inaccessible memory cards – it can do all this, and more. The tool can even recover pictures directly from the smartphones, tablets and many digital camera models. Simply connect your device to the computer via a USB cord and run our software.
Using our software is easy as 1-2-3. You'll run a step-by-step wizard guiding you through the entire recovery process from choosing the device that has your files to selecting pictures to recover and finally saving them onto another disk. Try the program free!
Quick Start
We prepared a short video to demonstrate how easy it is to use the product. You don't even need to download it – just watch the video and see for yourself how simple it is to recover the images!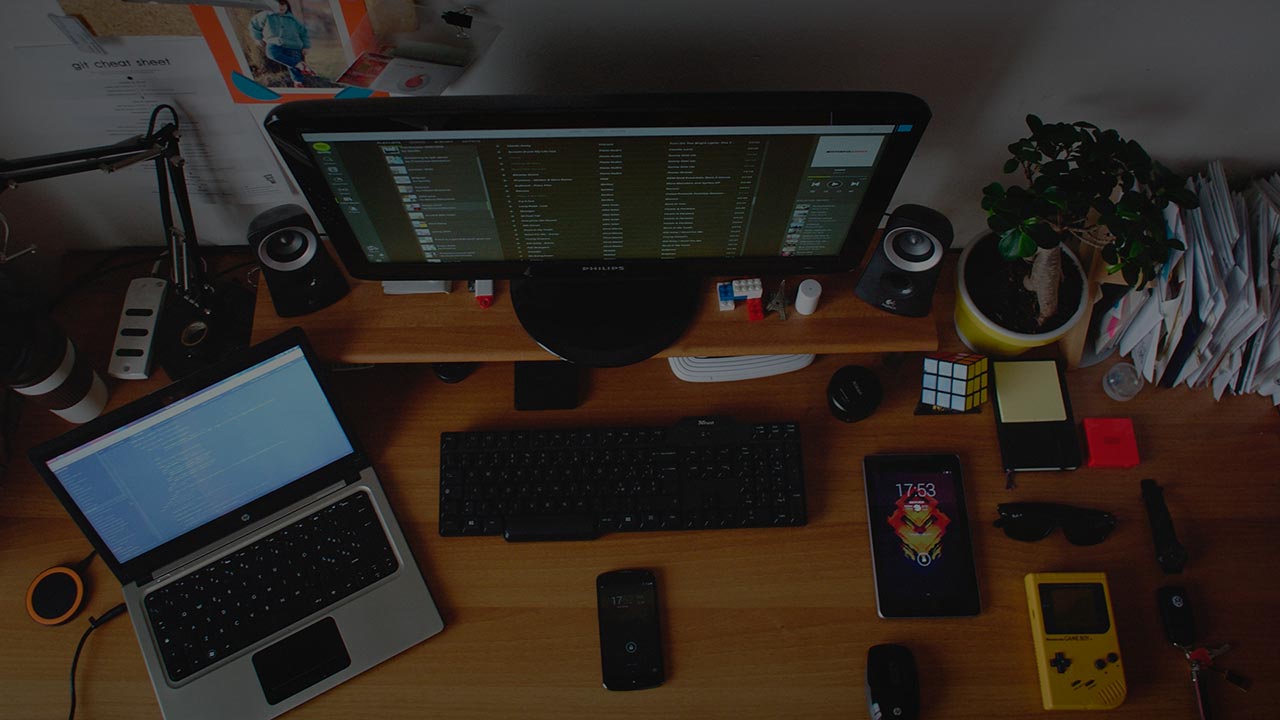 Recovering Pictures that Go Missing
Photo Recovery™ is a highly specialized tool dedicated to recovering digital pictures that go missing. The tool supports a wide range of image formats including RAW files, and can successfully recover pictures from a huge variety of storage media.
Accidentally Deleted Pictures
In some cameras it's extremely easy to delete a picture by accident. Some other devices make it too easy to delete everything you shot during the last hour. Certain smartphone models are particularly known for this behavior. It can successfully undelete images that were accidentally deleted from a digital camera, tablet, smartphone, memory card, computer or laptop.
Empty, Corrupted or Inaccessible Memory Cards
Recovers information from empty, formatted or corrupted (inaccessible) memory cards such as SD, micro SD, Compact Flash, SONY Memory Stick, and all other types of cards. Photo Recovery™ can restore images from USB pen drives, and even works with certain devices such as cameras and smartphones directly when a device is connected to the PC via a USB cord.
Emptied Recycle Bin
Undeletes photos removed from the Recycle Bin or "permanently" deleted with Shift + Del in a matter of minutes. Windows does not permanently erase information when a file is deleted. Instead, its file system record is marked as such. The tool is able to quickly locate such records, identify and recover deleted images.
System Failures and Virus Attacks
Restores pictures lost after virus attacks, system failures and power outages. If a file system is damaged or corrupted, Windows may not be able to read the disk, memory card or USB flash drive. If this is the case, Photo Recovery™ can successfully scan the device and recover pictures even if the file system is severely damaged or missing completely.
Features
Hetman Software tool employs a highly sophisticated engine making the recovery of digital pictures safe, easy and reliable. Photo Recovery™ has a greater success rate than most competing tools.
Recoverable Digital Pictures
It can recover pictures in all popular image formats. This includes raster and vector images in JPEG, PSD, TIFF, PNG, BMP, GIF and many other formats. The list of supported formats is constantly growing. In addition, software fully supports the recovery of RAF files ("digital negatives") produced by Canon, Nikon, Pentax, SONY, Olympus, Panasonic and other cameras. The tool recognizes CR2, CRW, RAW, TIFF, TIF, NEF, PEF, X3F and many other RAW formats.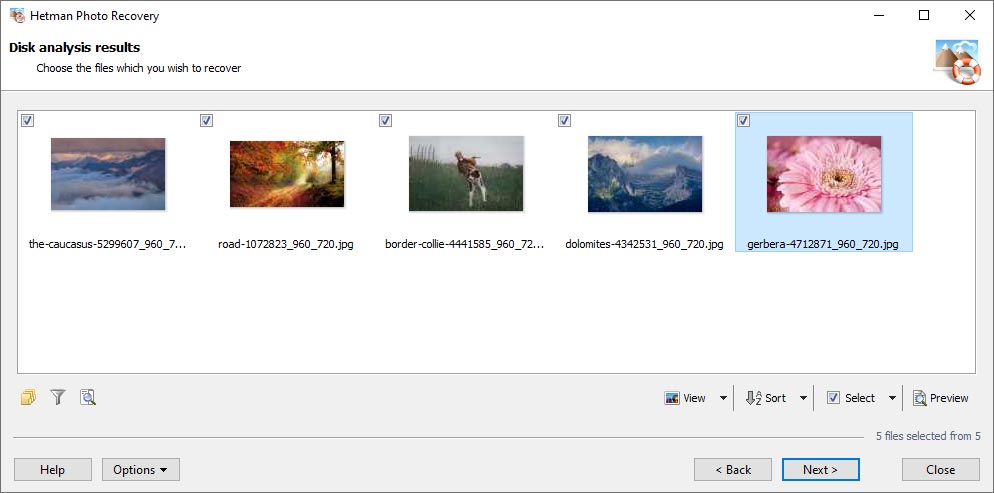 Supported Devices and Storage Media
Memory Cards
The tool can recover images from all types of memory cards used in popular electronic devices such as digital cameras, smartphones, tablets etc. We tested the tool with a bunch of SD, micro SD, SDHC, Compact Flash, Memory Stick and other memory cards.
Hard Drives
Photo Recovery™ fully supports all desktop, laptop and external hard drives regardless of make and model. The images can be successfully recovered from healthy, formatted and corrupted disks.
USB Pen Drives
USB pen drives of all makes and models are supported including devices manufactured by A-Data, Corsair, Goodram, HP, Kingston, LaCie, PhotoFast, PNY, SanDisk, Silicon Power, TDK, Team, Toshiba, Transcend, Verbatim etc.
Virtual machine
hard disks
Photo Recovery™ can recover images stored in the internal memory of many digital cameras. On order to recover the pictures, connect your camera to the PC via a USB cord and make sure a new drive letter appears. You can then use product to recover photos from that new drive.
We tested multiple camera models manufactured by Canon, Casio, Ergo, Fujifilm, HP, Kodak, Logitech, Leica, Nikon, Olympus, Panasonic, Pentax, Praktica, Premier, Samsung, Sony, Toshiba, UFO and other makers.
Three Easy Steps to Recover Pictures
Photo Recovery™ is extremely easy to use. Equipped with a fully guided, step by step wizard, the tool guides you through the entire recovery process. You don't have to be a pro photographer or an IT specialist to use it. A comprehensive manual is available, basically explaining how to hit the "Next" button three times (but also talking about the necessary safety precautions such as using a separate disk or memory card for saving images you're about to recover).
Photo Recovery™ comes with a built-in picture viewer displaying a full-size preview of deleted pictures. Recoverable files are displayed as thumbnails, making it easy to choose exactly the images you want to recover. The tool is available in both paid and free versions.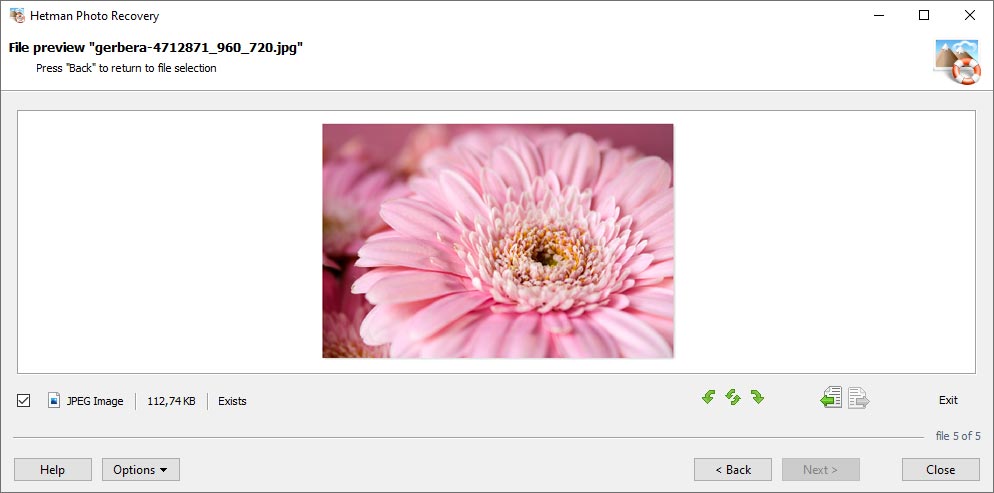 Photo Recovery™ puts data safety a top priority, strictly enforcing read-only access to the device holding the images you're about to recover. If you need absolute safety, you can make a virtual image of the disk, and recover information from that virtual image instead of the actual device.
This technique allows capturing a bit-precise image of the volume you're about to recover in a single sweep, effectively minimizing the number of disk access operations and reducing the chance of a sudden failure of a damaged device.
Photo Recovery™ can be launched in Quick and Comprehensive analysis modes. The Quick mode is blazing fast, allowing you to quickly restore recently deleted images. This mode analyzes records in the file system, so it can restore the original locations and names of the files. Unfortunately, this mode cannot be used on formatted disks and memory cards.
Comprehensive Analysis employs an extremely thorough signature search, reading the entire content of the disk being analyzed. In this mode, the tool looks for characteristic signatures unique to each file format. When a known signature is encountered, program can calculate exact physical location of the file, and perform the recovery. This method can be used on formatted and unreadable disks and memory cards. Unfortunately, file names and folder structures cannot be recovered with this method.
Supported File Systems and System Requirements
Photo Recovery™ supports all versions of FAT / exFAT, NTFS / ReFS, APFS / HFS+, Ext2 / 3 / 4 / ReiserFS and XFS / UFS file systems used in all versions of Windows, MacOS, Linux, Unix. The tool supports Windows XP / 2003 and 2008 Server / Vista / Windows 7 / Windows 8 and Windows 10. It runs in both 32-bit and 64-bit editions of Windows.
You can save pictures being recovered onto a separate hard drive or drive letter. You can also use a network disk or external hard drive, USB pen drive or other types of storage.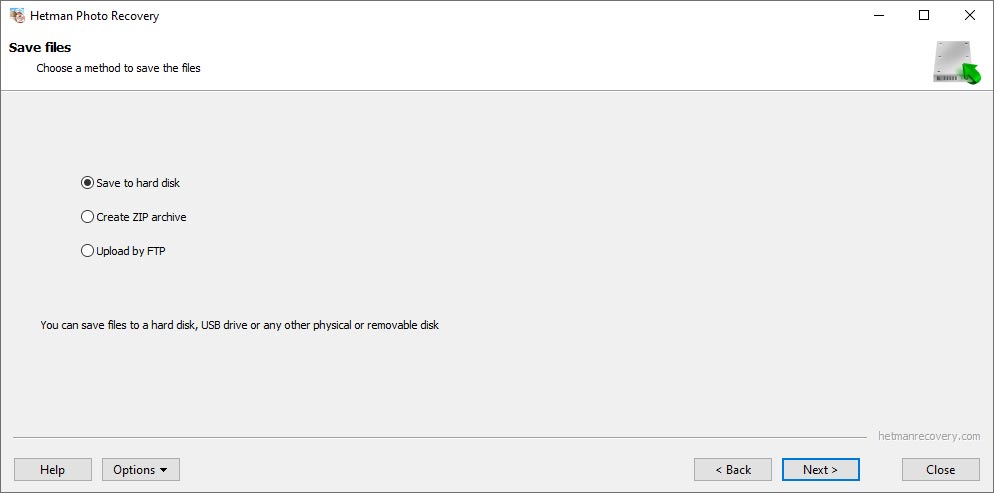 🤳 Can I recover photos after deleting them from the gallery on my Android phone?

Most modern smartphones save photos to a memory card, not to internal storage. To restore a photo, remove the card from the phone, connect it to the computer, and run the analysis.

The program can also recover data from the internal storage of some phones. Connect the phone to the computer and run the analysis. The program will display the photos available for recovery.

📸 I formatted a memory card with my photo shoot by mistake. Can I restore the photos?

To restore the photos, do the following:

Connect the card to a Windows computer.
In the program, select the card from where the photos were deleted and wait until the analysis is completed.
Select the files you want to restore and the drive where you want to save them.

Important: Do not use the same memory card for saving the recovered files.

💻 The computer does not recognize files on the memory card, but these photos are displayed properly on the phone or camera. What should I do?

The reasons why it happens may be different:

Files may have a Hidden attribute.
The memory card may be infected with a virus.
It could be a file system failure, or an issue with the SD card or the card reader.

Photo Recovery™ unlocks photos infected with a virus, finds deleted files and supports work with malfunctioning devices.

⌛ If I pay for the program now, how long will it take before I receive my registration data?

It depends on the payment method you use. If you order online with your credit card or PayPal, you will receive the registration key immediately after payment.

What are the requirements for successful data recovery?

For successful recovery, you must stop using the storage device until the necessary files are fully restored.

If it is an external drive, memory card or flash drive, then connect it to the PC and analyze them using our program.

If the data is deleted as a result of formatting the system disk, resetting the operating system or reinstalling Windows, then stop further installation of the operating system and programs. Connect the drive to another computer and perform recovery operations.

Recovered files must be saved to a different drive.
Reviews and Awards
Leading computer publications and laboratories recommend using our software package to work with hard drives and external drives. Read the opinion of independent experts.
User reviews
Read user reviews of Hetman Software programs or share your experiences. Your review will be published after being moderated. We value your opinion! Total reviews: 17. Average ratings: 4.88.

استعاد كل الصور
3.04.2020

Buenas tardes He usado este sofware y es de excelente calidad
3.04.2020


This software is so awesome I just recovery my deleted photo
3.04.2020


Recommended tools
We recommend that you familiarize yourselves with the opportunities offered in other Hetman Software utilities. You can significantly save on the purchase or buy a program with the features that best suit your needs.