How to Recover Deleted Photos
Looking for a way to undelete a bunch of pictures or recover the last photo session from a memory card? Formatted your camera's internal memory or can't read a memory card? Use Hetman Photo Recovery by Hetman Software to restore images in several easy steps!
Free Download


Recover Your Data
Hetman Photo Recovery 4.7
Hetman Photo Recovery can recover accidentally deleted pictures and restore the last photo session if your camera's internal memory or its memory card was formatted. The tool can recover all types of images including RAW files, and supports all kinds of memory cards, hard drives and other media.
Using Hetman Photo Recovery is easy as 1-2-3. You'll work with an interactive step-by-step wizard guiding you through the entire recovery process. The tool employs a highly sophisticated and fully automated recovery engine delivering best-in-class performance for the most reasonable price. You can literally recover everything by simply pressing the "Next" button three times!

Expert Reviews

Testimonials
Quick Start
Recovering Pictures with Hetman Photo Recovery
The first step is downloading and installing Hetman Photo Recovery. Make sure you're using a separate disk or another drive letter to download and install the tool; otherwise you'll be risking to lose the very files you're about to recover! Average user rating: 4.7 (1968 votes).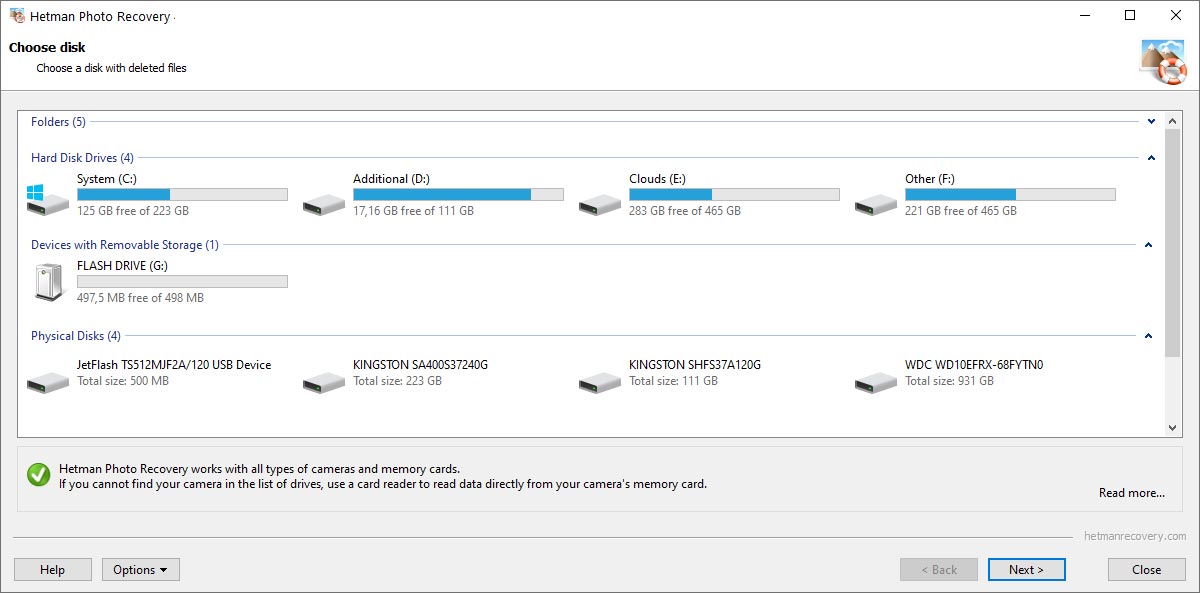 Step 1: Choosing the Disk
After launching Hetman Photo Recovery, you'll see the list of available devices such as hard drives, USB drives and memory cards. If you're recovering pictures from a memory card, insert the card into the reader. If you're recovering photos from a digital camera, connect the camera to the computer with a USB cord.
Choosing the Disk
Select the disk or other storage device containing the images you're about to recover. You can see information about "Properties" menu.
Click "Next" to continue.
If the pictures are located on a repartitioned hard drive or a disk or memory card that were formatted, use the "Locate volumes" button. Select the correct physical device and optionally specify the file system and approximate location of the deleted volume, then click "Find".
You can capture a bit-precise image of the device to perform the recovery in the safest mode available. To create a virtual image of the device, use the "Save disk" command, then specify the location where the image will be stored. Click "Save" to continue. There is an option to compress the image.
To recover pictures from the virtual drive image, use the "Mount disk" command and specify the disk image file.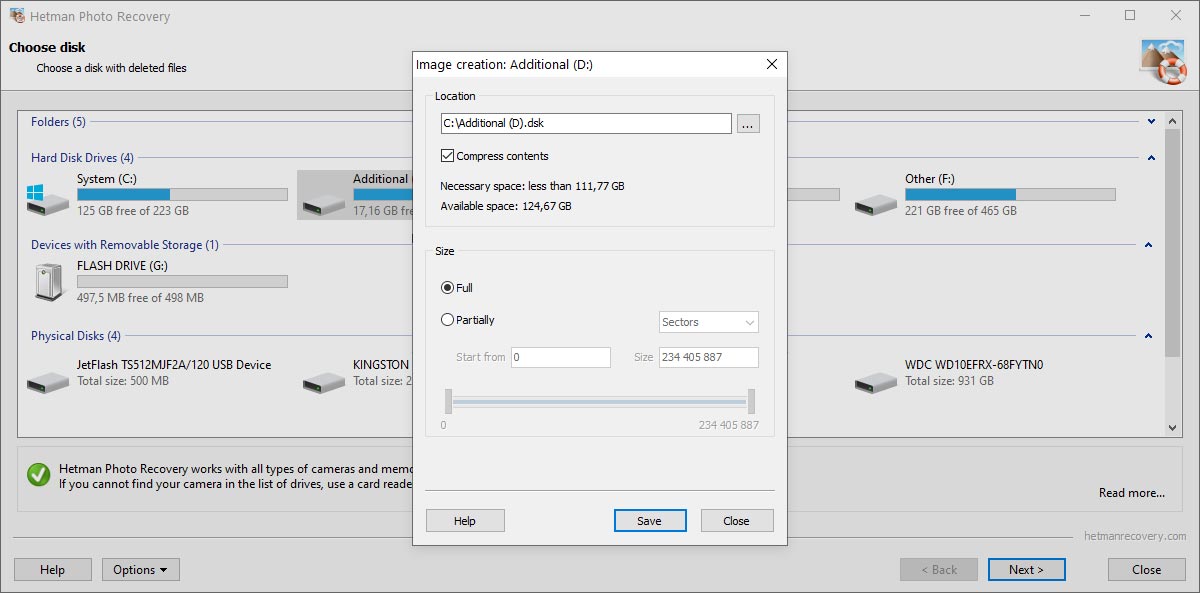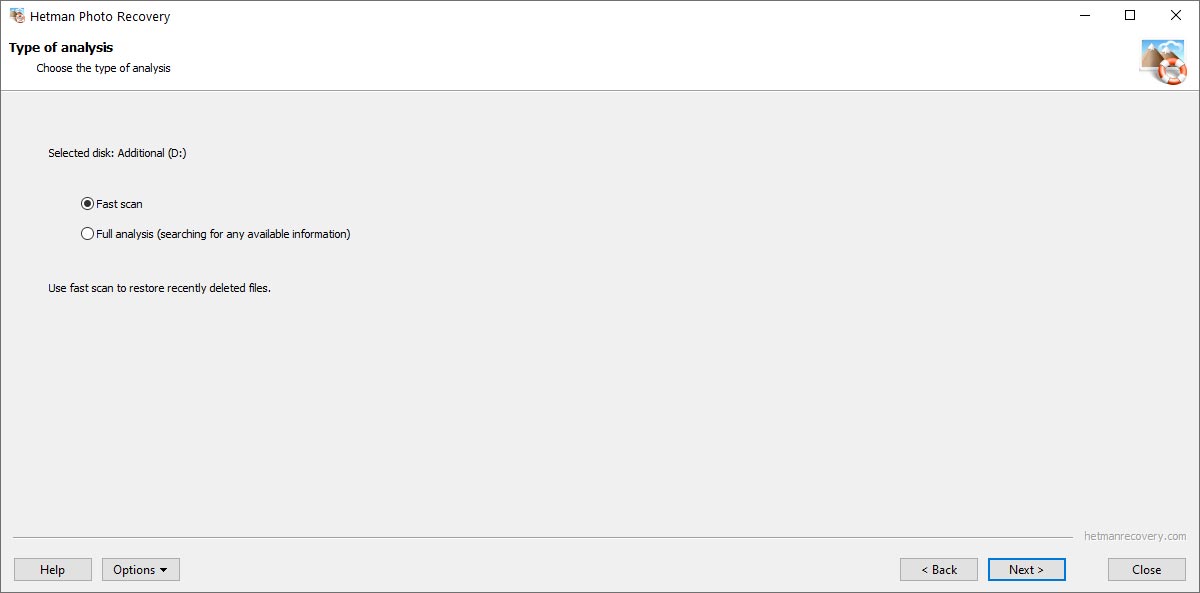 Step 2: Analysis Type
Hetman Photo Recovery offers two types of analysis:
Quick Scan (recommended). This is the fastest way to undelete a bunch of pictures from healthy media. Recovers every little detail including file names and folder structure.
Comprehensive Analysis. This slow, thorough analysis can recover images located on formatted, corrupted and unreadable media. Slow but reliable, this method will not recover the original file names or folder structure.
Both. Literally, you get both of the two analysis methods working on your behalf at the same time. No real drawbacks except speed – in this mode, the tool will recover everything from everywhere, but will take a little more time from start to finish.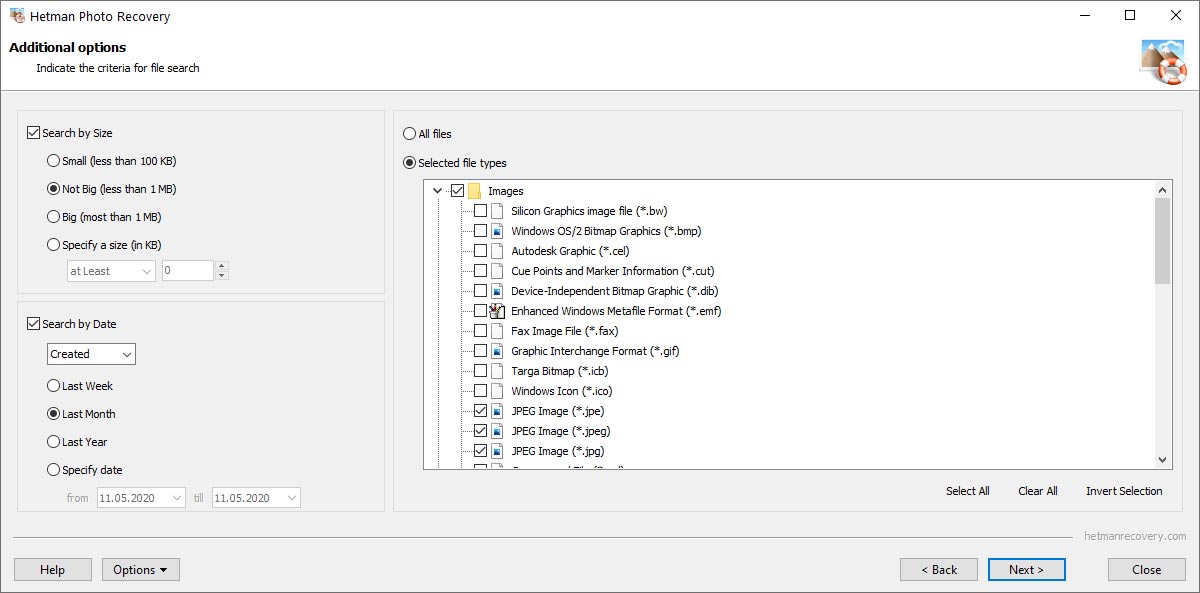 Step 3: Filtering
The interface allows you hiding unwanted files by specifying a filter. You can filter what's shown on the screen by specifying approximate size, time and name of the files.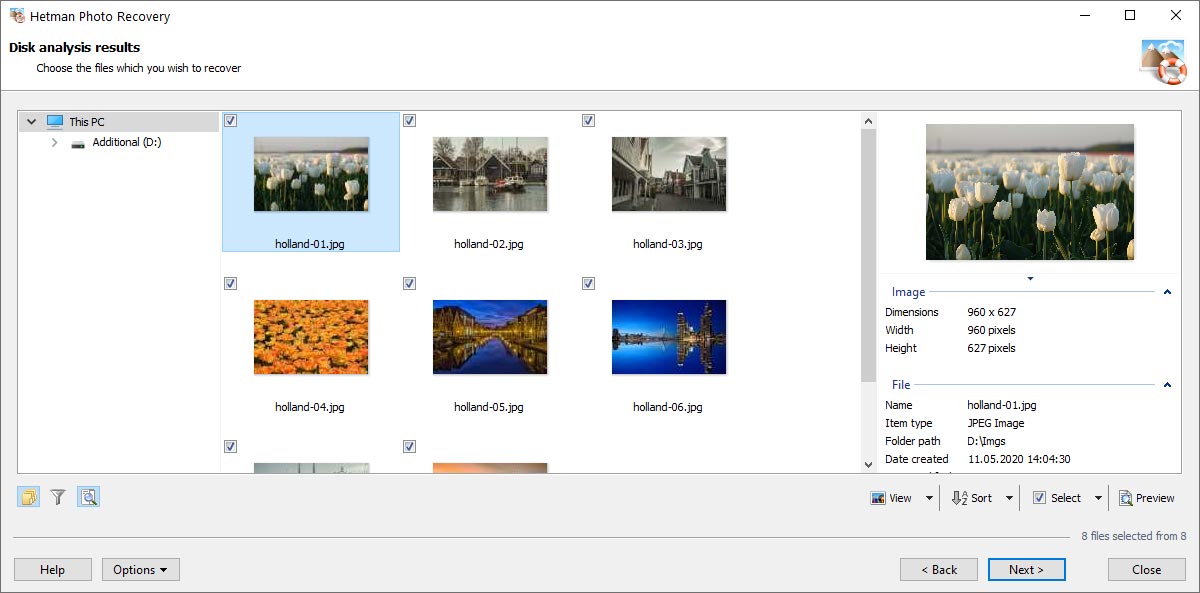 Step 4: Previewing the Results
After the tool finishes scanning the disk, you'll see a thumbnail gallery of recoverable pictures – just like if you were using Windows Explorer. Double-click on an image to open a full-size preview.
Previewing the Images
Pre-recovery preview is a great way of choosing which images you'd like to recover. If you can see a preview, the image is definitely recoverable.
When using full-size preview, you can zoom and rotate images. The tool offers a variety of views including Icons, List, Large Icons and Thumbnails.
You can recover multiple photos at once. Select multiple images by using one of the following commands: Select All, Deselect, Invert Selection.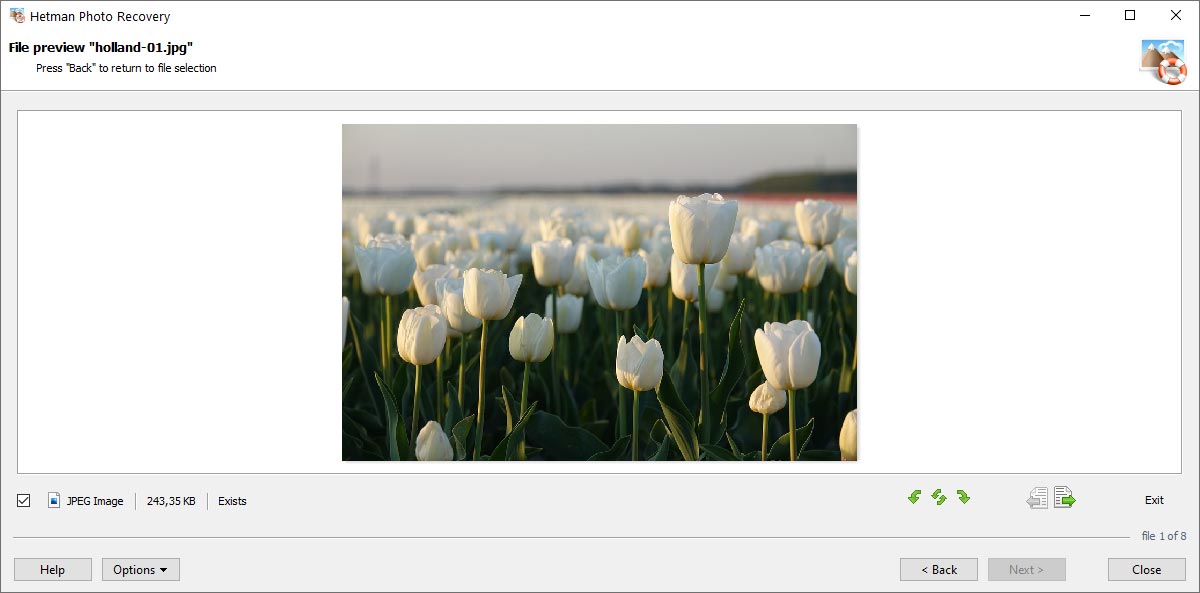 Filtering
Filtering helps you locating files easier by hiding files that don't match your criteria. You can filter files by file names, date and time, file size or image resolution. When a filter is applied, the tool will only display images that match your criteria. You can quickly revert to full unfiltered view by clearing the filter.
Hetman Photo Recovery offers multiple sorting modes, allowing you to sort the files by their name, type, status, size and resolution. You can also disable sorting, which will result in images being displayed in the order they've been discovered.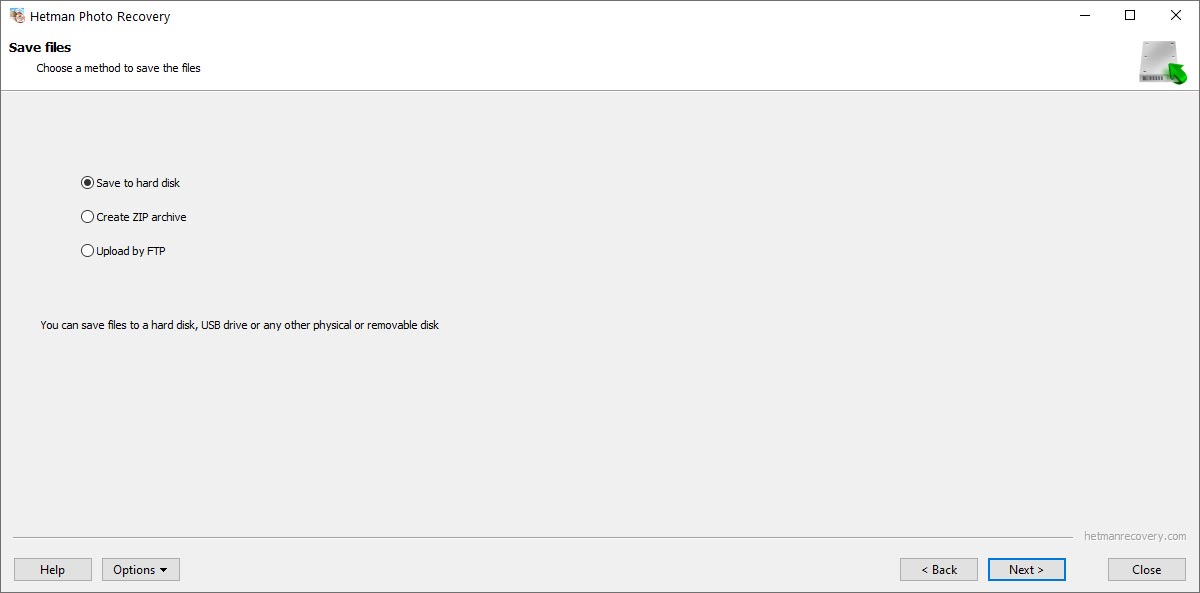 Step 5: Saving Files
Hetman Partition Recovery allows saving recoverable pictures onto a separate disk, uploading to a remote location over the FTP protocol, burning a bunch of CD/DVD discs or creating burnable ISO images.
Saving to a Disk
Saving the files onto a disk is the fastest and easiest way to go – if you have enough disk space available. Remember, you can't just save your images onto the same disk they're being recovered from – this way you'll be risking in losing the rest of them forever. You must use a separate drive letter, a different memory card or another storage device to save the files to.
Hetman Photo Recovery can preserve the original folder structure and replace unknown characters in the files' names with something legible by ticking the corresponding check boxes.
Click "Finish" to complete the process.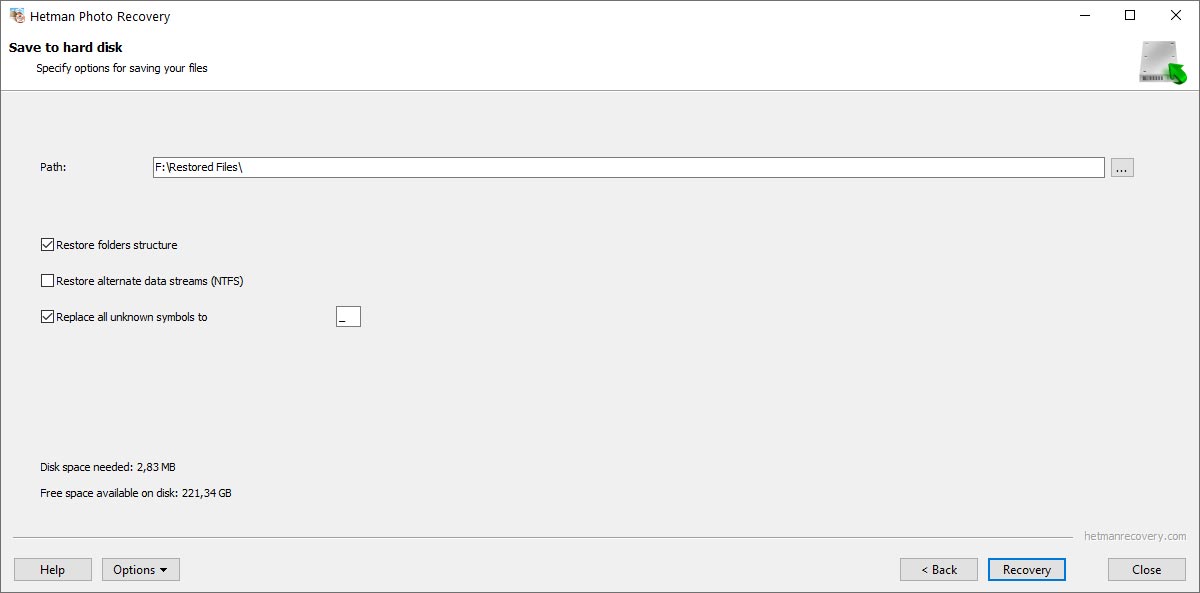 Burning a CD or DVD
Hetman Photo Recovery has a built-in CD/DVD burner. To burn recoverable files onto a CD or DVD, select one of the available CD/DVD drives and specify disc label, file system and burning speed.
The tool supports multisession disks and rewriteable media. You can erase previously recorded data by inserting a rewriteable disk into the drive and using the "Clear disc" command.
Click "Burn" to continue. The tool will burn the disk and display a report.
Creating ISO Images
Instead of burning a CD or DVD right away, you can create a bunch of burnable ISO images. Specify volume label, file system and file name to create an ISO image. You can use any software supporting the ISO format to access or burn these images.
Click "Create" to complete the process.
Using FTP Upload
Hetman Photo Recovery comes with an integrated FTP client allowing you to upload files being recovered directly onto a remote FTP server. In order to start FTP upload specify server address, port number, as well as FTP login credentials (username and password). Hetman Photo Recovery supports FTP proxies.
Click "Save" to start uploading files.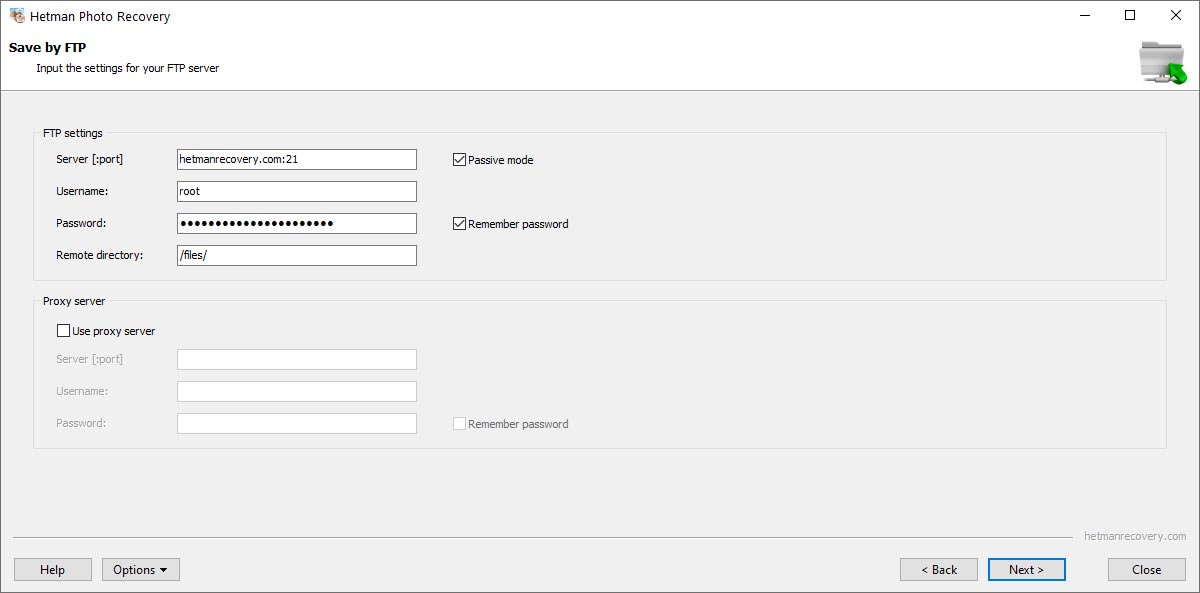 Recommended Products
If you want a more advanced tool, try Hetman Partition Recovery or Hetman FAT Recovery instead. Hetman Partition Recovery supports both the FAT and NTFS file systems, while Hetman FAT Recovery is designed to recover files from FAT-formatted devices only (e.g. memory cards, flash drives, USB stick etc.) at a lower price.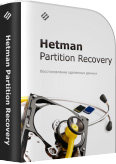 Comprehensive undelete, unformat partition and hard drive recovery tool! Recovers information from all types of storage media formatted with FAT and NTFS. Use this tool for recovering information following accidents of any type.
Supporting all types of healthy and damaged storage media, Hetman FAT Recovery can recover data from hard disks, SSD drives, USB flash drives and a wide range of memory cards. Use this tool for recovering information after all types of accidents.