Memory Card Data Recovery Software
A bunch of files goes missing after a system error? Inaccessible USB drive or memory card? Unreadable storage device? Lost data after formatting a FAT/FAT32 partition? You can easily restore the complete file and folder structure with FAT Recovery™!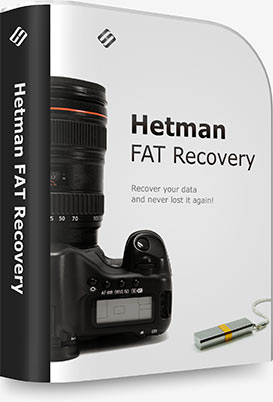 Hetman FAT Recovery™ 4.1
The tool will effectively restore information lost after a system accident, firmware malfunction and user error. Supporting all versions of the FAT, exFAT file system, FAT Recovery™ is designed to recover files and folders from hard disks, USB pen drives, and all popular memory cards including the latest mini- and micro- varieties. In addition, the tool can recover information directly from many models of digital cameras, tablets, mobile phones and audio players.
Using FAT Recovery™ could not be made easier. Immediately after running the product you'll be greeted by the "File Recovery Wizard". The wizard will guide you through the recovery process one easy step after another. After completing all the steps of the recovery process, you'll be able to browse through deleted and missing files being discovered by using an Explorer-like window. Recovering information from FAT, exFAT partitions is as easy as counting to three.
Quick Start
Want to get your files back as soon as possible? Our tools are extremely easy to use. The "Data Recovery Wizard" will guide you through the whole process one step after another, allowing you to recover missing information in just a few minutes. Get yourself comfortable with the tool's interface by watching the video.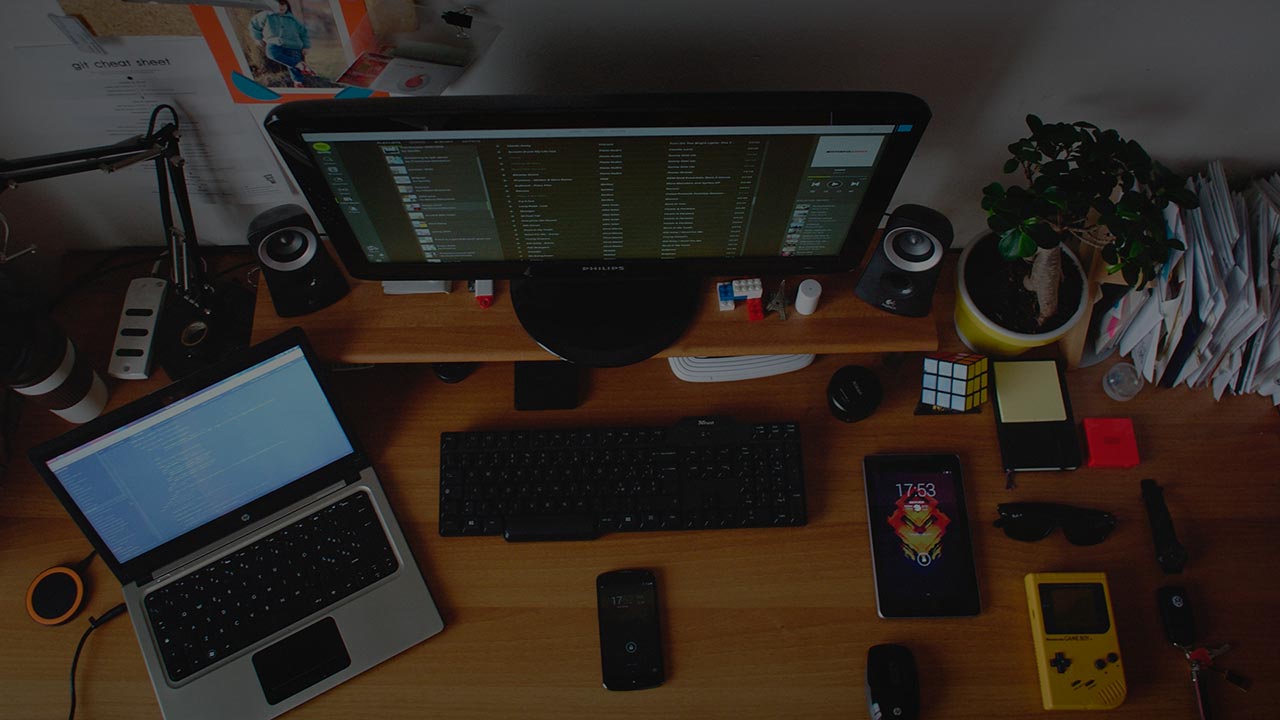 FAT/FAT32 Recovery Made Easy
The memory card recovery software helps recover deleted files, and is often used by photographers to extract digital pictures from formatted, unreadable and corrupted memory cards. Supporting all types of files, FAT Recovery™ can be used to undelete files and recover data from damaged and formatted volumes, repartitioned hard drives.
Recovering Files From Memory Cards
Extracts information deleted from portable devices such as digital cameras, audio players, tablets, smartphones and GPS navigators connected via a USB cord. Directly supports many types of portable devices, recovering information from their built-in memory as long as connected devices appear as drive letters on your computer.
Flash Drive Recovery After Formatting
Recovers data from formatted partitions, repartitioned hard drives, deleted volumes and disks with corrupted file systems. Automatically locates deleted partitions and missing file systems, performing the most comprehensive recovery. Low-level content-aware disk scan reliably discovers and extracts files even if no file system is found.
Recovery After Accidental Deletion
Makes undeleting files easy. Recovers files and folders removed from the Recycle Bin or deleted "permanently" with Shift + Delete. When deleted, files are not wiped off the hard drive. Instead, they are simply marked as "deleted" in the file system. The tool can locate such file system records, trace down the exact physical location of deleted files on the disk, and successfully recover the files.
Cures Malware Damage
Viruses, malware and system glitches may destroy data or block access to certain files. FAT Recovery™ helps easily recover such information even if the file system is damaged or corrupted. The card data recovery software can successfully recover files from disks that are rendered inaccessible, are missing essential system structures as well as disks that are deliberately crippled by malware in order to prevent user access.
Hardware and Firmware Errors
Errors in firmware and hardware glitches are responsible for many cases of data loss. FAT Recovery™ can recover files lost after hardware/firmware glitches, restoring or unblocking inaccessible information even if Windows claims the disk must be formatted. File recovery is even possible if no trace of the file system is left on the device.
Corrupted Disks
Recovers data from damaged, corrupted and inaccessible hard drives and flash-based storage devices even if Windows can't read the disk. FAT Recovery™ applies sophisticated techniques to make use of any information remaining in the damaged file system, and uses low-level signature-search algorithms to reliably locate and recover files if the file system is completely messed up.
Major Features
FAT Recovery™ is designed to recover deleted, lost and inaccessible data from all types of storage devices formatted with FAT/FAT32 file systems. Supported devices include hard drives, USB drives, memory cards, digital cameras, tablets and smartphones.
FAT Recovery™ can recover files of all types and extensions, no exceptions. If your disk bears a variation of the FAT file system, you can use the tool to recover everything from that disk. Digital pictures, documents, archives, applications, databases, backups, audio and video files – you name it!
Supported Storage Devices
FAT Recovery™ can recover deleted data from all kinds of storage devices that can be mounted to your computer as a drive letter if they are formatted with FAT or FAT32. This includes traditional and solid- state hard disks, tablets, Android smartphones, digital cameras, audio and multimedia players, GPS navigation devices; popular memory cards such as Compact Flash, Memory Stick, SD, SDHC, SDXC and their mini- and micro-varieties; external and USB drives, and so on, and so forth. The tool will recover information even if the disk is corrupted and not recognized by Windows. In other words, if you can connect a device to your computer and see a drive letter, FAT Recovery™ can extract files and folders from that device – as long as it bears the FAT/FAT32 file system.
Virtual machine
hard disks
Restoring USB Flash Drives For Dummies
FAT Recovery™ can be used by anyone. Its user interface looks very much like Windows Explorer displaying the original file and folder structure – only you get to see all the files, including those that were lost or deleted. We designed this tool with ordinary computer users in mind, and our customers appreciate that.
Anyone can use FAT Recovery™ – even if they never used a data recovery tool before! The convenient File Recovery Wizard will guide through the beginning of the recovery process one little step after another, helping you get your files back in the safest possible way.
Unlike the live preview, the built-in HEX editor delivers low-level information about the file. Advanced users can obtain information such as the file's system information including the list and addresses of physical clusters on the disk occupied by the file. You can preview logical disks as well. If you preview a volume, you'll see information about it's the primary and secondary boot sectors, as well as the addresses of all the MFT records.
The live pre-recovery preview adds more convenience to the recovery process. We support previewing hundreds of file formats including a variety of images, compressed archives, documents, spreadsheets, emails, music and video files, and many other types of files.
By using the preview, you can quickly locate the latest version of a document, or the least damaged version. The preview prevents waste of time on attempting to recover files that are damaged beyond repair. FAT Recovery™ allows you to recover everything – or cherry-pick just the files you need, making sure they are undamaged and fully recoverable before restoring them. If you can see a file's preview, then it's definitely 100% recoverable – guaranteed!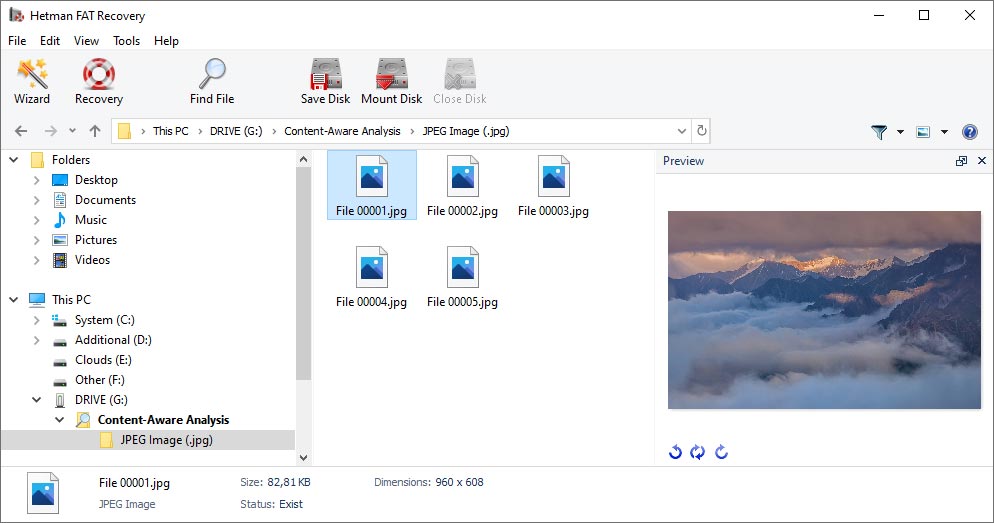 Comprehensive Recovery Algorithms
FAT Recovery™ shares its data recovery algorithms with our top-of-the-line tool, Partition Recovery™. By combining information obtained from the file system with data acquired by performing a content-aware search on the entire disk surface, Hetman FAT Recovery carefully reconstructs as much information about a file as possible. This information is then used to restore the exact name and location of the file.
Thousands of private customers and numerous data recovery labs are choosing Hetman products exactly because of our sophisticated recovery engine. Thanks to patented and patent-pending technologies, Hetman family tools can safely and reliably recover information after most types of accidents.
The complete safety of your information is our top priority. Make sure to start the recovery process as soon as possible – but not before you fully understand all the necessary safety precautions. When downloading and installing FAT Recovery™, do NOT save or install the product onto the same disk that contains information to be recovered. Otherwise you might be facing the risk of irreversible loss of data. Similarly, when saving files being recovered, make sure to use an alternative storage device such as a different disk, a CD/DVD, or a USB drive.
FAT Recovery™ is designed to work strictly in read-only mode to protect your lost data from being overwritten. In addition, we offer an extra-safe recovery mode, allowing you to create a bit- precise image of the volume containing the missing data in one long read operation, thus minimizing the number of disk access operations and reducing the chance of accidental failure (this mostly applies to damaged and heavily worn hard drives). You can then use that image to recover the files during the next step of the process.
What could be easier than saving the files you already found? Well, there are certain implications to be concerned of. Most importantly, you absolutely must use a different disk or an alternative storage device to keep data being recovered; otherwise you'll be risking to lose everything.
When recovering large hard drives or NAS devices, you may not have immediate access to the second drive just as big. If this is the case, FAT Recovery™ will let you upload your data over the network to a remote server or to an FTP server, burn a number of CD/DVD discs, or produce burnable ISO images.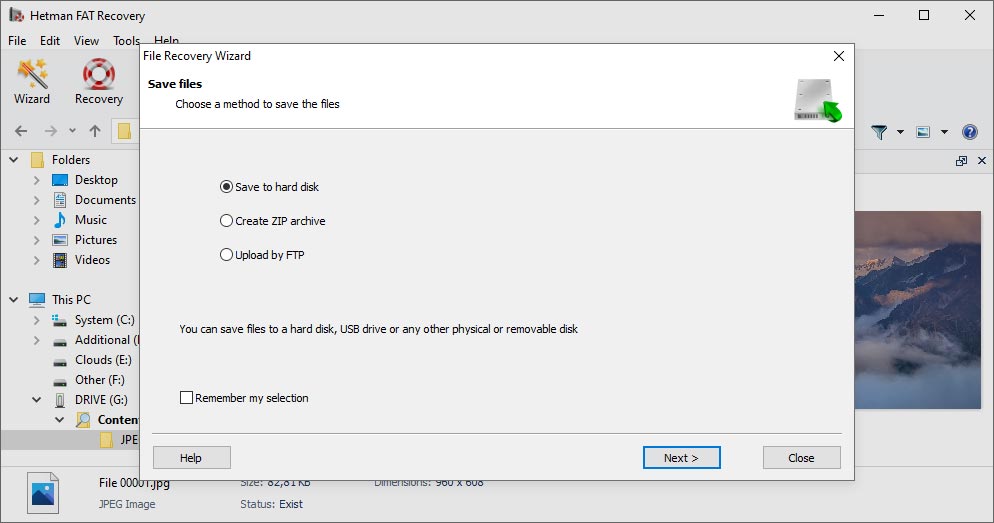 Designed for Microsoft Windows
FAT Recovery™ supports all versions of the FAT, exFAT file systems including all major varieties and minor revisions. The list of supported file systems includes the original FAT, VFAT, FAT12, FAT 16, and FAT32.
The tool can be used in Windows XP / Server 2003 / Vista / Server 2008 / Windows 7 / Windows 8 and Windows 10. FAT Recovery™ explicitly supports both 32-bit and 64-bit editions of Windows. Please note that you must have Administrator's privileges on your computer in order to install and use FAT Recovery™.
🔧 I see an error message while viewing contents of a memory card on the computer. How can I copy photos and video files?

The utility can read data from a memory card without using standard Windows functions.

After analysis, save the necessary files to another storage device.

🐞 Errors 0x8007045d or 0x800703ee occur when I'm copying files from a USB flash drive to a laptop. What should I do?

Such errors can occur because of a flash drive failure, virus infection, or problems with the computer's USB port.

The program will display a list of recovered files after analyzing the device.

💣 The computer asks me to format the USB flash drive or SD memory card when they are connected. How can I recover their files?

The error could have occurred as a result of shock or deformation of the device, after formatting it into an incompatible file system or after using it with an old phone.

Formatting is a necessary step if you want to continue working with the card. Before formatting, though, use our program to recover the necessary files.

⌛ If I pay for the program now, how long will it take before I receive my registration data?

It depends on the payment method you use. If you order online with your credit card or PayPal, you will receive the registration key immediately after payment.

What are the requirements for successful data recovery?

For successful recovery, you must stop using the storage device until the necessary files are fully restored.

If it is an external drive, memory card or flash drive, then connect it to the PC and analyze them using our program.

If the data is deleted as a result of formatting the system disk, resetting the operating system or reinstalling Windows, then stop further installation of the operating system and programs. Connect the drive to another computer and perform recovery operations.

Recovered files must be saved to a different drive.

⏱️ How long does it take to recover my data?

Data recovery can take a long time if you work with a disk larger than 1 terabyte. Faulty drives can also be scanned for a long time. However, in most cases, recovery takes less than 30 minutes.
Reviews and Awards
Leading computer publications and laboratories recommend using our software package to work with hard drives and external drives. Read the opinion of independent experts.
User reviews
Read user reviews of Hetman Software programs or share your experiences. Your review will be published after being moderated. We value your opinion! Total reviews: 5. Average ratings: 4.8.

Accedental format my usb drive
3.04.2020

Hetman FAT Recovery really works. thank you
3.04.2020

Photos of Caucasian mountains and lakes from my trip are priceless. A memory card from Canon EOS 350 D was recovered in full.
9.11.2014

All my folders and files on a 4-gig memory card were gone after a crash. The computer suggested formatting the card, but couldn't complete this operation (I tried quick and full formatting). Hetman FAT Recovery restored my photos after many attempts to restore data at a local service center.
23.03.2013

I accidentally emptied a memory card in a Canon camera and made a few new shots. Hetman FAT Recovery helped me bring back some very important photographs. Thank you for saving my company's reputation.
1.02.2013
Recommended tools
We recommend that you familiarize yourselves with the opportunities offered in other Hetman Software utilities. You can significantly save on the purchase or buy a program with the features that best suit your needs.