How to Repair Corrupted Files
Error viewing pictures? Can't access corrupted archives? Damaged or corrupted images after an unsuccessful recovery attempt? Fix corrupted pictures and archives automatically by applying content-level repairs with Hetman File Repair by Hetman Software!
Free Download


Recover Your Data
Hetman File Repair 1.1
Fix damaged pictures and archives in just a few clicks! The tool applies content-level repairs to many types of pictures and compressed archives, allowing to automatically fix corrupted files that can't open at all or open with error messages. Hetman File Repair is a perfect cure for files damaged by a virus attack or file system error, or corrupted after an unsuccessful recovery attempt.
Files repaired with Hetman File Repair are guaranteed to open successfully in a corresponding viewer, editor or archiver. The tool is extremely easy to use, employing Explorer-like user interface and a step-by-step wizard.

Testimonials
Using Hetman File Repair
If you're about to repair existing files, simply install and run Hetman File Repair. If, however, you are dealing with deleted files, formatted disk or unreadable flash drive, you'll need to use a data recovery tool such as Hetman Partition Recovery first. Average user rating: 4.5 (497 votes).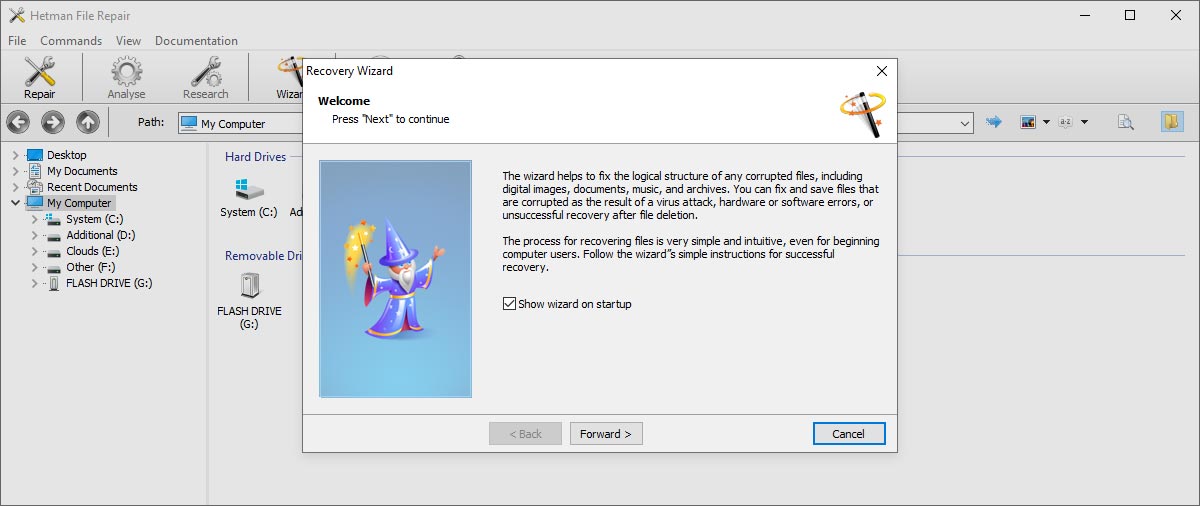 Step-By-Step Wizard
Repairing damaged files with a wizard helps quickly fixing a bunch of files stored in different folders. The tool will automatically fix the files, saving them into a specified folder.
Welcome
In order to quickly repair corrupted files, you can use the convenient step-by-step wizard. The wizard makes it easy to perform complex repair procedures. In order to launch the "Recovery Wizard", click on an icon located on the main toolbar.
Instructions are available in the top part of the wizard. You can configure the tool to launch the "Recovery Wizard" every time you run the program by checking the corresponding option.
Click "Next" to continue.
Selecting Files to Repair
Select files you would like to repair. During this step, it's a good idea to switch the view mode into "Thumbnail". The automatically generated thumbnail images will instantly reveal corruption and visual defects, making the damaged files obvious and easy to select.
During this step, you can do the following:
"Add files" – select additional files to repair;
"Remove files" – removes selected files from the list of files to repair;
"View" – switches the viewing mode. You can choose between icon, list, and table views;
"Sort" – switches sort modes.
Click "Next" to continue.
Analysis Types
Hetman File Repair can either perform a quick analysis or a comprehensive investigation of the corrupted file. You can choose between the two options:
"Analyze" helps quickly locate and repair logical errors in the file structure. This is the fastest mode which works fine most of the time.
"Research" takes much longer than the simpler analysis mode, but performs a comprehensive content-based analysis of the entire file. This method may allow repairing badly damaged files as well as files with missing or overwritten parts.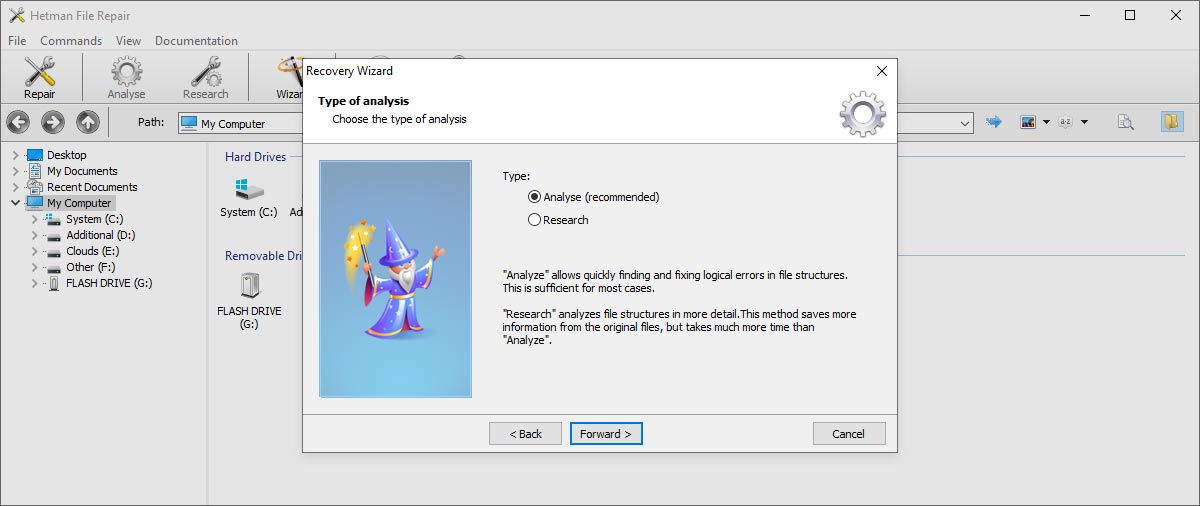 Click "Next" to continue.
Saving the Files
Multiple options are available to store files being repaired:
"Path" – selects folder on the disk to store files being recovered.
"Overwrite files with the same name" – if this option is enabled, files with matching names will be overwritten. Otherwise, these files will be renamed. If you want to keep all versions of the file, make sure that this option is not checked;
"Save directory structure" – re-creates the original folder structure. If this option is not selected, all files will be saved into a single folder.
"Open folder after saving" – opens the folder containing repaired files after finishing the recovery operation.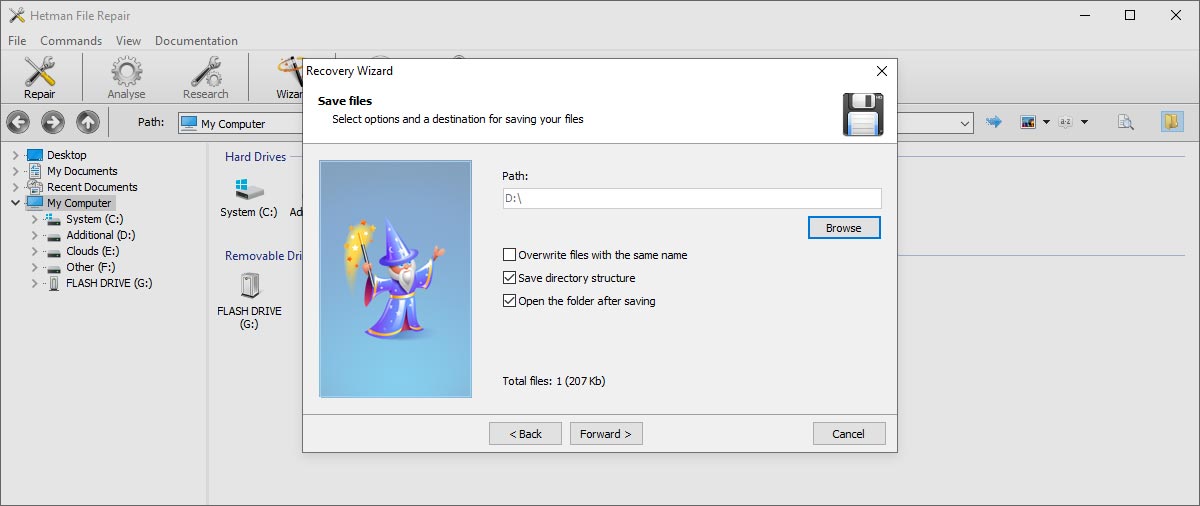 Click "Next" to continue, and wait till the process finishes.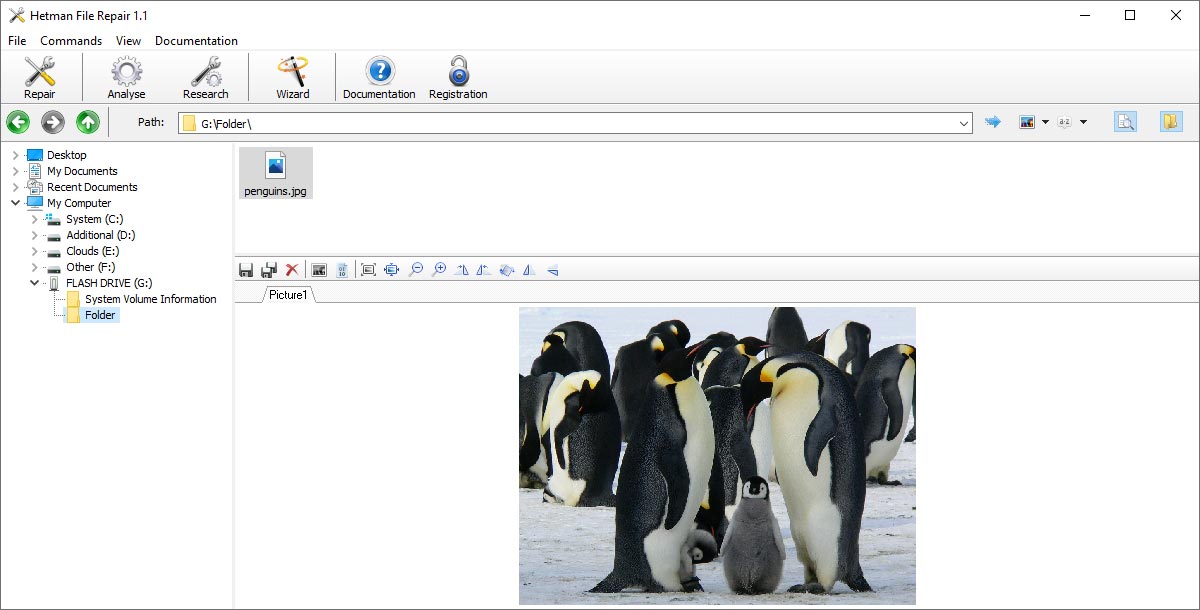 Pre-Recovery Preview
You can use pre-recovery preview before repairing the files if you run Hetman File Repair in Explorer-mode (without the Wizard). However, in this mode you can only recover one file at a time, so it may be easier to just use the wizard if you're fixing multiple files.
Selecting a file
Select the folder that contains the corrupted files. Hetman File Repair will display folder's content, and you'll be able to choose files you're about to fix from the list. Note that the tool will only display supported file types.
Preview
Corrupted files can't be previewed, which makes them obvious candidates for a repair. In order to view corrupted files, select the file and engage the "Analyze" or "Research" command first.
Saving Fixed Files
After performing the recovery operation, the tool will launch a wizard helping you save those file to a save location. You'll be able to specify destination path and select options to overwrite or rename files with the same name, restore original folder structure or save all files into a single folder.
Click "Next" to continue, and wait till the process finishes.
Recommended Products
If you want a more advanced tool, try Hetman Partition Recovery or Hetman FAT Recovery instead. Hetman Partition Recovery supports both the FAT and NTFS file systems, while Hetman FAT Recovery is designed to recover files from FAT-formatted devices only (e.g. memory cards, flash drives, USB stick etc.) at a lower price.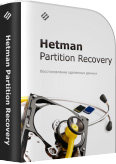 Comprehensive undelete, unformat partition and hard drive recovery tool! Recovers information from all types of storage media formatted with FAT and NTFS. Use this tool for recovering information following accidents of any type.
Supporting all types of healthy and damaged storage media, Hetman FAT Recovery can recover data from hard disks, SSD drives, USB flash drives and a wide range of memory cards. Use this tool for recovering information after all types of accidents.