如何恢復損壞的JPEG文件?
查看圖片時出錯? 無法訪問損壞的檔案? 恢復嘗試失敗後,圖像是否損壞? 通過使用Hetman File Repair應用內容級別的修復,可以自動修復損壞的圖片和檔案。 首先,請下載並安裝該程序。
使用嚮導修復損壞的文件有助於快速修復存儲在不同文件夾中的一堆文件。 該工具將自動修復文件,將其保存到指定的文件夾中。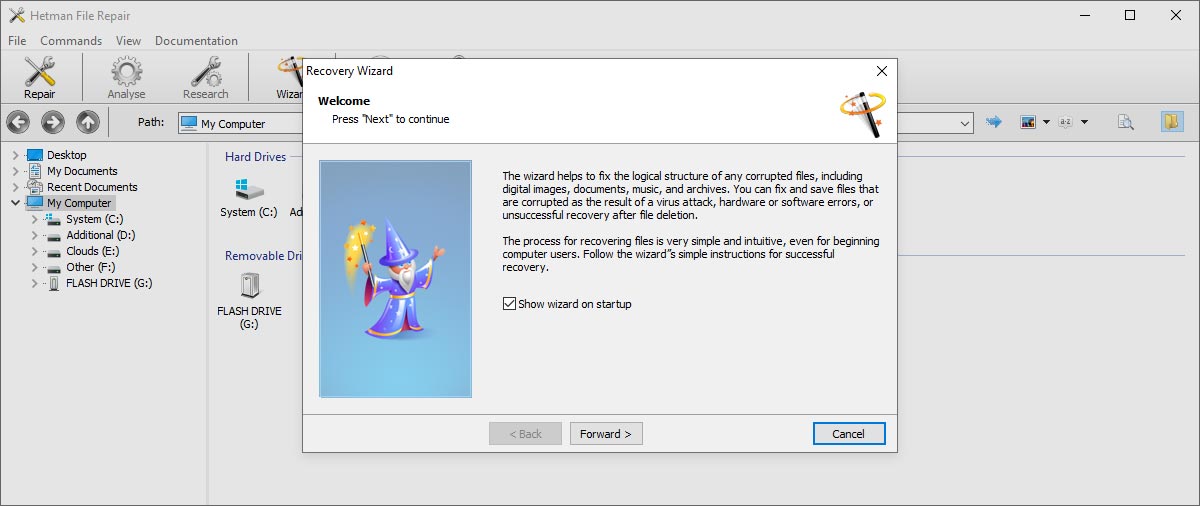 分步嚮導
為了快速修復損壞的文件,您可以使用方便的逐步嚮導。 該嚮導使執行複雜的修復過程變得容易。 為了啟動"恢復嚮導" ,請單擊主工具欄上的圖標。
嚮導頂部提供了說明。 您可以將工具配置為在每次運行程序時啟動"恢復嚮導" ,方法是選中相應的選項。
單擊"下一步" 繼續。
選擇要修復的文件
選擇您要修復的文件。 在此步驟中,最好將視圖模式切換為"縮略圖" 。 自動生成的縮略圖圖像會立即顯示出損壞和視覺缺陷,使損壞的文件顯而易見且易於選擇。
在此步驟中,您可以執行以下操作:
"添加文件" –選擇要修復的其他文件;
"刪除文件" –從文件列表中刪除要修復的文件;
"查看" –切換查看模式。 您可以在圖標視圖,列表視圖和表格視圖之間進行選擇。
"排序" –切換排序模式。
單擊"下一步" 繼續。
手動恢復損壞的文件
如果您在資源管理器模式下(沒有嚮導)運行Hetman File Repair,則可以在修復文件之前使用恢復前預覽。 但是,在這種模式下,一次只能恢復一個文件,因此,如果要修復多個文件,僅使用嚮導可能會更容易。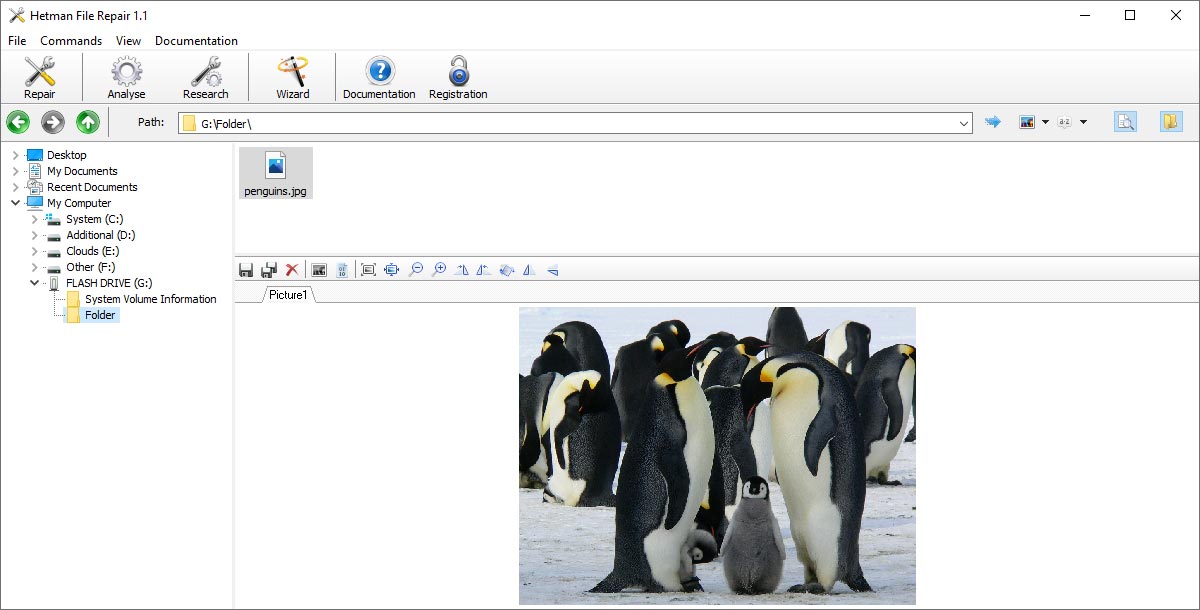 Selecting a file
Select the folder that contains the corrupted files. Hetman File Repair will display folder's content, and you'll be able to choose files you're about to fix from the list. Note that the tool will only display supported file types.
Pre-Recovery Preview
Corrupted files can't be previewed, which makes them obvious candidates for a repair. In order to view corrupted files, select the file and engage the "Analyze" or "Research" command first.
Saving Fixed Files
After performing the recovery operation, the tool will launch a wizard helping you save those file to a save location. You'll be able to specify destination path and select options to overwrite or rename files with the same name, restore original folder structure or save all files into a single folder.
%1$s 您可以在兩個選項之間進行選擇:
"分析" 幫助快速定位和修復文件結構中的邏輯錯誤。 這是最快的模式,在大多數情況下都可以正常工作。
"研究" 比簡單的分析模式花費更長的時間,但是可以對整個文件進行全面的基於內容的分析。 此方法可能允許修復嚴重損壞的文件以及丟失或覆蓋部分的文件。
單擊"下一步" 繼續。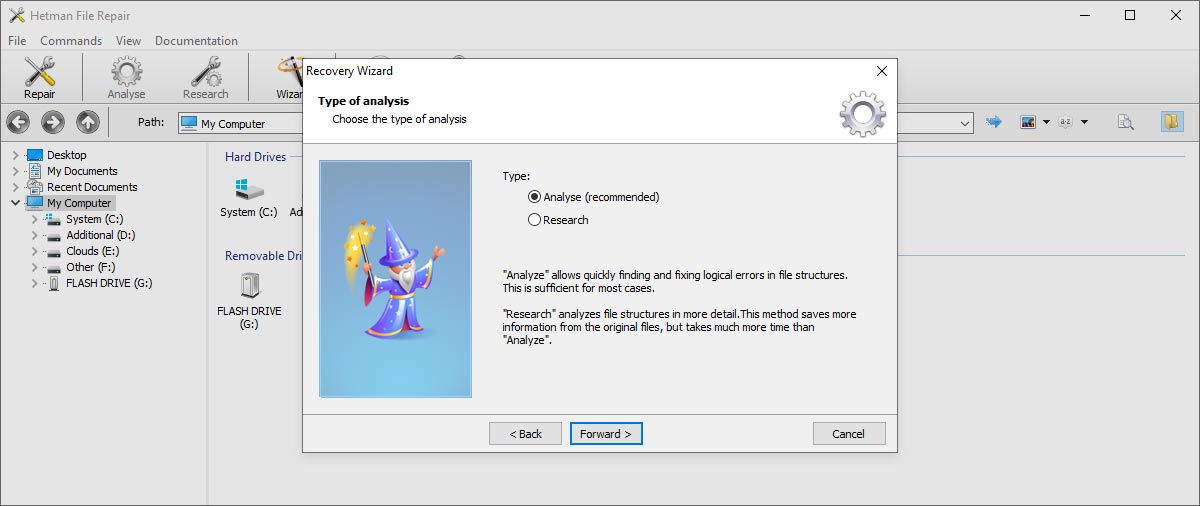 ⛔ 恢复数据后,为什么没有打开某些文件供查看或编辑?

删除后,文件的内容可能会被新数据完全或部分覆盖。 这样会在文件的内部结构中产生错误,然后程序将无法正确编辑或显示此类文件。

🤳 恢复数据后,为什么我的照片以小尺寸显示?

通常,Jpeg文件包含多张以较低分辨率复制主图片的图像。 如果无法将照片还原为原始大小,我们的程序将尽最大努力恢复图像的至少一部分。

🧰 您的程序可以修复任何文件中的任何错误吗?

否,但是您可以免费试用该程序。 如果您可以在程序的预览窗口中查看文件,则可以对其进行修复和恢复。

⌛ 如果我现在为该计划付款,那么我需要多长时间才能收到注册数据?

💯 成功恢复数据有哪些要求?

要成功恢复,必须停止使用存储设备,直到完全还原必要的文件为止。

如果它是外部驱动器,存储卡或闪存驱动器,则将其连接到PC并使用我们的程序对其进行分析。

如果由于格式化系统磁盘,重置操作系统或重新安装Windows而删除了数据,则停止进一步安装操作系统和程序。 将驱动器连接到另一台计算机并执行恢复操作。

恢复的文件必须保存到其他驱动器上。