Recovering Deleted XLS, XLSX, CSV, ODS, XLT, XLTX Files Online
Deleted a bunch of XLS, XLSX, CSV, ODS, XLT, XLTX spreadsheets? Require a tool to recover spreadsheets from formatted, repartitioned or inaccessible hard drive? Look no further! Excel Recovery™ is designed to help you get your Excel and OpenOffice Calc spreadsheets back when the files go missing.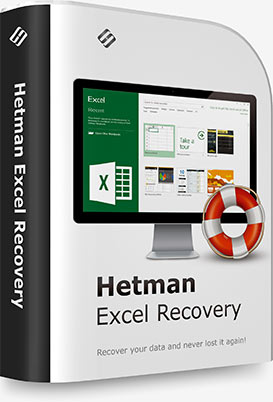 Hetman Excel Recovery™ 3.6
No matter what caused the loss of data, Excel Recovery™ can handle it. Formatted and repartitioned hard drives, inaccessible memory cards and unreadable flash drives are routinely encountered and taken care of by excel recovery tool. Got a hard drive covered with bad blocks or making unusual sounds? The program offers a special extra-safe recovery mode to handle physically unstable devices, maximizing your chance of successful recovery.
It combines a set of highly sophisticated data recovery algorithms with an intuitive, fully guided user interface. The tool is driven with a step by step wizard, enabling anyone to achieve the same high-quality recovery results as a professional recovery lab.
Quick Start
While we're giving away the free evaluation version, not everyone is up to installing trial software when important files are still missing. And you don't have to! Click on the following video to watch a two-minute tutorial and experience Office Recovery™ without downloading or installing.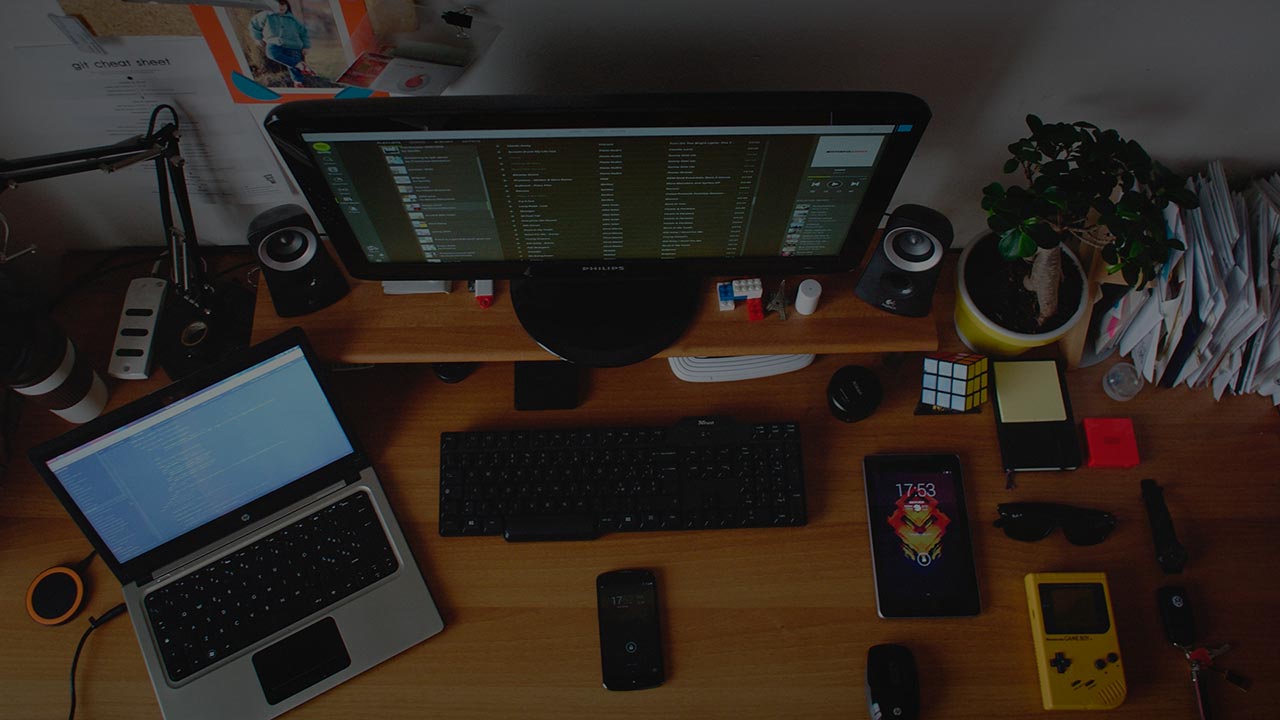 Enhanced for Recovering Spreadsheets
Excel Recovery™ is a dedicated spreadsheet recovery tool. The refined data recovery engine now performs an automated pre-recovery check on any Excel files discovered during the disk scan, ensuring that only 100% working, non-corrupted spreadsheets make it onto the recovery list.
Recovers Deleted Spreadsheets
Deleted a bunch of Excel spreadsheets or cleared the Recycle Bin? That happens every day with thousands of users. Excel Recovery™ can help you get those files back quickly and easily. Just launch the three-step Recovery Wizard, specify the disk you deleted the files from and choose "Quick" recovery mode. The utility will scan the disk, returning you the list of recently deleted spreadsheets in less than a minute.
Disk Formatting and Partitioning
The "Quick" recovery mode is great when dealing with recently deleted document, but if you have a formatted or repartitioned device you'll need to wait longer. When you use Excel Recovery™, you'll just need to select the hard drive to recover the files from and choose "Comprehensive" as your desired recovery mode. It will crunch through the entire content of your device looking for recoverable Excel files. Depending on the size of your disk this may take a while, but your patience will be rewarded with a long list of recoverable documents.
Corrupted Disks and Pen Drives
Got an unreadable USB pen drive, inaccessible hard drive or unreadable memory card? More often than not, these are signs of a file system corruption or damaged system areas on that storage device. Excel Recovery™ features a highly comprehensive data recovery algorithm that can take care of these issues quickly and easily. In "Comprehensive" scan mode, its content-aware data recovery engine will analyze the whole surface of the disk, or read the entire content of the pen drive in order to locate Excel files by their signature. Even if there is nothing left of the file system, the program can still handle the job!
Restore XLSX After User Error
One of the most serious tasks is to restore files after a user attempts to solve the problem on their own. Unqualified user actions using the wrong software can significantly complicate the recovery process. Using the algorithms of "Content Analysis", the utility can recover data even from such disks.
Recovers Unsaved Spreadsheets
Closed Excel before saving a document? Computer locked up or rebooted during the work? With Excel Recovery™ you can recover your work even if you haven't saved it! The trick here is that every now and then Microsoft Excel saves working copies of spreadsheets you're editing. These saves go to temporary files that are deleted after you close Excel. However, nothing stops software from recovering these files and handing you your unsaved work!
Recovers Excel Files from Flash-Based And Solid-State Media
Solid-state media organizes information differently compared to traditional hard drives. Excel Recovery™ can recover spreadsheets from memory cards, SSD drives and USB pen drives with ease. The utility was tested with many models of SSD drives, pen drives and memory cards of all major makes to ensure unprecedented compatibility.
Special Recovery Mode For Broken Hard Drives
Physically worn, unstable and failing devices require a very special approach when recovering information. Multiple random reads cause unwanted movements of the magnetic heads, rapidly increasing the chance of premature failure. In Excel Recovery™, we developed a special extra- safe recovery mode to facilitate the recovery from physically unstable and badly worn hard drives. In this mode, tool will acquire the entire content of the device into a virtual image file in one long read operation. This eliminates redundant head movements, and leaves you a bit-precise copy of the hard drive to recover information from. Importantly, the original physical storage device is no longer required after acquiring a copy, as Excel Recovery™ can continue the recovery from the virtual disk image.
Features and Benefits
Deleted Excel spreadsheets, formatted disks and corrupted storage devices are just a few things to mention. By using Hetman Software tool, you won't have to hassle going through hundreds of entries in order to locate undamaged spreadsheets.
Recovers Excel and OpenOffice Spreadsheets
Excel Recovery™ recovers spreadsheets saved by Microsoft Excel 97, 2000, XP, 2003, 2007, 2010, and 2013, as well as all versions of OpenOffice Calc. The following types of files are supported:
XLSX - Microsoft Excel 2007 Spreadsheet
XLS - Microsoft Excel 97-2007 Spreadsheet
In addition to Microsoft Excel, Excel Recovery™ natively supports the OpenDocumet Format. This document format is employed by OpenOffice, Libre and Star Office spreadsheet applications. The following file types are supported:
ODS - OpenDocument Spreadsheet;
Recovers From FAT/exFAT, NTFS/ReFS, APFS/HFS+, Ext2/3/4/ReiserFS, XFS/UFS and RAW Disks
Excel Recovery™ natively supports all versions and revisions of FAT/exFAT, NTFS/ReFS, APFS/HFS+, Ext2/3/4/ReiserFS, XFS/UFS file systems. On NTFS volumes, compressed and encrypted files as well as NTFS Alternate Data Streams are recovered. It can recover spreadsheets from RAID arrays, assuming that the RAID is assembled and fully functional.
In addition, product supports the recovery from raw disk space, unpartitioned and unformatted hard drives or devices with badly damaged, erased or emptied file systems.
Virtual machine
hard disks
Excel Recovery™ guarantees successful recovery of all spreadsheets appearing in the list of recoverable files. Before adding a file to the list, the tool validates the file by performing an automated integrity check. This check helps ensure that all files added to the list are accurately validated, and can be opened with Microsoft Excel or OpenOffice with no problem.
High-End Data Recovery Engine
Excel Recovery™ includes an industry-grade data recovery engine borrowed directly from Hetman's top of the line data recovery tool. This engine features a highly sophisticated content-aware analysis mode. In this mode, the tool can literally carve files from the disk even if no sign of a file system is present. Content-aware analysis works by reading the entire content of the disk and matching this information against a built-in database of supported file types. This in turn allows the product to recover files deleted a long time ago, extract spreadsheets from formatted and repartitioned disks, and even recover information from corrupted, unreadable and inaccessible storage devices.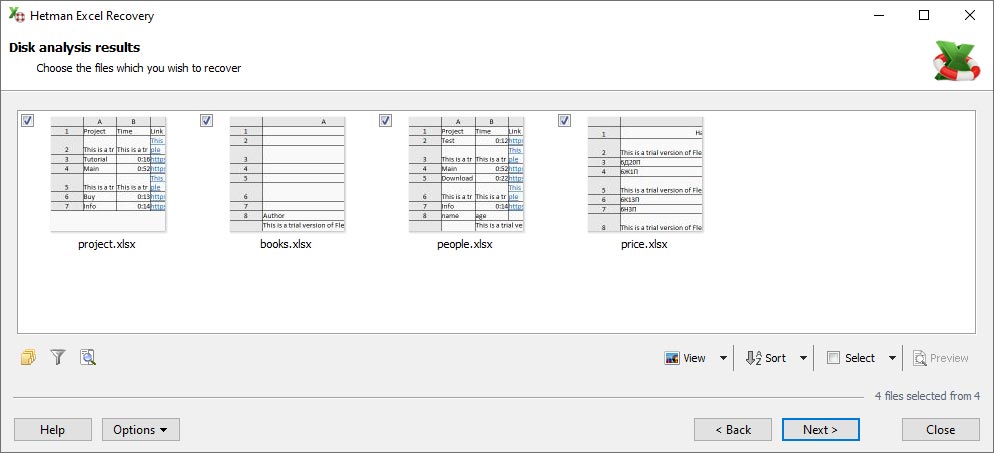 If you have a great many files, you may want to only display the ones that matter – like only the recently saved ones, or just a single file with a certain name. With Excel Recovery™, you can easily do that by using the powerful searching and filtering capabilities. After the scan is complete, you can specify your search criteria to filter just the files you need. There are filters available to find files by their create/ modify date, file type and size, or any sub-string contained in the file name.
Using program is as easy as 1-2-3. The entire recovery process is driven by a fully guided step by step wizard. In that wizard, you'll specify the disk to recover the files from, choose "Quick" or "Comprehensive" recovery mode, and select where to save the files to. That's it! It will scan the disk and display a gallery view of all the files it discovers. You'll be able to preview these files, pick the ones to recover or just save everything. And remember that every file recovered with Excel Recovery™ is a 100% working spreadsheet. The list contains no incomplete or corrupted entries.
Step by Step Wizard
Using Excel Recovery™ could not be made easier. Designed with an ordinary computer user in mind, Excel Recovery™ is controlled via a simple step by step wizard. The wizard asks one simple question on every step:
Where are your files located?
Quick or Comprehensive recovery?
Where and how you're about to save the files?
This last question offers a number of choices. Saving the files on a different hard drive is an obvious choice, and the easiest one. If, however, you don't have enough free disk space to host all the files being recovered, you can use CD or DVD media to burn, create ISO images, or upload the files onto an FTP server.
Pre-Recovery Preview
Excel Recovery™ scans the disk in order to locate spreadsheets to recover. After the scan is complete, tool displays all discovered files in a gallery view. All documents are displayed as small thumbnail images. Click on any thumbnail, and you'll see a larger preview. Double-click to open a full-screen preview.
Excel Recovery™ works on just about any computer running a compatible version of Windows. The tool supports all 32-bit and 64-bit versions of Windows starting with Windows XP and up to the latest Windows 10. It supports the following operating systems:
Windows 10
Threshold
Redstone
Anniversary Update
Creators Update
Fall Creators Update
Windows 8 / 8.1
Starter
Home Basic and Premium
Business
Enterprise
Ultimate
Windows 7
Starter
Home Basic and Premium
Professional
Enterprise
Ultimate
Windows Server
2003
Home Server
2008
Small Business Server
2008 R2
Home Server 2011
2012
2012 R2
Windows Vista
Starter
Home Basic and Premium
Business
Enterprise
Ultimate
Windows XP
Home Edition
Professional Edition
👀 Why can't the program see an xls, xlsx file deleted from the folder?

A file can be completely or partially overwritten after deletion. The program displays only those files that can be restored entirely.

Excel saves temporary files with the extension .tmp while you are editing spreadsheets. Check the folder that contains such temporary files.

⭐ Can you guarantee 100% recovery for my spreadsheets in xls, xlsx format?

After scanning, the program displays the discovered files in the form in which they will be restored.

The utility tests each file it has detected for integrity and gives a 100% recovery guarantee.

🧮 My deleted spreadsheet contains formulas and macros. Will all this information be saved after data recovery?

The program recovers all the contents of the deleted file, including formatting, formulas and macros.

⌛ If I pay for the program now, how long will it take before I receive my registration data?

It depends on the payment method you use. If you order online with your credit card or PayPal, you will receive the registration key immediately after payment.

What are the requirements for successful data recovery?

For successful recovery, you must stop using the storage device until the necessary files are fully restored.

If it is an external drive, memory card or flash drive, then connect it to the PC and analyze them using our program.

If the data is deleted as a result of formatting the system disk, resetting the operating system or reinstalling Windows, then stop further installation of the operating system and programs. Connect the drive to another computer and perform recovery operations.

Recovered files must be saved to a different drive.
Reviews and Awards
Leading computer publications and laboratories recommend using our software package to work with hard drives and external drives. Read the opinion of independent experts.
User reviews
Read user reviews of Hetman Software programs or share your experiences. Your review will be published after being moderated. We value your opinion! Total reviews: 5. Average ratings: 4.6.


Thank you for the program! A rather nasty macro-virus made some irreversible changes to the majority of *.xls files of my computer. Hetman Excel Recovery managed to restore a large part of important documents.
28.07.2014

I have inadvertently deleted a supplier's price list in the *.xls format. The program found the file and recovered it in full. That saved my day. Highly recommended!
29.04.2014

The program isn't free, but after it recovered an entire archive of documents from a 2 TB hard drive with serious problems, I was ready to buy it again. It's absolutely impossible to estimate the loss of your database of clients and contracts, since it's over 10 years of work. Looking forward to seeing new versions!
4.03.2014

I want to wish you success and prosperity. I am very grateful to the developers, as I use their programs at work. Users ask me to restore their files every week, and now I do it remotely. I install the program via RAdmin, start scanning – and the users choose their files on their own, preview and save them to their hard drives.
3.02.2014
Recommended tools
We recommend that you familiarize yourselves with the opportunities offered in other Hetman Software utilities. You can significantly save on the purchase or buy a program with the features that best suit your needs.