NTFS Data Recovery After Disk Formatting or File Deletion
Looking for a tool to recover an NTFS volume? Formatted the disk or deleted partitions? Boot disk or SSD drive no longer recognized by the system? NTFS Recovery™ will recover data even if the disk was repartitioned and formatted afterwards!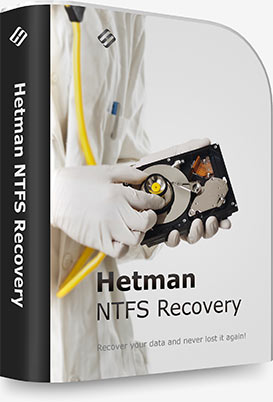 Hetman NTFS Recovery™ 3.9
NTFS Recovery™ restores information that goes missing after a storage accident. Formatted and repartitioned hard drives, deleted partitions, inaccessible disks or simply a bunch of deleted files and folders - the program can recover everything as long as the problem concerns the NTFS or ReFS volumes.
The tool performs a comprehensive analysis of the file system, and can read the entire disk surface looking for any missing information that might still be available. The fully visual pre-recovery preview allows viewing many types of documents, pictures etc. with a built-in viewer. Finally, the user interface is so similar to Windows Explorer that you'll never notice the difference – until realizing you're browsing through deleted files!
Quick Start
Want to get your files back as soon as possible? Our tools are extremely easy to use. The "Data Recovery Wizard" will guide you through the whole process one step after another, allowing you to recover missing information in just a few minutes. Get yourself comfortable with the tool's interface by watching the video.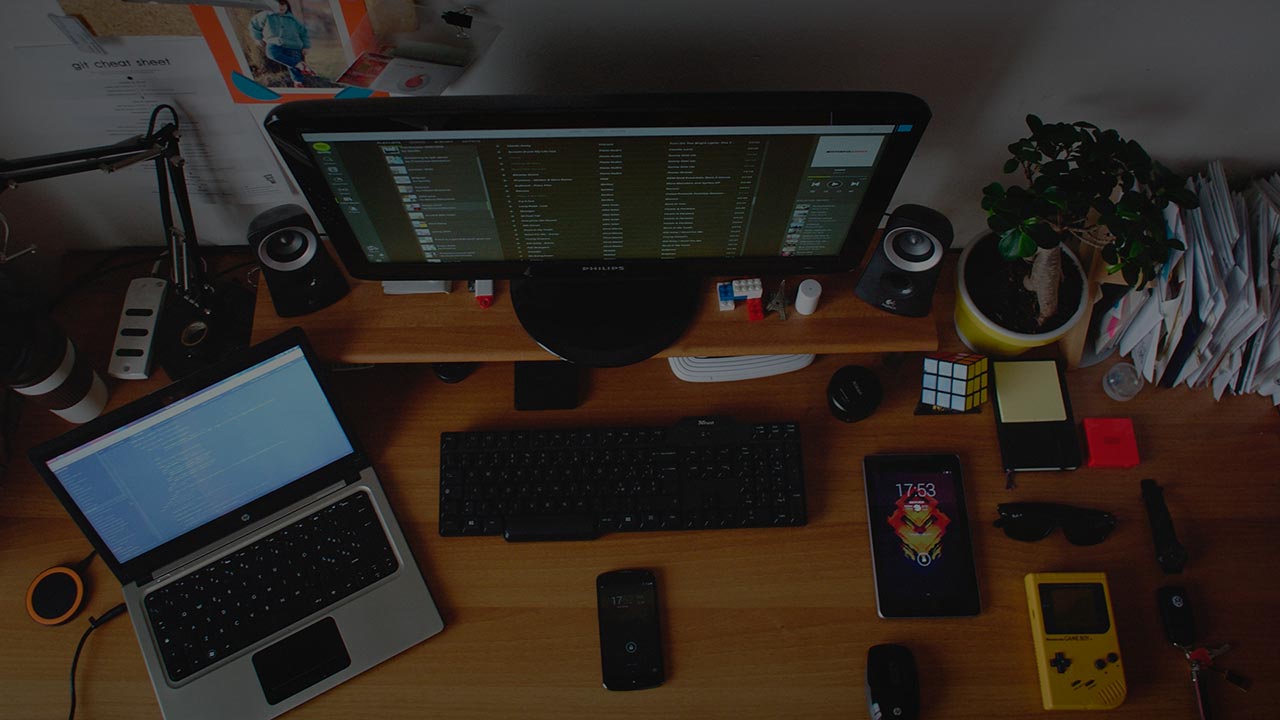 Program Purpose
Hetman Software decided to include some limited support of the FAT file system just to let you quickly recover files removed from the Recycle Bin or deleted with Shift + Delete regardless of the file system. However, FAT support is very limited in this tool if there's a more serious issue with your hard drive, such as missing volumes or repartitioned disk.
Missing Data
NTFS Recovery™ can restore missing and inaccessible files and folders from all NTFS-formatted devices such as system disks, SSD drives etc. This includes information stored on formatted partitions and deleted volumes, inaccessible files and files located on unreadable hard drives. Sophisticated data recovery algorithms ensure safe and reliable recovery and the highest success rate among similar tools.
Wrong Disk Partitioning
NTFS Recovery™ can recover data from accidentally repartitioned hard drives even if the partitioning process was interrupted, leaving the disk in unreadable state. By performing a low-level search, the tool is able to identify the original lost partitions and locate their file systems even if new volumes have been created and initialized.
File System Errors
NTFS is pretty robust, but errors can and do happen even there. NTFS Recovery™ can recover files after file system corruption, even if the entire logical drive is inaccessible. The tool can make use of the second backup copy of NTFS stored in the middle of the volume, and can recover files successfully even if both copies of the file system are severely damaged.
Emptied Recycle Bin
Deleted a file with Shift + Delete or emptied the Recycle Bin? NTFS Recovery™ can recover those files in a matter of minutes. Even if you "permanently" delete a file with Shift + Del, its data is not emptied or overwritten automatically. Instead, its file system record is marked as "deleted". NTFS Recovery™ looks up for such records and restores the files.
Malware Activities
Malware can lock up valuable information, corrupt the hard disk or wipe important system structures in the beginning of a disk. The same can happen is a power outage or a system failure fails during a file copy operation. Whether you experienced a virus attack, a power outage or a program error that led to corrupted file system, NTFS Recovery™ can restore information from such disks quickly and safely.
Corrupted and Inaccessible Disks
Sometimes you just can't access a hard drive, with Windows displaying an error box. Error messages vary from a simple "Access Denied" or "Windows cannot access this disk" to a lengthy message suggesting you to format the disk. More often than not, this is a matter of a corrupted or missing file system. NTFS Recovery™ can access those devices in low level and recover information stored on them.
NTFS Recovery Features
NTFS Recovery™ employs a set of highly sophisticated data recovery algorithms allowing the tool to safely identify and recover files located on formatted, damaged, corrupted and inaccessible storage media.
NTFS Recovery™ can successfully recover files of any type. However, for certain types of files it can go one step further in case of serious problems. The tool can identify files such as documents (DOC, DOCX, RTF, PDF,...), spreadsheets (XLS, XLSX,...), presentations (PPT, PPTX,...), compressed archives (ZIP, RAR,...), digital pictures (JPEG, GIF, PNG, TIFF, PSD,...), video and audio files (AVI, DAT, MKV, MPG, VOB, MP3, ...) and many other popular formats by scanning the entire disk surface for characteristic file signatures. Once a recognizable signature is encountered, NTFS Recovery™ will be able to determine the file's exact physical location on the disk and recover the file.
Supported Storage Devices
Hard Drives
NTFS Recovery™ can recover information from hard drives of all types and makes, as long as they are (or were) formatted with the NTFS file system.
External and USB Drives
The tool supports USB pen drives, all types of memory types and most external storage devices connected via a USB cable, recovering NTFS volumes only.
SSD Drives
Information from SSD drives can be recoverable if the disk is corrupted or inaccessible, or in a case the TRIM functionality was not enabled. Otherwise, the combined actions of TRIM and garbage collection may render deleted information permanently inaccessible.
Virtual machine
hard disks
Recovering data with NTFS Recovery™ is easy as 1-2-3. Literally, it takes just three easy steps in the File Recovery Wizard to scan the disk and locate all the recoverable data. The recovery process is completely safe, as all operations are performed strictly in read-only mode. The files to be recovered will be saved onto a separate disk or external media in order to prevent possible damage to the rest of the files.
The user interface is similar to Windows Explorer, providing familiar browsing experience for deleted files and folders. Deleted files are displayed along with existing ones, distinguished by a distinctive icon.
NTFS Recovery™ makes use of a highly sophisticated and well-refined data recovery engine also available in Hetman's top of the line tool, Partition Recovery™. The recovery engine can either scan just the file system in a matter of seconds, or perform a thorough, comprehensive analysis of the entire disk surface. Its content-aware analysis can reliably identify and recover files located on damaged, formatted and inaccessible media.
Combining information gathered from the file system and obtained with content-aware comprehensive analysis, NTFS Recovery™ can successfully recover a great deal of data while re-creating the original folder structure. Effectively, using NTFS Recovery™ results in about the same number of recovered files as weeks' worth efforts of a well-equipped forensic lab.
If you formatted or removed a partition which was used as a data storage or as a home server drive, then recovering data can take quite a long time. First of all, it happens because there is a huge amount of data to process.
NTFS Recovery™ is designed to restore information removed from NTFS partitions or hard disks of any capacity. Like it or not, but analyzing high-capacity disks is going to take many hours. What should you do in situations when you can't possibly recover all data in one go? Scanning the same large amount of data is sure to take just as long...
Fortunately, this utility lets you Save analysis information for any disk regardless of its capacity, and then use this information again. This way, you can return to the available disk analysis information at a convenient time without having to rescan the disk.
However, this option is not recommended for system partitions, because the operating system writes new data to the drive where it is installed all the time.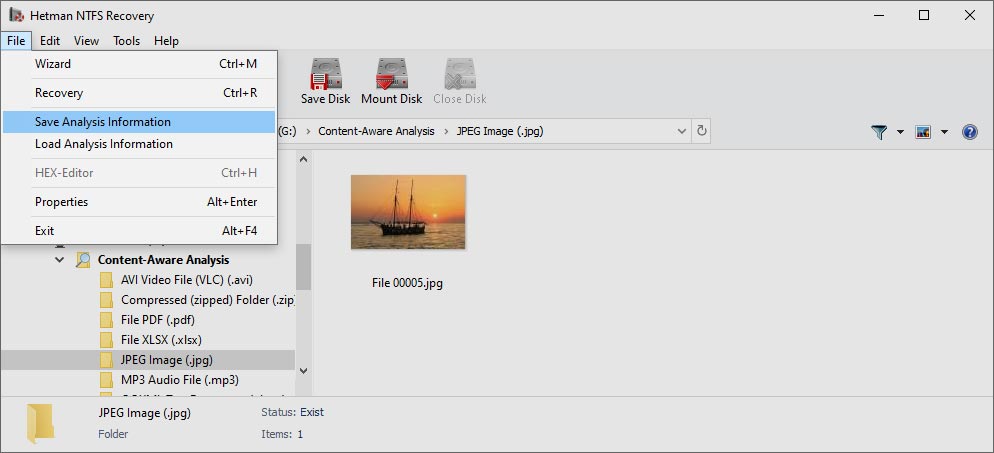 Previewing the content of a deleted file is extremely simple. Just click on a file, and NTFS Recovery™ will immediately display its preview. The built-in viewer is completely stand-alone, and does not use any third-party or external applications. Preview is available for more than two hundred formats such as office documents, spreadsheets, images, movies, music, backups and archives. If the correct preview is displayed, then the file can be successfully recovered for sure.
In addition to visual preview, NTFS Recovery™ also includes a built-in HEX editor. The HEX editor allows low-level access to binary files, and displays essential system information such as exact physical location of the file on a disk. You can also preview volumes and partitions, in which case the HEX editor displays information about their boot sectors and MFT records.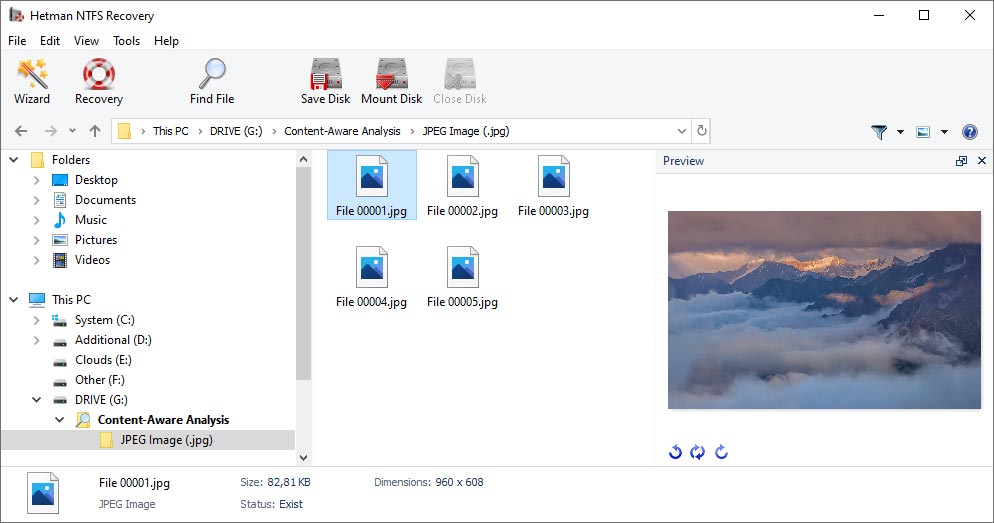 When developing NTFS Recovery™, we took data safety as top design goal. NTFS Recovery™ approaches recoverable media in strictly enforced read-only mode, ensuring that no further damage is caused to your data. For badly damaged and physically worn devices we're offering an extra-safe recovery mode involving a virtual disk image.
By capturing the content of the entire physical device into a virtual disk image, NTFS Recovery™ ensures that information is read in a single operation, thus minimizing the potential risk of accidental failure. The image can then be used to recover information as the next step.
Saving Files Being Recovered
While saving a file can be as easy as hitting the "Save" button, make sure to use a separate drive letter or external storage media to keep files being recovered. Otherwise, you'll be risking overwriting the original data. This is fine in theory, but recovering huge disks requires a similarly sized storage device with lots of free space available.
NTFS Recovery™ allows using another hard disk, network drives and external storage devices to store data being recovered. In addition, it can burn a set of CD/DVD discs with a built-in burner, or create a number if ISO images that are ready to be burned. Finally, information can be uploaded to a remote location via the FTP protocol.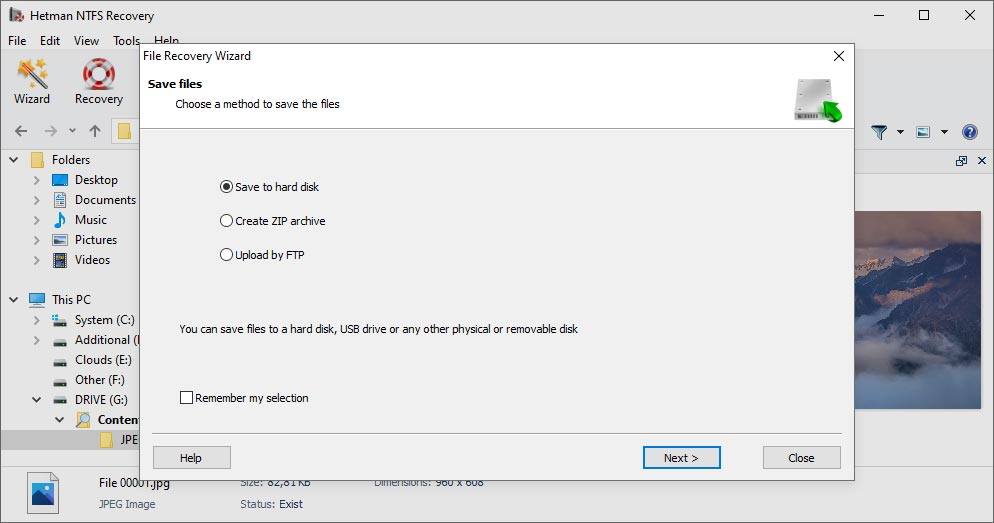 Supported File Systems and System Requirements
The data recovery software supports all versions of the NTFS and ReFS file systems including alternative data streams (ADS), compressed and encrypted files. The tool can be used in Windows XP / 2003 and 2008 Server / Vista / Windows 7 / Windows 8 and Windows 10.
NTFS Recovery™ readily supports both 32-bit and 64-bit editions of Windows. Please note that you must have Administrator's privileges on your computer in order to install and use NTFS Recovery™.
🔥 I changed the file system of a logical partition from NTFS to another type. Will the utility find my files?

After deleting a partition or formatting a disk into another file system, all NTFS service information is still retained.

The program will find the file table and recover the lost data.

🐞 The computer generates a BSOD error NTFS_FILE_SYSTEM. How can I recover data?

To fix the NTFS_FILE_SYSTEM error, you need to:

Boot into the Windows Recovery Environment and run the Chkdsk utility.
Connect the drive to another computer if the operating system does not start.
Analyze the disk with NTFS Recovery™. The program will displays a list of files available for recovery.

⚙️ MBR, partition table or system files have been deleted from the disk. The disk has a RAW file system and Windows cannot read any information from there. What should I do?

NTFS Recovery™ finds all the service information on the disk: MBR, partition table, log files, as well as their backups, and uses it for file recovery.

If there is no data about the disk structure, the program will recover the deleted data based on the signatures detected at the beginning and at the end of each file.

⌛ If I pay for the program now, how long will it take before I receive my registration data?

It depends on the payment method you use. If you order online with your credit card or PayPal, you will receive the registration key immediately after payment.

What are the requirements for successful data recovery?

For successful recovery, you must stop using the storage device until the necessary files are fully restored.

If it is an external drive, memory card or flash drive, then connect it to the PC and analyze them using our program.

If the data is deleted as a result of formatting the system disk, resetting the operating system or reinstalling Windows, then stop further installation of the operating system and programs. Connect the drive to another computer and perform recovery operations.

Recovered files must be saved to a different drive.

⏱️ How long does it take to recover my data?

Data recovery can take a long time if you work with a disk larger than 1 terabyte. Faulty drives can also be scanned for a long time. However, in most cases, recovery takes less than 30 minutes.
Reviews and Awards
Leading computer publications and laboratories recommend using our software package to work with hard drives and external drives. Read the opinion of independent experts.
User reviews
Read user reviews of Hetman Software programs or share your experiences. Your review will be published after being moderated. We value your opinion! Total reviews: 4. Average ratings: 4.5.

Hi, I bought your Hetman NTFS Recovery today to recover some files I deleted by accident. The program worked like a charm. Thank you for your software.
4.06.2014

I decided to go back to the site and thank you for Hetman NTFS Recovery. The tool managed to restore a deleted disk while other programs couldn't even see it. It also restores files of any size. Thank you so much again!!!
19.03.2014

I removed a partition with my data. Tried to fix it with many tools with one result – a list of about 100,000 files with nearly no decipherable names. Only Hetman NTFS Recovery was capable of recovering the folder structure and unicode file names.
13.01.2014

I started to get many BAD blocks on my hard drive, and the system could see it just fine and could write data to it, but couldn't read preciously written data. I tried a number of tools, but only Hetman NTFS Recovery was able to help.
10.01.2013
Recommended tools
We recommend that you familiarize yourselves with the opportunities offered in other Hetman Software utilities. You can significantly save on the purchase or buy a program with the features that best suit your needs.