NTFS Disk Recovery Software
Looking for a tool to recover an NTFS volume? Formatted the disk or deleted partitions? Boot disk or SSD drive no longer recognized by the system? Hetman NTFS Recovery will recover data even if the disk was repartitioned and formatted afterwards!
Free Download


Recover Your Data
Hetman NTFS Recovery
3.0
Hetman NTFS Recovery restores information that goes missing after a storage accident. Formatted and repartitioned hard drives, deleted partitions, inaccessible disks or simply a bunch of deleted files and folders – Hetman NTFS Recovery can recover everything as long as the problem concerns an NTFS volume.
The tool performs a comprehensive analysis of the file system, and can read the entire disk surface looking for any missing information that might still be available. The fully visual pre-recovery preview allows viewing many types of documents, pictures etc. with a built-in viewer. Finally, the user interface is so similar to Windows Explorer that you'll never notice the difference – until realizing you're browsing through deleted files!

Expert Reviews

Testimonials
Program Purpose
Hetman Software decided to include some limited support of the FAT file system just to let you quickly recover files removed from the Recycle Bin or deleted with Shift + Delete regardless of the file system. However, FAT support is very limited in this tool if there's a more serious issue with your hard drive, such as missing volumes or repartitioned disk.
NTFS Recovery Features
Hetman NTFS Recovery employs a set of highly sophisticated data recovery algorithms allowing the tool to safely identify and recover files located on formatted, damaged, corrupted and inaccessible storage media.
Expert Reviews
Reputed computer publications and data recovery laboratories recommend using our software. See the independent experts' opinion.
Recommended Products
If you want a more advanced tool, try Hetman Partition Recovery or Hetman FAT Recovery instead. Hetman Partition Recovery supports both the FAT and NTFS file systems, while Hetman FAT Recovery is designed to recover files from FAT-formatted devices only (e.g. memory cards, flash drives, USB stick etc.) at a lower price.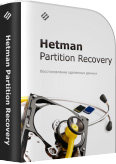 Comprehensive undelete, unformat partition and hard drive recovery tool! Recovers information from all types of storage media formatted with FAT and NTFS. Use this tool for recovering information following accidents of any type.
Supporting all types of healthy and damaged storage media, Hetman FAT Recovery can recover data from hard disks, SSD drives, USB flash drives and a wide range of memory cards. Use this tool for recovering information after all types of accidents.