Data corruption, system failures, malicious and accidental user actions cause thousands of data loss incidents every day, with thousands of users facing the same data loss problem. With a wide variety of reasons that can and do cause loss of data, there's only one solution you'll ever need. Hetman Uneraser reliably recovers all types of data from any kind of media, including healthy, damaged, and even inaccessible hard drives, memory cards, and external USB storage devices.
File recovery by the program
Hetman Uneraser
The improved data recovery product can handle all types of situations, recovering lost files and folders in just a few clicks. Supporting all versions and revisions of both Windows file systems, FAT and NTFS, Hetman Uneraser is a single solution that can reliably recover data from hard disks, external and USB drives, all types of memory cards such as SD, SDHC, CompactFlash, SONY Memory Stick and so on, digital cameras, cell phones, ZIP drives and even floppy disks.
DownloadRegistrationScreenshots
The free evaluation version of Hetman Uneraser comes with free pre-recovery preview. If a preview of a deleted file is displayed, its recovery is 100% guaranteed!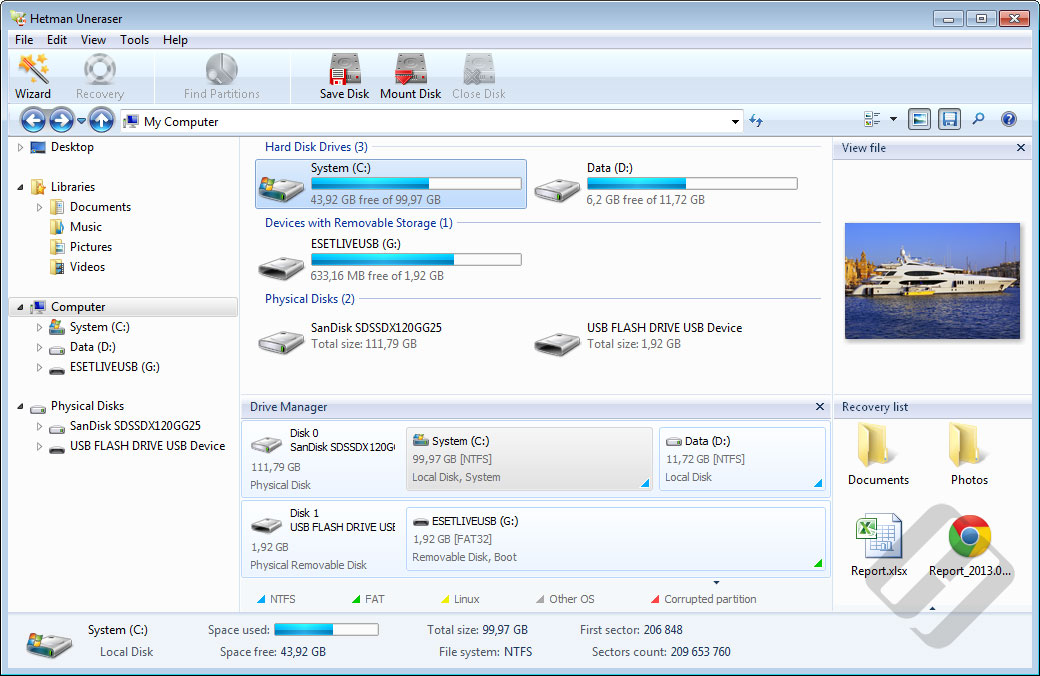 Recovers Data with Ease
It only takes a few mouse clicks to launch the recovery process. A simple wizard asks a few easy questions such as "Which of these disks to recover?" and "Where to store recovered files and folders?" After you specify the disk to look for files and folders, Hetman Uneraser does everything else completely automatically. When the disk scan is complete, you'll have the option of browsing, filtering, reviewing and previewing files is discovers. Saving recoverable files is possible on any type of media, including another hard drive, CD/DVD, or even an FTP server.
Recovers All Types of Files
Hetman Uneraser can undelete any file and recover all types of data from healthy, damaged, and inaccessible media. However, if your files are documents, emails, pictures, archives, or multimedia, a special algorithm is used to take the recovery to entirely new level. Sophisticated data recovery algorithms scan the entire surface of the disk being recovered in order to locate files of supported types by reading and analyzing information from their headers. This allows recovering your most important data even if the disk is formatted, badly damaged, inaccessible, or half-destroyed.
Files supported by this special data recovery algorithm include:
Recover Office Documents, Email and Text Files. All types of office documents produced by Microsoft Office and Open Office are supported, as well as email messages with attachments, source code in several programming languages, configuration and plain text files: DOC, RTF, PDF, XLS, PPT, MDB, Visio, HTML, CSV, TXT, PAS, CPP, EML, INI;


Recover Multimedia, Audio and Video Files. All common audio, video, and interactive multimedia files are supported: MP3, AVI, WAV, WMA, MOV, MPG, ASF;


Recover Digital Pictures and RAW Files. Besides the common image files, Hetman Uneraser supports the recovery of many types of RAW files taken by modern digital SLRs manufactured by Canon, Nikon, Olympus, Pentax, SONY, Panasonic, Samsung, Kodak, and many others. Full pre-recovery preview is supported for all image files, including RAW formats: JPEG, JPG, BMP, GIF, TIF, PNG, TGA, EML, RAW;


Recover Compressed Archives. Many common archive formats such as RAR and ZIP are supported with full pre-recovery preview. It is possible to enter deleted archives before recovering them, and preview files stored inside: RAR, ZIP, ARJ, CAB, 7-ZIP;


Recovers All Types of Storage Media. Hetman Uneraser can recover files and folders from all types of storage media, including:

IDE / ATA / SATA / SCSI hard drives;


USB and FireWire storage devices;


All types of memory cards e.g. Smart Media, Compact Flash, Memory Stick, MicroDrive, xD, Flash Card, PC Card, Multimedia Card, SD, SDHC, and microSD varieties;



Supports All Versions of Windows. The data recovery tool is fully operational under Microsoft Windows 95 / 98 / Me / NT / 2000 / XP / 2003 / Vista, and supports data recovery from NTFS volumes even if a particular version of Windows does not recognize NTFS;


Supports All Windows File Systems. The data recovery product can recover data from all types of VFAT, FAT12 / 16 / 32, NTFS / NTFS4 / NTFS5 media. Compressed and encrypted NTFS volumes are supported.