Looking for a tool to quickly recover deleted files? Need to undelete erased documents or recover a bunch of deleted folders? Deleted a bunch of files with Shift + Del or cleared up the Recycle Bin? Hetman Uneraser will help you get everything back in a matter of minutes!
File Recovery by The Program
Hetman Uneraser
Hetman Uneraser quickly recovers deleted files and folders from just about any kind of storage media. Hard drives, memory cards, external storage, USB drives – you name it! The tool will reliably recover accidentally deleted files even if you used the "permanent delete" function with Shift + Del, and restore data cleared from the Recycle Bin.
DownloadRegistrationHow-to-Guide
We made Hetman Uneraser as comfortable to use as at all possible. The interface is designed in the familiar "My Computer" fashion, allowing you to browse through deleted data just as you would browse files and folders in Windows Explorer. Recovering deleted files and folders is just as easy: simply pick a file to undelete and click the "Recover" button. It's just that easy.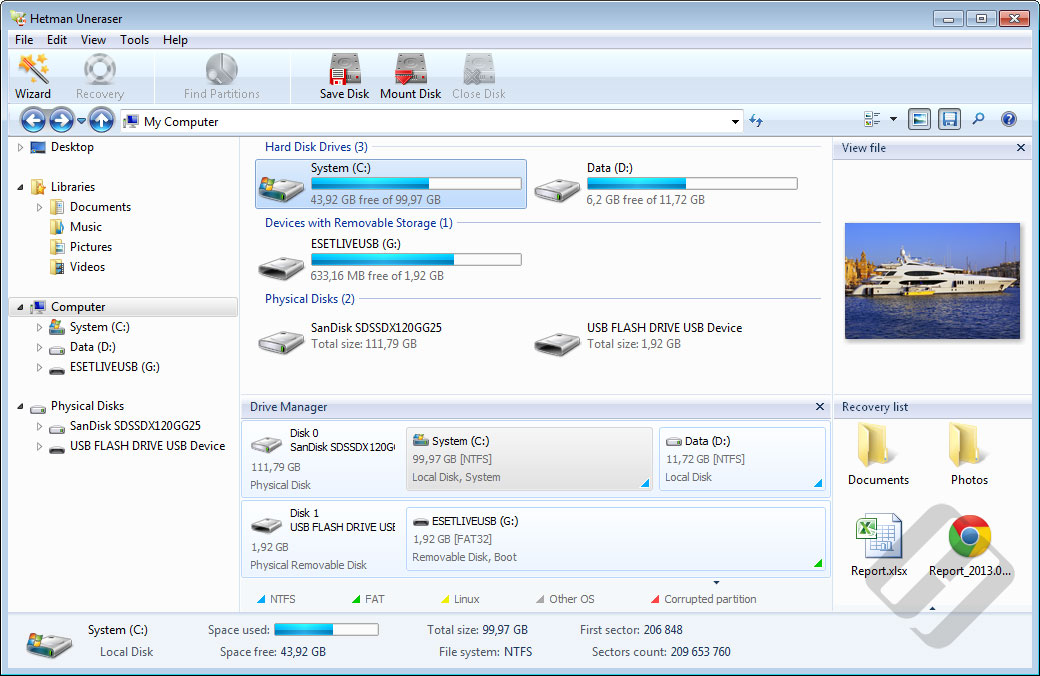 The Quick Start
Undeleting Files: The Easy Way
Hetman Uneraser safely recovers files and folders deleted from all popular types of storage media. Supporting both FAT and NTFS file systems, the tool supports desktop and laptop hard drives, solid-state media, external storage devices as well as certain models of digital point-and-shoots and audio/video players.
Undelete Accidentally Deleted Files
Unerases files and folders you accidentally delete from your computer. When deleting a file, Windows does not wipe the file's content. Instead, its record in the file system is labeled as "deleted". Hetman Uneraser can identify such records and successfully undelete the deleted files regardless of the file system, FAT or NTFS.
Recover Files from Formatted Disks
Recovers information from disks and partitions after a quick format (and, in certain cases, even after a full format). When you format a disk using Quick Format, Windows does not actually zero information on the disk. Instead, it simply overwrites the file system with an empty copy. Hetman Uneraser can read the disk in low level in order to identify, locate and recover files stored on formatted disks.
Recover Recycle Bin Data
Undeletes files removed from the Recycle Bin or "permanently deleted" with the Shift + Del combination. Even "permanently deleted" files can be successfully recovered with content-aware search. In this mode, Hetman Uneraser will read the entire disk surface, looking for deleted files by their characteristic signatures. Identified files can be previewed and recovered.
Recover after Virus Attacks
Restores information after data loss caused by malware or virus attacks, system failures and power outages. Viruses, Trojans and other types of malware often destroy or lock up information. Hetman Uneraser can successfully restore files locked by malware by performing a low-level disk scan. In this mode, the tool bypasses the damaged file system, and deals with the actual content of the disk in binary mode.
Related Articles:
Features
Undoubtedly featuring the best price-performance ratio out of the whole range of data recovery products, Hetman Uneraser is our top seller. The tool borrows its data recovery algorithms from our top-of-the-line product, only omitting some features only a specialist will need. Designed with meticulous attention to detail, Hetman Uneraser offers its users the safest possible recovery in shortest time.
Recoverable File Formats
Hetman Uneraser can successfully recover files of all formats with no exceptions. However, for certain data it can go one extra step, offering an even better chance of recovering essential information such as Office documents, PDF files, pictures and videos including RAW files and Photoshop designs, email messages, archives and backups, and many other types of data you would rather not lose. For these formats, Hetman Uneraser can do a context-aware analysis of the entire disk surface, looking for deleted files by their unique signatures. Such files can be recovered even if there is no record about them left in the file system.
Related Articles:
Recoverable Devices
Hard Drives
Hetman Uneraser recovers files and folders from hard disks of all makes and models. FAT and NTFS file systems are supported on all desktop, laptop and external hard drives.
Memory Cards
Recover information from all types of memory cards including SD/SDHC/SDHC, micro SD, Compact Flash, Memory Stick and so on. It can also recover files from USB-connected smartphones, audio players, GPS navigation systems and some point-and-shoot cameras.
USB Pen Drives
Hetman Uneraser all types of USB drives regardless of the model or manufacturer. We support pen drives of every type from legacy USB 1.1 to the latest USB 3.0 variety.
Interview: Supported Storage Devices.
Related Articles:
Easy to Learn and to Use
We made Hetman Uneraser safe and easy to use. The fully guided, step-by-step wizard will help you through the entire recovery process. In fact, you can start using the tool by simply selecting the disk with deleted files on it and clicking the "Next" button. The tool will then perform the analysis blazing fast, presenting you with a view of the missing data – exactly the way you would see it in Windows Explorer if only those files were not deleted.
Interview: Data Recovery for Dummies.
Pre-Recovery Preview
The preview is an essential feature of all Hetman recovery tools. Pre-recovery preview allows peeking inside deleted files before you decide whether it's worth recovering. The preview supports hundreds of file formats including all popular document and image formats, a bunch of video formats, compressed archives, backups, emails, text and HTML data. You can even preview information about executable files or use the built-in HEX editor for low-level access. Finally, for every recoverable file you can see its exact physical location on the disk.
Interview: Pre-recovery Preview.
The Engine
Hetman Uneraser may look simple, but it features a highly sophisticated data recovery engine under the hood. In fact, it shares the recovery engine with the much more expensive, professional tool Hetman Partition Recovery. There are two approaches to the recovery: Quick and Comprehensive. In Quick mode, Hetman Uneraser will scan the data in the FAT or NTFS file system, returning the list of recently deleted files in a few brief moments. This mode is blazing fast, really, but it can miss certain data, especially if a file was deleted a long time ago. In addition, the Quick mode won't be much use if you formatted the disk (or flash drive, or memory card) as the file system will be empty after formatting.
To help you recover information in complex scenarios, Hetman Uneraser employs the highly sophisticated Comprehensive analysis mode. In this mode, the tool reads the entire disk surface and uses a number of heuristic, content-aware analysis techniques to detect known file formats by their characteristic signatures, calculate their exact physical location and finally recover from the disk. This mode may take quite some time depending on the size of your disk and the amount of information stored on it, but it is able to recover documents, pictures, databases, archives, emails and many other types of data a long time after they've been deleted.
Interview: Data Recovery Algorithms.
Related Articles:
Data Safety
Safety was a major goal when Hetman Uneraser was designed. The tool uses strict read-only access to storage media being analyzed. This approach ensures it won't damage anything it's up to recover. Make sure you don't write anything onto the disk being recovered yourself. For example, make sure that you download, save and install Hetman Uneraser onto a disk or partition different from that you're about to recover. The ultimate safety can be achieved by using virtual disk images. This technique allows capturing a bit-precise image of the volume you're about to recover in a single sweep, effectively minimizing the number of disk access operations and reducing the chance of accidental failure of a damaged device. The disk image can then be used to recover the files.
Interview: How to Actually Recover Data Instead of Destroying It.
Related Articles:
Saving the Files
In order to ensure the safety of your data, you'll want to use a different disk or drive letter to save files being recovered. Sounds simple, but only if you have enough disk space available. If you don't, Hetman Uneraser offers a convenient wizard allowing you to choose whether you'll be saving the files onto a hard drive, burning a bunch of CD's or uploading them to a remote server. Supported storage options include the ability to choose any local or remote disk, burn a CD/DVD with a built-in disc burner, or upload the files to a remote location over the FTP protocol. You'll have the option of saving everything into a single folder or re-creating the original folder structure.
Interview: Saving Data.
System Requirements and Compatibility
Hetman Uneraser works with all versions and revisions of FAT and NTFS, including VFAT, FAT 12 / 16 / 32 as well as NTFS 3, 4, 5. It can correctly recover information from compressed and encrypted volumes as well as all crypto containers (as long as you know the original password). Hetman Uneraser is compatible with all 32-bit and 64-bit versions of Windows including Windows XP, 2003 and 2008 Server, Vista, Windows 7 and Windows 8. The tool requires you to have Administrative privileges on the system you're about to recover.
Related Articles:
Recommended Products
If you want a more advanced tool, try Hetman Partition Recovery or Hetman FAT Recovery instead. Both these products use the most sophisticated recovery algorithms, offering the ability to reliably recover information from damaged, formatted and repartitioned devices. Hetman Partition Recovery supports both the FAT and NTFS file systems, while Hetman FAT Recovery is designed to recover files from FAT-formatted devices only (e.g. memory cards, flash drives, USB stick etc.) at a lower price.
Hetman Partition Recovery
Recovers information from all types of storage media formatted with FAT and NTFS. Use this tool for recovering information following accidents of any type.
Hetman FAT Recovery
Recovers files from USB drives, flash drives, memory cards and hard drives formatted with the FAT file system. Use this tool for recovering information after all types of accidents.