Software for Recovering Deleted Files and Folders
Looking for a tool to quickly recover deleted files? Need to undelete erased documents or recover a bunch of deleted folders? Deleted a bunch of files with Shift + Delete or cleared up the Recycle Bin? Hetman Uneraser will help you get everything back in a matter of minutes!
Free Download


Recover Your Data
Hetman Uneraser
5.0
Hetman Uneraser quickly recovers deleted files and folders from just about any kind of storage media. Hard drives, memory cards, external storage, USB drives – you name it! The tool will reliably recover accidentally deleted files even if you used the "permanent delete" function with Shift + Delete, and restore data cleared from the Recycle Bin.
We made Hetman Uneraser as comfortable to use as at all possible. The interface is designed in the familiar "My Computer" fashion, allowing you to browse through deleted data just as you would browse files and folders in Windows Explorer. Recovering deleted files and folders is just as easy: simply pick a file to undelete and click the "Recover" button. It's just that easy.

Expert Reviews

Testimonials
Undeleting Files: The Easy Way
Hetman Uneraser safely recovers files and folders deleted from all popular types of storage media. Supporting both FAT and NTFS file systems, the tool supports desktop and laptop hard drives, solid-state media, external storage devices as well as certain models of digital point-and-shoots and audio/video players.
Features
Undoubtedly featuring the best price-performance ratio out of the whole range of products, Hetman Uneraser is our top seller. Hetman Software tool borrows its algorithms from our top-of-the-line product, only omitting some features only a specialist will need.
Expert Reviews
Reputed computer publications and data recovery laboratories recommend using our software. See the independent experts' opinion.
Recommended Products
If you want a more advanced tool, try Hetman Partition Recovery or Hetman FAT Recovery instead. Hetman Partition Recovery supports both the FAT and NTFS file systems, while Hetman FAT Recovery is designed to recover files from FAT-formatted devices only (e.g. memory cards, flash drives, USB stick etc.) at a lower price.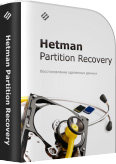 Comprehensive undelete, unformat partition and hard drive recovery tool! Recovers information from all types of storage media formatted with FAT and NTFS. Use this tool for recovering information following accidents of any type.
Supporting all types of healthy and damaged storage media, Hetman FAT Recovery can recover data from hard disks, SSD drives, USB flash drives and a wide range of memory cards. Use this tool for recovering information after all types of accidents.