Digital pictures can disappear for many different reasons. A stranger taking your picture with an unfamiliar camera can erase everything from it by an accident. Children playing with it can format a memory card. Memory cards can go bad in hot, cold or wet weather. Hard drives get corrupted, Windows crashes, and power failures render disks inaccessible. With so many reasons causing loss of your family photo album, there is only one tool you need to get them back!
Photo recovery by the program
Hetman Photo Recovery
Hetman Photo Recovery can help you in all of these situations, recovering digital pictures and RAW files in a few mouse clicks. Supporting all types of storage media, Hetman Photo Recovery can recover pictures from hard drives, USB drives, flash memory sticks, and all memory cards such as SD, SDHC, CompactFlash, SONY Memory Stick, and alike. If you connect your digital camera or cell phones directly to the computer via a USB cord, Hetman Photo Recovery can recover pictures directly from the camera.
DownloadRegistrationScreenshots
Simply selecting the drive letter to recover pictures from will launch a comprehensive scan of the disk, camera, or memory card with deleted pictures. After the scan is complete, you'll see a list of recoverable pictures with full pre-recovery preview. You'll have an option to save images on any type of media such as another hard drive, CD, DVD, or an FTP server.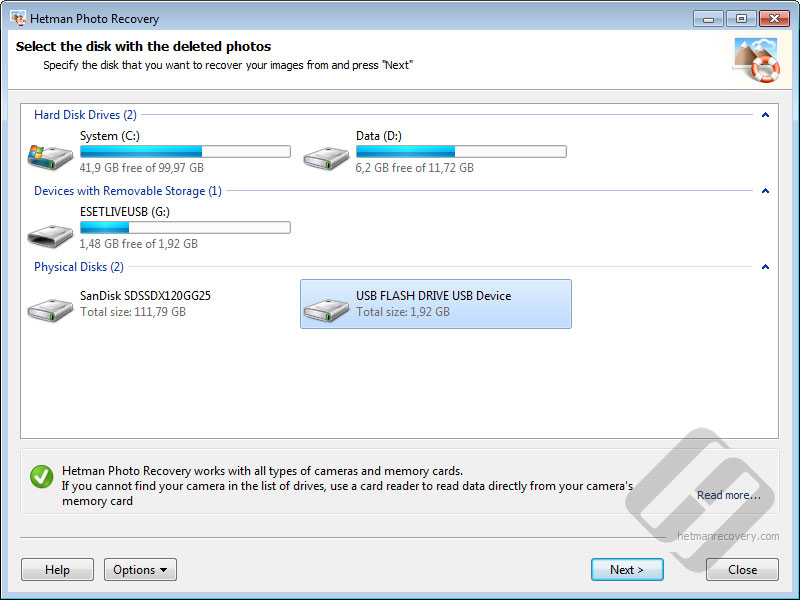 Guaranteed Picture Recovery
The free evaluation version of Hetman Photo Recovery features full pre-recovery preview that supports dozens of picture formats. If you see a preview of a deleted image, Hetman Photo Recovery can definitely recover it.
Dedicated Image Recovery Algorithms
Hetman Photo Recovery combines ease of use with sophisticated image recovery algorithms. Engaging automatically, these methods perform comprehensive scan of a disk, camera, or memory card in order to locate and recover as many pictures as still possible. Hetman Photo Recovery can detect pictures even on formatted hard drives or corrupted memory cards by reading raw data from it and looking for information that's usually present in the pictures. This allows for reliable detection of images on badly damaged disks and memory cards.
If you are looking for user-friendly and powerful picture recovery software, consider it found!
Features:
Recovers Digital Pictures in Many Formats. Hetman Photo Recovery can recover images in dozens of file formats, including: JPG, JPEG, TIF, GIF, RIFF, TIFF, PNG, BMP, BW, CEL, CUT, DIB, EMF, FAX, GIF, ICB, ICO, PAL, PBM, PCC, PCD, PCX, PDD, PGM, PPM, PSD, PSP, RGB, RGBA, RLE, RLA, SCR, SGI, TGA, VDA, VST, WIN, WMF;


Recovers RAW Files. Hetman Photo Recovery can recover many types of RAW files produced by digital SLR and point-and-shoot cameras manufactured by Canon, Nikon, Olympus, Pentax, SONY, Panasonic, Samsung, Kodak, and many others. Full pre-recovery preview is supported for all supported RAW formats: 032, 3FR, ARW, BAY, BMQ, CR2, CRW, CS1, DC2, DCR, DNG, ERF, FFF, K25, KDC, MEF, MOS, MRW, NEF, ORF , PEF, PXN, QTK, RAF, RAW, RDC, SR2, SRF, X3F;


Recovers Pictures from All Kinds of Storage Media. Hetman Photo Recovery can recover images from all types of storage media, including:

IDE / ATA / SATA / SCSI hard drives;


USB and FireWire storage devices;


All types of memory cards e.g. Smart Media, Compact Flash, Memory Stick, MicroDrive, xD, Flash Card, PC Card, Multimedia Card, SD, SDHC, and microSD varieties.



Supports All Versions of Windows. Hetman Photo Recovery works in Microsoft Windows 95 / 98 / Me / NT / 2000 / XP / 2003 / Vista, and supports data recovery from NTFS formatted media even if your version of Windows does not support NTFS;


Supports All Windows File Systems. Hetman Photo Recovery can recover pictures from all versions and revisions of FAT and NTFS, including VFAT, FAT12 / 16 / 32, NTFS / NTFS4 / NTFS5, compressed and encrypted NTFS volumes.