Data Recovery for Dummies
Hetman Software utilities hide the complex and time-consuming process of information recover from the users. "File Recovery Wizard" will make your work easy and enjoyable. Below you can find a review from a Hetman Partition Recovery software user.
Was this your first recovery project? Did you find it troublesome to recover the files?
Yes, I did this for the first time ever. I worried a lot about things such as clusters, file systems and all. See, I read a lot about them before approaching the disk. It holds everything I need for the study: my work, my assignments, and even lectures. I couldn't afford losing it. So my goal was doing it right from the first try. So I read a lot about data recovery and how important these things were. Then I had to choose a tool. I chose Hetman Partition Recovery as it did appear to have everything right. And know what? After all, I didn't need what I read! The tool was really, really easy.
With Hetman Partition Recovery, you just click-click-click, and it does the rest. OK, not *that* simple, but close. You must install it somewhere other than the disk you're about to get fixed (I used a flash stick for that). You do have to choose the disk to recover, and you have to have another disk ready to keep whatever it's about to save (I plugged a big flash stick for that). Then I hit the "scan" button, the tool spent some minutes scanning the disk, and then I got a list of files it discovered. I clicked through some of them to make sure they are what they are, then selected everything and hit "recover". Some minutes later, it's done. I got a flash drive with all of my work on it.
Recommended Products
If you want a more advanced tool, try Hetman Partition Recovery or Hetman FAT Recovery instead. Hetman Partition Recovery supports both the FAT and NTFS file systems, while Hetman FAT Recovery is designed to recover files from FAT-formatted devices only (e.g. memory cards, flash drives, USB stick etc.) at a lower price.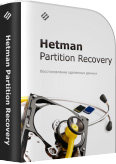 Comprehensive undelete, unformat partition and hard drive recovery tool! Recovers information from all types of storage media formatted with FAT and NTFS. Use this tool for recovering information following accidents of any type.
Supporting all types of healthy and damaged storage media, Hetman FAT Recovery can recover data from hard disks, SSD drives, USB flash drives and a wide range of memory cards. Use this tool for recovering information after all types of accidents.