Saving Data
Michael works for a company providing fast computer help to domestic users and IT outsourcing services to small businesses. Below he describes the problems he faces when saving the recovered data.
You mentioned that you can't save information onto the disk being recovered. So what do you use to store the files to?
It depends on the amount of information being recovered. In most cases, a USB pen drive of reasonable capacity is more than enough to fit the typical family photo archives, occasional documents and spreadsheets. Many customers will bring their own devices just for the convenience of it. Alternatively, if there are more files than we can fit on a single flash drive, we may use a bunch of recordable DVDs. This is an affordable way to fit a lot of data without asking the customer to buy a new hard drive. The direct burn feature is only supported by certain recovery tools, such as Hetman Partition Recovery.
For larger amounts of data, we use another disk if we can. This is the obvious solution. However, it's not always possible. See, we often have customers bringing us those huge hard drives, or NAS storage devices, or RAID arrays. No single hard drive could possibly fit all the information we can read off those devices. If we're handed a high-capacity hard drive full of recoverable information, we have to use some tricks to successfully save the data. See, when the disk is badly damaged, we have to scan it with special methods detecting recoverable files by their signatures instead of simply looking at the file table.
This method has a drawback: it may produce twice as much information as was originally stored on the disk. Some of it will be false information (corrupted files, false positive detections and so on), but some data will be exactly what we are targeting. So we must save it somewhere and hand it to the customer. In these cases, we use another feature of Hetman Partition Recovery, the ability to save recoverable data onto a remote location. We have a rack in our server room with lots of storage capacity in it. Data being recovered goes directly into that rack via a network connection. Then we help the customer sort out which data is usable and what's just binary dust.
Recommended Products
If you want a more advanced tool, try Hetman Partition Recovery or Hetman FAT Recovery instead. Hetman Partition Recovery supports both the FAT and NTFS file systems, while Hetman FAT Recovery is designed to recover files from FAT-formatted devices only (e.g. memory cards, flash drives, USB stick etc.) at a lower price.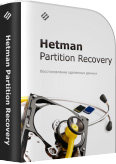 Comprehensive undelete, unformat partition and hard drive recovery tool! Recovers information from all types of storage media formatted with FAT and NTFS. Use this tool for recovering information following accidents of any type.
Supporting all types of healthy and damaged storage media, Hetman FAT Recovery can recover data from hard disks, SSD drives, USB flash drives and a wide range of memory cards. Use this tool for recovering information after all types of accidents.