Safe Data Recovery
Security of recovery process is guaranteed by "Read Only" operational mode used when dealing with storage media that contains deleted files. For working with the "broken" discs the option of creating a virtual image was designed.
More often than not, information is way more valuable than media it's stored on. What do you do, exactly, to ensure your customers' data remains safe during the recovery?
In this day and age the value of information far exceeds the cost of storage media. A typical hard drive costs an equivalent of just a few working hours, while re-creating lost data, if at all possible, may take hundreds of hours. Our priorities are keeping information as safe as possible, especially if we are dealing with a worn or damaged hard drive. Essentially, we can often recover information from physically broken devices. However, dealing with consequences of someone tampering with the drive, or doing the recovery after ignorant self-guided attempts is a much more complex and labor-intensive situation.
It's important to remember that one should never attempt to write anything onto the drive being recovered. Downloading and installing a data recovery tool onto the system drive will overwrite some data on that drive. Attempting to save recovered information onto the same disk will also overwrite some data, possibly destroying the very information you were up to recover.
Making use of professional, well-designed tools does help. In our lab, we use Hetman Partition Recovery. The tool always handles corrupted media in read-only mode, never writing anything on the disk being recovered. It takes special care to avoid using certain system functions that will cause undesirable write operations (such as setting the "last access time" attribute); instead, the tool accesses disks in low-level.
Hetman Partition Recovery is especially useful when recovering from damaged drives. It can issue a single long read operation, taking a snapshot of the entire drive and storing it somewhere safe such as on another disk, DVD/Blu-Ray disc, or uploading over a network. The rest of the recovery is then performed safely on that snapshot.
Recommended Products
If you want a more advanced tool, try Hetman Partition Recovery or Hetman FAT Recovery instead. Hetman Partition Recovery supports both the FAT and NTFS file systems, while Hetman FAT Recovery is designed to recover files from FAT-formatted devices only (e.g. memory cards, flash drives, USB stick etc.) at a lower price.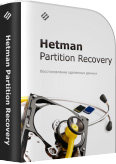 Comprehensive undelete, unformat partition and hard drive recovery tool! Recovers information from all types of storage media formatted with FAT and NTFS. Use this tool for recovering information following accidents of any type.
Supporting all types of healthy and damaged storage media, Hetman FAT Recovery can recover data from hard disks, SSD drives, USB flash drives and a wide range of memory cards. Use this tool for recovering information after all types of accidents.