Pre-recovery Preview
After scanning a hard drive the system identifies thousands of files. The preview function that allows you to find and access necessary data in minutes has been designed for the users comfort.
Can you pick one feature you found the most handy?
If I were to pick one single usability feature that would undoubtedly be pre-recovery preview. The feature allows users to peek at the content of deleted files before they are actually recovered. This may sound obvious, but the ability to actually look into the file is not just a convenience, but rather a necessity.
In my daily job, I deal with tremendous amounts of documents that are being created, modified, saved and emailed all the time. Imagine just how many copies of those documents are created on the disk! At the time of recovery, there are multiple copies of each document appearing in the list of recoverable files. If I recover all of them in a single shot, I'll simply get a bunch of nearly duplicate files. However, the ability to preview those files before the recovery, as well as the numerous filtering and sorting options, allow selecting the latest and best preserved versions of the documents. This saves me a lot of time and a lot of disk space when it comes to recovery.
Why isn't this feature part of every data recovery suite? Well, I tried a bunch of different tools, free and commercial altogether, and found only a few (e.g. Hetman Partition Recovery) have built-in viewers for most formats. Some other tools may have it, but I was unable to try the feature because it's locked in the free demo versions. In Hetman Partition Recovery, you get to see the files not only before they are recovered, but before you part with your money. If you see a certain file, then it's 100% recoverable.
Recommended Products
If you want a more advanced tool, try Hetman Partition Recovery or Hetman FAT Recovery instead. Hetman Partition Recovery supports both the FAT and NTFS file systems, while Hetman FAT Recovery is designed to recover files from FAT-formatted devices only (e.g. memory cards, flash drives, USB stick etc.) at a lower price.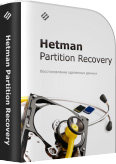 Comprehensive undelete, unformat partition and hard drive recovery tool! Recovers information from all types of storage media formatted with FAT and NTFS. Use this tool for recovering information following accidents of any type.
Supporting all types of healthy and damaged storage media, Hetman FAT Recovery can recover data from hard disks, SSD drives, USB flash drives and a wide range of memory cards. Use this tool for recovering information after all types of accidents.