Data Recovery On Windows 10: We Are At The Forefront!
On September 15, 2015, Hetman Software launched brand-new Windows 10-ready editions of its products. The company's software fully complies with the stringent security requirements of the new OS, and supports the new partitioning scheme (GUID Partition Table).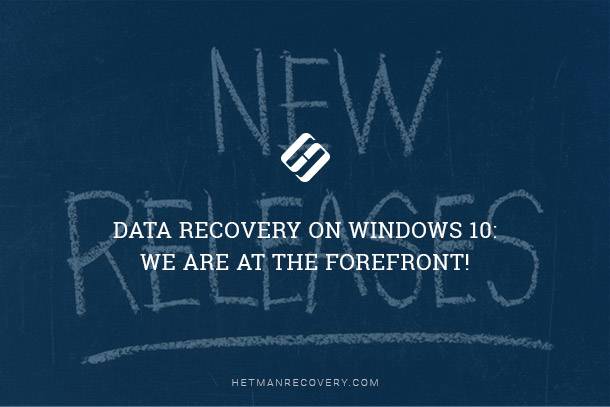 Users can now recover data lost due to unsuccessful conversion of a partition table from MBR to GPT and vice versa, as well as incompatible equipment or an incompatible OS with a new partition table. Read our blog to learn more about causes of data loss in Windows 10.
Unveiled in July 2015, the new Windows operating system has been quickly adopted by millions of people across the globe. However, a good many users are still in no great haste to install Windows 10 on their computers. These users fall into the most demanding category of people who value their data and focus on data integrity.
One of the new features Windows 10 has to offer is GPT disk support and MBR-to-GPT conversion tools. The Windows Installation Wizard will install a new partition table by default if it detects that the PC is using UEFI. Millions of brand-new laptops, tablets and smartphones running on pre-installed Windows 10 will make use of this innovation.
GPT (GUID Partition Table) outpaces MBR in many respects; however, few users are aware of the downside this compatibility entails:
32-bit Windows won't operate with a GPT disk.
You can't convert a GPT disk to MBR if the former has more than four partitions, or partitions exceed 2 TB in size.
A computer won't load the OS if it uses "obsolete" hardware, i.e. doesn't support UEFI (like BIOS system hardware).
You can't use a USB flashdrive with GPT as a boot drive for BIOS-enabled computers.
If the hard drive runs several operating systems, the boot loader will fail to detect them after conversion to GPT.
You can't use a USB drive as a file repository for a router, TV or car stereo after conversion to GPT.
Established in 2008, Hetman Software is committed to delivering high quality data recovery software. Hetman Software offers a broad range of solutions, the core of the business being data recovery from all types of storage.
With 7 years' experience on the market, Hetman Software ranks among the industry leaders in data recovery. Whatever the cause for the data loss, the nature of the data in question, the file or operating system, the company will come up with a solution out the box.
The company employs a flexible pricing policy, making the software a good bargain for large enterprises as well as home users facing data loss or inaccessibility.
At Hetman Software, we never rest on our laurels. We always go the extra mile for our customers, address new challenges, and keep up with the ever-changing industry landscape.